Union Pacific Photo Safety

There's a

Time

and

Place

for

Selfies.
Train Tracks Aren't It.
We get it. The ongoing pursuit of the perfect selfie is just as much about the background as it is striking the right pose. You're capturing a moment! And in some places — like dinner, a concert, or even enjoying the great outdoors — it's a great idea! But on railroad tracks? Not so much.
It's not just illegal; it can be deadly.
Railroad tracks may seem like a great place for a photo opportunity, but a massive locomotive coming down the tracks with no time to stop will disagree with you. You may be confident you'll hear it in time to clear the tracks, but odds are you won't. So why risk it?
Put your safety first. There are many alternate, safe locations available for taking photos. We want your pictures to be fond memories, not painful mistakes.
Senior Photos

Resources: Pedestrian Safety
Share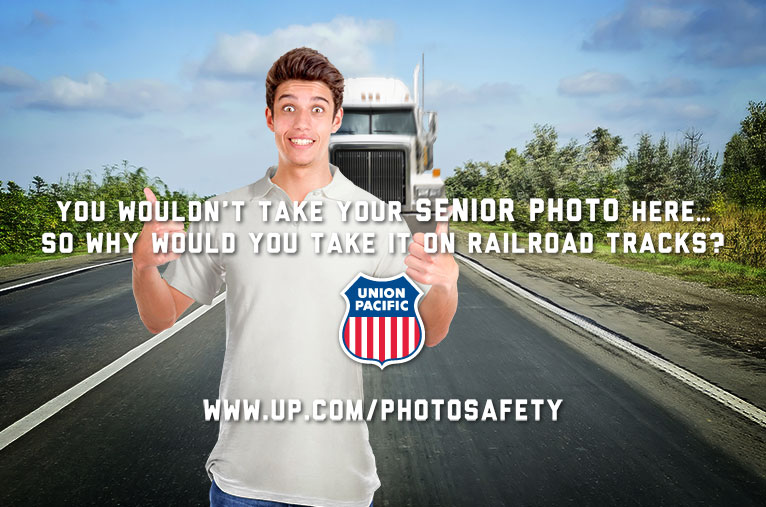 Think about it. Tracks are for trains, not your senior photos.
Everybody loves getting senior photos taken, right? After all, your senior year of high school is the exciting culmination of one journey and the beginning of another. Don't let this journey get cut short — choosing to take your senior photos on railroad tracks is not only illegal; it can be deadly.
Sure, railroad tracks seem like a cool backdrop for a photo. But imagine a massive locomotive coming at you, with momentum so great it's unable to stop. You're certain you'll be able to hear it and get off the tracks in time — but chances are you won't. Why take that chance?
Union Pacific urges you to put your safety first and consider the many alternate and safe locations for these photos. We want this moment to be something you remember forever, not something you wish you could forget.
Share these images and videos with your family and friends using the hashtag #TracksAreForTrains. Encourage your peers to stay safe and stay off the tracks by letting them know, "#TracksAreForTrains, not your senior photos!"
Share your own safe senior photos!
Have you taken your senior photos already? Show us the fun, creative and safe places you've chosen to celebrate your senior year by sharing them on Facebook, Twitter or Instagram using the hashtag #SafeSeniorPhotos.