Recruiting.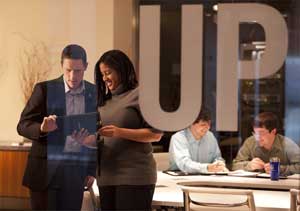 Union Pacific's recruiting activities are wide ranging, helping the company
hire the most qualified employees.
In 2012, we added approximately 3,900 employees to our team at Union Pacific and we plan to hire about 3,000 to 4,000 in 2013 based on attrition and business growth. Currently, we recruit in the communities and at the colleges near our operations to find the most qualified employees.
In communities, we:
On college campuses, we:
Meet with multicultural business and specialized student groups, and participate in diversity leadership symposiums.
Conduct classroom presentations about career opportunities.
Lead career services roundtables.
Meet students at networking events and hold mock interviews.
Sponsor executive luncheons.
Social Media
Through our Facebook and Twitter pages, we connect with potential employees, diversity organizations, universities and student groups, military installations and other audiences in new ways.
Training and Career Development
To support continued growth, we continually teach employees how to navigate new technologies safely and successfully, and we encourage them to develop the skills that will keep them at the top of our industry. Our training and career development programs include:
Operations Management Training: We offer training (lasting from 6 to 36 months) in engineering, mechanics and transportation logistics for degreed, non-union professionals.
Field Management Training: Employees with railroad operating experience can obtain hands-on experience managing transportation operations in field locations across the Union Pacific system.
Education Assistance: Union Pacific provides up to 100 percent of tuition costs for full-time employees to enroll in job- or career-related courses at accredited schools, colleges and universities, up to a maximum of $5,250 per calendar year. Participation has increased from 83 students in 2011 to 116 students in 2012, a 40 percent increase year-over-year.
Management Training: We regularly offer leadership and skills performance training throughout individuals' careers. In total, employees completed almost 7,400 development courses in 2012, including Union Pacific's popular Communicating for Results class.