Courage to Care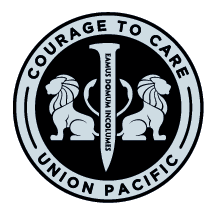 THE COURAGE TO CARE PLEDGE
Union Pacific introduced Courage to Care in 2012. The pledge represents a culture of safety and personal accountability.
I have the courage to care. Worn with a lion's pride, it means those I work with will have my back, and I will have theirs. I pledge to shield myself and my team from harm. I will take action to keep them safe, by fixing an unsafe situation, addressing an unsafe behavior or stopping the line. In turn, I will have the courage to accept the same actions from my coworkers, who care enough to correct my path. We wear this badge out of respect for each other and those who have gone before us. On my watch, we will all go home safe to our families every day.
What the Badge of Courage Means
The Badge of Courage is a coat of arms, embodying that for which Union Pacific strives – for every employee to safely go home. When employees make the voluntary decision to wear the badge, it is a visible sign of their commitment to correct an unsafe situation, and that, in turn, they will accept any feedback that may be given to them.
The lions symbolize strength, courage and pride. They are strategically positioned back to back, protecting each other from harm and reminding employees of their pledge to each other: "You have my back, and I have yours."
The spike in the center represents Union Pacific's heritage and success in overcoming great challenges, and includes the Latin words that translate to "Go Home Safely."