Chemical Transportation Safety
NextGen Tank Car Safety Collaboration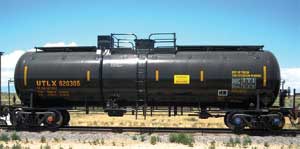 In a continuing effort to pioneer enhancements in safety, Union Pacific supports ongoing research to further improve tank cars carrying hazardous products such as chlorine. The next-generation chlorine tank car is expected to provide more than a 240 percent improvement for side impacts.
The NextGen tank car project is a public-private partnership between Union Pacific, Dow, UTLX, the Federal Railroad Administration, Transport Canada and the U.S. Transportation Security Administration
Emergency Training and Response Systems
Union Pacific annually trains approximately 2,500 local, state and federal first responders on ways to minimize the impact of a derailment on a community. In 2012, we completed our 50th class at the Association of American Railroads' Security and Emergency Response Training Center in Pueblo, Colo. We also participate in industrywide whistle-stop training tours.
Through our participation in TRANSCAER (Transportation Community Awareness and Emergency Response), we annually coordinate drills reaching thousands of participants to help communities prepare for and respond to possible hazardous material transportation incidents. Union Pacific requires our hazardous materials managers to join state and local planning committees and work alongside representatives from local fire and health departments, schools, transportation departments and members of the public to provide them with information about chemicals moving through their communities and to establish safety plans.
Union Pacific's Pinnacle Awards for Chemical Transportation Safety
In 2012, 74 companies received Union Pacific's Pinnacle Award. The award recognizes Union Pacific customers that achieved a rate of zero non-accident releases (NARs) for regulated hazardous materials shipments and implemented successful prevention and corrective plans, including safe-loading techniques and securement of shipments. A NAR is an unintentional release of hazardous material during transportation that is not caused by an accident or train derailment.
NARs declined by more than 16 percent on Union Pacific's network from 2003 to 2011, due in part to increased inspections by the railroad's hazardous materials safety field personnel and customers adhering to the Pinnacle Award criteria. The Pinnacle Award program, which began in 1996, is open to all Union Pacific hazardous material shippers, including chemical and petrochemical customers.