Eliminating Rail Crossing Accidents
Union Pacific Railroad Wants Drivers to Follow Good Winter Driving Habits
Union Pacific's 2012 paid media safety campaign raised community awareness of railroad safety and promoted safe behavior around railroad tracks.
Part of the campaign included a reminder about winter driving habits. Our outreach messaging urged drivers to slow down when winter weather conditions, including snow and/or ice, are present on the roads. Too many people have been injured or killed over the years driving too fast in wintry weather.
It can take a mile or more to stop a train, and by the time a locomotive engineer sees a person on the track, it is often too late to stop. Driving too fast in slick conditions increases the risk of being unable to stop at railroad crossings.
Every action that promotes safety matters. Despite collaborating with state and local governments and launching a paid media safety campaign with an audience reach of more than 73 million people in 2012, our crossing incident rate increased 13 percent in 2012 to 2.38 incidents per million train miles, compared to our all-time best 2.11 rate in 2011.
The combination of rising rail traffic in the south, which has a higher grade crossing density than our overall network, and growth in highway traffic due to growing economic activity in parts of our network increased Union Pacific's grade crossing incident exposure. However, we did make progress identifying and isolating high-risk locations, and improving or removing crossings of concern.
Crossing Accident Rate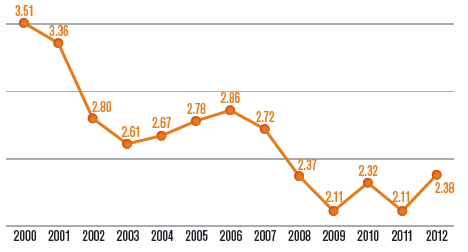 Accidents per million train miles