Safety through Security
As part of our efforts to keep trains secure and communities safe, we employ state-of-the-art, 24-hour security technology to detect unauthorized access. In conjunction with our own highly trained, commissioned police force, Union Pacific coordinates security efforts with U.S. Customs and Border Protection (CBP), the U.S. Coast Guard, the Federal Bureau of Investigation, the Central Intelligence Agency, the Department of Homeland Security, the Transportation Security Administration and local law enforcement.
Union Pacific was the first U.S. railroad to be named a partner in the Customs-Trade Partnership Against Terrorism (C-TPAT), a CBP program designed to develop, enhance and maintain security processes throughout the global supply chain.
Employee Safety
Performance Overview
Union Pacific's 2012 employee safety performance was the best in the company's 150-year history. Employees achieved a 1.01 reportable injury rate, surpassing the previous best rate of 1.15, established in 2011. From 2002 to 2012, Union Pacific employees improved their reportable injury rate by 58 percent. Our injury-rate improvement is evidence of our employees' personal commitment to the Courage to Care Pledge and our Total Safety Culture initiative.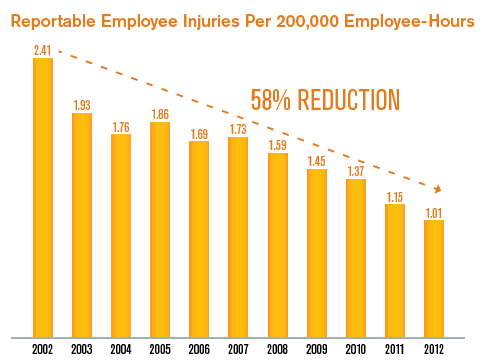 Reportable injury rate is calculated as the total number of injuries reported to the Federal Railroad Administration per 200,000 employee-hours.