Technology's Role in Employee Safety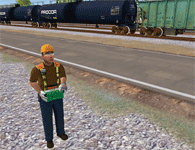 Video Gaming Technology
Video games aren't just for entertainment. Video simulation training pioneered by Union Pacific and licensed to other railroads and industries helps prepare our employees for real-life operating conditions. Before new conductors set foot inside a locomotive, they spend up to two months training with simulators, allowing them to learn in the safety of a classroom rather than in a 6,000-ton train. We also are using avatars in our Mechanical Department for car inspection training, and we expect to soon use this technology for our crane operators.
Electronic Device Awareness Campaign
In 2012, Union Pacific, along with senior railroad industry leaders and labor officials, launched a collaborative effort to raise awareness about the dangers of using electronic devices on the job.
Although many rules and regulations are in place to reduce risk, creating and maintaining a safe work environment requires proactive planning. Union Pacific was among the first rail carriers to adopt a national peer-to-peer program to educate employees on at-risk behaviors such as the unsafe use of electronic devices. Our Courage to Care commitment helps reinforce it.
Employees understand that their efforts are critical to safety. We also have excellent partners in our labor organizations and industry associations. We strive to keep employees engaged and committed so that every employee goes home safely every day.
Key Awards and Recognition

Joe Faigl
Conductor

Association of American Railroads Harold F. Hammond Award
awarded in 2012 for 2011 performance