Total Safety Culture
Green River's Total Safety Culture Expands for Cross-Functional Gains
In 2011, the Green River, Wyo., safety team established Employee Safety Intervention training sessions for at-risk and new-hire train, engine and rail yard employees. The sessions involved an eight-hour day of Total Safety Culture (TSC) training, union leadership, and management review of incidents, expectations and critical rules. In 2012, thanks to the sessions' success, Union Pacific expanded Green River's TSC program to incorporate all of Green River's crafts.
Each craft examines the other's procedures, which has led to safety, operational and consumer service enhancements. Relationships across departments also are being established, opening up avenues to more easily solve future issues.
Union Pacific employees lead our company's commitment to a Total Safety Culture (TSC), a voluntary initiative that teaches employees safety behaviors while providing observations and feedback. TSC directly empowers our union employees to address at-risk behaviors and receives the full backing of senior management.
Joe Guerra Honored as Union Pacific's 2012 J.C. Kenefick Safety Award Winner
Thirty-four year Union Pacific employee Joe Guerra was named the company's 2012 J.C. Kenefick Safety Award winner, the railroad's highest safety distinction. A well-respected leader, Guerra serves as Houston foreman general. He was recognized for his devotion to and involvement in safety throughout his career.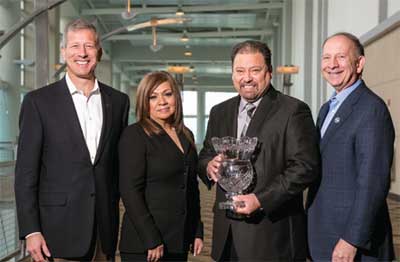 Left to right: Union Pacific Executive Vice President - Operations Lance Fritz,
Mirna Guerra, Joe Guerra, Union Pacific President and CEO Jack Koraleski.