Stakeholder Outreach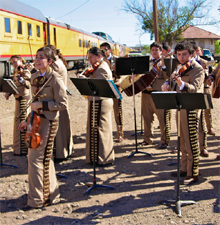 A youth mariachi band greeted the Union Pacific Heritage
Fleet as it arrived in Eagle Pass, Texas, for one of the
company's more than 200 events in 2012, celebrating Union Pacific's
150th anniversary.
We recognize that Union Pacific intersects with many different groups in the communities where we operate, so we engage a broad range of perspectives in developing citizenship and sustainability priorities.
We consider the needs, opinions and ideas of each of the groups affected by our business and reach out to them through a variety of channels.
Communication Channels

Communities

Employee volunteers
Union Pacific Foundation community-based grants
UP CARES, crossing accident reduction and education safety program
Employee and corporate giving
Nationwide, 24-hour emergency hotline: 888-877-7267
Safety training for fire and law enforcement personnel
Union Pacific/community emergency response committees
Employee recruiting
State-specific Public Affairs contacts and outreach
Public-private partnerships

Customers

Web portal
National Customer Service Center
Union Pacific account representatives
Advertising and marketing campaigns
Customer on-boarding team
Electronic commerce capabilities
Industry-specific customer education seminars
Customer news and service updates
Events and trade shows
Monthly customer satisfaction surveys
Partnerships and memberships
Supply chain impact evaluation for customers
Pinnacle Awards for chemicals customers
Innovative customer partnerships, including TRANSCAER

Employees and Retirees

UPOnline daily news updates
Employees website
Employee ethics hotline
InsideTrack employee newsletter
Union Pacific Information Television
Senior management field visits and town halls
Online town halls
Craft-specific and regional employee newsletters
Labor Relations Connection, an online portal for union employees
UP Voices grassroots Network
Safety policies, training and certification programs
Education assistance and management training
Friend-to-Friend employee network
Performance management
Surveys and focus groups
Leadership meetings
Reward and recognition programs
Employee clubs
Business ethics bulletins
Peer Support

Investors

Shareholder meetings with management
Earnings conference calls
Email alerts

Regulatory Officials

Voluntary participation in initiatives, including the Environmental Protection Agency's (EPA) SmartWay Transportation Partnership
Union Pacific's environmental management program
Ongoing dialogue via our Washington, D.C.-based staff
Association of American Railroads participation
Ongoing collaboration with the California Air Resources Board and other agencies
Ongoing collaboration with U.S. Customs and Border Protection
Employee and corporate regulatory and legislative advocacy

Suppliers

Competitive bid process
Electronic commerce capabilities
Supplier performance tracking system
Supplier quality program