Letter to Stakeholders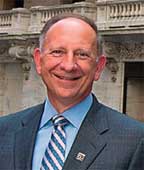 Union Pacific has stood the test of time because we make our business decisions for the long-term, taking into account the well-being of our people, customers, communities and shareholders. Our 46,000 employees know that each and every day our responsibility is to serve by focusing on performance, ensuring we do so with high ethical standards, and working as a team. Our mission and values serve as the solid foundation that enables us to develop and deliver sustainable business practices.
We have been an integral part of the American landscape for more than 150 years. Today, Union Pacific plays a more critical role than ever in delivering the goods American families and businesses use nearly every day. To meet this responsibility, we are constantly looking to refine our processes throughout every level of our business, which in turn helps seed the sustainable success of our customers and communities. For example:
300 trucks can be replaced with a single Union Pacific train, decreasing emissions and reducing stress on the country's crumbling road and bridge infrastructure.
2,500 nonprofits benefit from Union Pacific's giving programs.
8,400 locomotives in North America's largest fleet can each move a ton of freight 480 miles on a single gallon of diesel, the equivalent of a standard mid-sized car getting about 200 miles per gallon.
10,000 customers depend on us to provide safe, fuel-efficient and environmentally responsible freight transportation, a critical component in the global supply chain.
9 million carloads of goods are delivered every year. These include products such as grain and produce to feed our families, lumber and cement to construct buildings, automobiles to transport us, chemicals to make our drinking water safe, and energy resources to power our businesses and homes.
20 million daily readings are taken by wayside detectors along our tracks to improve safety and efficiency.
33.5 million metric tons of greenhouse gas emissions were eliminated in 2012 by customers choosing Union Pacific for their shipping needs, the equivalent of eliminating the greenhouse gases of nearly seven million passenger cars each year.
The U.S. freight railroad industry is among the world's most capital intensive industries. A significant part of our capital program is replacing assets at costs far in excess of their current book value. For example, our bridge that crosses the Mississippi River at Clinton, Iowa, is more than 100 years old, carries no book value to Union Pacific but will cost in the neighborhood of $450 million to replace. This is a real cost and an essential long-term investment we must make to support and sustain America's growing freight transportation demands.
We truly are committed to invest in our network to enhance safety, service and efficiency. Last year alone, Union Pacific invested a record $3.7 billion in capital, with roughly $1.7 billion spent on the company's engineering replacement program that included replacing more than four million railroad ties and more than 1,000 miles of track. Additional replacement capital spending consisted of locomotive purchases and improvements to freight cars and other assets.
We were faced with many uncertainties beyond our control in 2012 - fiscal cliff fears, stubborn unemployment and the Midwest drought, to name a few. This report demonstrates how our focus on creating customer value by living our mission and values helped us attain positive results in operating safely, strengthening communities, engaging employees and working to preserve the environment.
We celebrated Union Pacific's 150th anniversary in 2012 and achieved best-ever results in employee safety, customer satisfaction, operating ratio, operating revenue and earnings per share, among others. When I look at what we accomplished and what the future holds, in many ways it feels like we are just starting to hit our stride as we look toward 150 years of service for the next generations.


Jack Koraleski
President and CEO