Environmental Management, Governance and Compliance
33.5 Million Tons of GHG Eliminated in 2012
Union Pacific has been part of our country's fabric throughout the railroad's 150-year history. We understand the value of conserving resources and providing Americans with fuel-efficient, environmentally responsible and safe freight transportation.
Based on all 2012 Union Pacific shipments, our customers helped eliminate an estimated 33.5 million metric tons of greenhouse gases by choosing Union Pacific over truck transportation for their shipping needs. This is equal to the amount of carbon sequestered annually by 27 million acres of forests.
To ensure our network is accurately reporting our environmental performance, we use sophisticated systems and programs that track detailed metrics. Union Pacific consistently manages our environmental policy and performance to ensure we are meeting or exceeding all applicable laws that regulate our impact on the environment.
Reduce, Reuse, Recycle
Waste Management Initiatives
Reducing waste and diverting as much as possible from landfills are two of our corporate objectives. In 2012, Union Pacific began evaluating our waste stream more comprehensively. It requires a significant effort to maintain a 32,000-mile network across the western United States and we estimate that we generated approximately 1.25 million tons of waste in 2011 and 1.06 million tons in 2012. Our employees look across our waste stream for opportunities to reduce what we consume, re-use wherever possible and recycle those items that have reached the end of their useful life. Examples of our waste reduction efforts include:
In 2012, we diverted from landfills an estimated 75 percent of our waste.
Instead of sending organic materials away as waste, Union Pacific now shreds vegetation at its source where appropriate, leaving valuable nutrients for the soil and reducing erosion.
In 2012, we began recycling concrete crossties as part of our recycling efforts.
We improved programs for more specific waste types, such as toner cartridges and fluorescent and high intensity discharge lamps.
We've also expanded recycling of cardboard, paper, plastics and other solid waste. By the end of 2012, Union Pacific had implemented recycling at over 200 locations in more than 100 cities across the country.
E-Waste
Union Pacific makes it a practice to recycle electronics that have reached the end of their useful life, commonly known as e-waste. The company recycled or distributed more than 400,000 pounds of electronic equipment and nearly 1.1 million pounds of signal batteries in 2012. Where possible, our re-use initiative aims to find new homes for our used electronics, including nonprofit organizations in developing countries. In 2012, the initiative found new homes for 22 percent of Union Pacific's used electronic assets.
Fuel and Oil
In 2012, we recycled more than 4.2 million gallons of oil and fuel. Our processes and equipment capture used oil and fuel at our fueling and servicing facilities so they can be recycled. In addition, we use drip pans and other collection systems under our engines to catch spills, separators that extract engine oil from wastewater and automatic fuel nozzles that shut off to prevent overflow when a tank is full.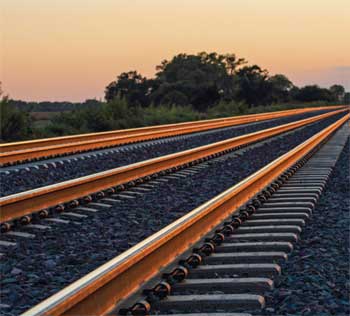 Railroad Ties
In recent years, Union Pacific has been laying two new types of railroad ties to replace the traditional wooden form.
Concrete ties in our heavy-haul corridors last longer than conventional ties, reducing the need for maintenance and improving overall network fluidity.
Composite ties are made of 100 percent recycled material and are 100 percent recyclable at the end of their useful lives. They are particularly effective in regions like the Gulf Coast, where moisture and insects shorten the life of traditional wooden ties. Union Pacific has laid more than 350,000 composite ties in the last five years, which is the equivalent of 385 million one-gallon milk jugs being recycled.