Stewardship
Hazmat and Chemical Risk Reduction
Union Pacific complies with all laws and regulations on hazardous materials and chemical transportation. In 2012, 99.99 percent of the chemicals we shipped for our customers moved without incident, but we will not be satisfied until we reach 100 percent. Visit our website to learn more about our hazardous material management and chemical risk reduction policies and practices.
Employee Stewardship
Our employees are our best resource for cutting waste and improving our environmental citizenship. Starting in 2008, we formally encouraged employees to suggest tips and ideas for improving our sustainability. So far, we've received over 1,800 ideas and more than 40 percent of these have led to changes in our programs and processes.
Environmental stewardship also means engaging with our communities. In 2012, employees hosted more than 100 events in connection with Earth Day. Events ranged from park and community cleanups to fairs for employees and community members. In Omaha, nearly 80 employees volunteered to connect with 1,000 students at 11 elementary schools with the goal to create a lasting stewardship message through engaging and fun activities.
Environmental Collaboration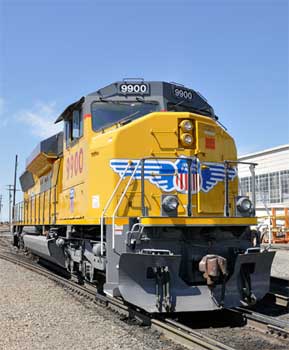 UP 9900 is the signature unit in a series of 25 locomotives Union Pacific is analyzing as part of a broad test of various emission-reducing technologies in California.
Collaborating with a range of public and private sector organizations amplifies our environmental efforts.
For example, Union Pacific has worked with the California Air Resources Board (CARB) to reduce emissions and improve California air quality since the mid-1990s. Our efforts began with a first-of-its-kind commitment to bring the then-most advanced and environmentally friendly locomotive technology to the South Coast Air Basin by 2010 continuing into 2020. According to CARB, this effort would reduce locomotive NOx emissions in the South Coast Air Basin by 65 percent in 2010 compared to 1998 levels. In 2012, CARB confirmed we met the 2010 requirements.
In 2012, Union Pacific expanded efforts with the Global Environmental Management Initiative (GEMI) and hosted one of GEMI's meetings, which provided members a chance to see the company's LEED-certified Union Pacific Center first-hand.
See our website for more information on these and other important collaborative efforts.
Climate Change and Risk Factors
Union Pacific continues to address climate change challenges proactively and regularly assesses the risk of climate change on our operations.
We made our commitment not only because we care about being good stewards of the environment but also because it's good business to limit our exposure to the risks of climate change. We believe that any long-term approach to the climate change challenge must include measures that fuse a reduced carbon footprint together with economic growth and prosperity. Our trains are part of this solution by providing a lower-emissions way to ship goods and connect buyers and sellers.
We are taking concrete actions today to strengthen our railroad's ability to withstand future changes and events that might be associated with climate change. Future legislative and regulatory action on climate change may affect our operations and financial performance (see the risk factors in our Annual Report on Form 10-K), but we cannot predict such impact. Instead, we explore new ways to reduce our fuel consumption by developing innovative locomotive technology, strengthening engineer training and equipping our employees with an eye toward conservation.
Water
Union Pacific strives to be a responsible steward of America's water resources. We estimate that we consumed 2.55 billion gallons of water in 2012.
The company's role in water management stretches to our beginnings, as we frequently played the role of the first land developers across the western United States. To this day, Union Pacific is responsible for providing safe drinking water to the public in a handful of cities.
Besides encouraging water conservation, in 2012, we completed the company's most significant water initiative to close abandoned water wells across our territory, ensuring environmental compliance and removing safety hazards. This seven-year project involved repurposing wells originally required to supply water for steam locomotives, shops and section houses. Our data review identified more than 2,500 potential sites. As a result of field visits, we completed the project and closed approximately 500 wells.
Protecting groundwater also is important to our company. Spill Prevention Control and Countermeasure (SPCC) plans have been prepared and implemented at more than 130 Union Pacific facilities. We also operate and maintain more than 90 wastewater treatment facilities across our system.
Key Awards and Recognition