Greenhouse Gas Emissions
Carbon Emission Estimator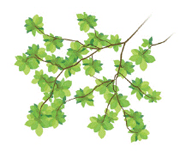 Just as measuring our environmental impact is important to Union Pacific, increasingly, customers are asking us to calculate the carbon reductions they receive when we ship their goods. To reinforce the environmental value of shipping with Union Pacific, in 2011, we added capability in the Carbon Emissions Estimator for customers to calculate their savings compared to other freight transportation. In early 2013, we also began sending customers their carbon emissions savings estimate for 2012 shipments.
Our Goal
We set a goal to reduce our locomotive fuel consumption rate by 1 percent annually from 2011 through 2015, which will translate to an annual 1 percent reduction in our greenhouse gas (GHG) emissions rate and a 23 percent reduction between 2000 and 2015.
Unfortunately, we did not make our goal in 2012. Fuel efficiency in 2012 mirrored 2011, a result of a change in our freight traffic mix. Specificaly, coal volumes were down 14 percent. Coal is our most efficiently transported commodity because it moves in unit trains. Despite these challenges, we remain committed to achieving our goal.
Our Performance
Locomotives account for nearly all of our GHG emissions.
Union Pacific produced a total of 12,002,685 metric tons of GHG emissions from fossil fuels in 2012. Our 2012 rate of emissions, as measured by gross ton miles, remained constant.
In 2012, our overall emissions from locomotives decreased 2 percent compared to 2011, from 11,380,842 metric tons of CO2e in 2011 to 11,149,798 metric tons of CO2e in 2012. Gross ton miles also decreased by 2 percent.
Union Pacific's emissions from biomass sources were 41,054 metric tons.
Scope 3 emissions from employee travel totaled 16,932 metric tons. Employee travel includes rental car fuel and commercial air travel. This is the second time we reported these Scope 3 emissions, which increased slightly.
Since 2000, operational and technological improvements have resulted in a 19 percent improvement in fuel efficiency, the equivalent of more than one and a half years' worth of fuel used by our company (1.73 billion gallons). The efficiency gains saved nearly 18 million metric tons of GHG emissions, the annual equivalent of GHG emissions from more than 3.7 million passenger vehicles.
During 2012, our customers reduced an estimated 33.5 million metric tons of GHG emissions by choosing Union Pacific over other transportation for their shipping needs. This is equivalent to eliminating the GHG emissions of nearly 7 million passenger cars each year.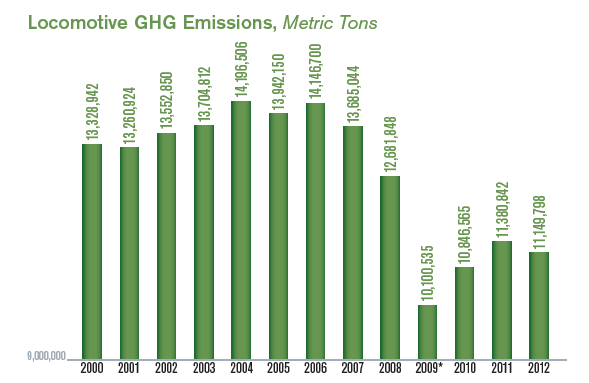 Union Pacific's 2012 greenhouse gas inventory verified by Conestoga-Rovers & Associates. Union Pacific works with Trinity Consultants to compile our GHG inventory. Conestoga-Rovers & Associates and Trinity Consultants are independent organizations. Excludes biomass sources.
Low point of the recession reduced carload volume, leading to reduced GHG emissions.
* Emissions restated to include Alton & Southern Railway and updated emissions factors.
Other Greenhouse Gas Reduction Initiatives
We're also addressing our emissions in areas beyond the efficiency of our locomotives. These other areas represent less than 10 percent of the company's total GHG emissions. In 2012 we:
Implemented recommendations from the Environmental Defense Fund Climate Corps, whose work in 2012 focused on improving air compressor management and turning off lights in soda machines in field locations. Based on the Climate Corps suggestions, Union Pacific added a position solely focused on utility energy efficiency opportunities.
Added 10 electric vehicles to test their viability in Union Pacific's locomotive shop operating environments. The Climate Corps program also included pursuing a pilot to convert a vehicle to Compressed Natural Gas.
Completed 15 energy-reducing projects focused primarily on lighting upgrades. We estimate these projects will reduce emissions by 1.5 million kilowatt hours a year, equivalent to the amount of energy consumed by 132 homes in a year.
Developed initiatives to reduce fuel consumption in vehicles, including the addition of "telematics" in more than 400 vehicles. With telematics, a telecommunications device transmits real-time information to promote safe and fuel-efficient driving habits.
Upgraded nearly 1,300 refrigerated cars to reduce diesel particulate matter emissions. Union Pacific has upgraded more than 4,700 refrigerated cars in the last five years.
2012: Our Best-Ever Carbon Disclosure Project Performance
The Carbon Disclosure Project (CDP) is an independent not-for-profit organization that collects and reports data from the world's largest public companies on behalf of 655 investors representing $78 trillion in assets.
We achieved a disclosure score of 87 in the CDP S&P 500 Climate Change Report 2012, our best score ever and a 30-point improvement over 2011. The average disclosure score is 70 for all S&P 500 companies in the 2012 CDP report.