Locomotive Technology
Genset Switcher Locomotive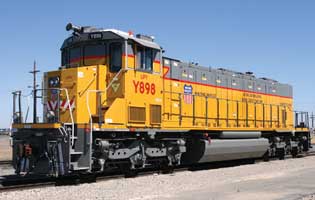 Locomotives do not require maximum horsepower all the time, so Union Pacific initiated development of a switching locomotive that uses multiple smaller diesel engines to produce the required horsepower when needed. This allows engines to be powered up quickly, instead of idling in the rail yard until needed.
The idea was to package the diesel engine, electrical generator and radiator in one compact, easily replaced module called a Generator Set, or "Genset."
The latest Genset switchers are equipped with six traction motors instead of the four found on traditional rail yard locomotives. The two additional traction motors help to push rail cars over the "humps" in rail yards before gravity takes the cars into destination-specific tracks. Using the Genset switchers also reduces greenhouse gas emissions from the switchers by up to 37 percent.
Union Pacific began studies and tests of the prototype Genset switcher locomotive in 2002. Our fleet of 172 ultra-low emission Gensets working in California, Texas and the Chicago area represents the industry's largest.
Our Responsibility to Pioneer Cleaner Locomotive Technology
In addition to the development and implementation of Genset locomotive technology:
We developed a comprehensive plan to reduce unnecessary locomotive idling time. Locomotive shutdowns can save 15-24 gallons of fuel, per locomotive, per day. All new locomotives have automatic Stop-Start equipment and older locomotives are being retrofitted with it. In total, approximately 70 percent of our locomotive fleet is equipped with this technology.
We partnered with Electro-Motive Diesel to install EGR, DOC and DPF on the experimental UP 9900 locomotive. The UP 9900 is the signature unit in a series of 25 locomotives expected to help us further pursue developing a locomotive that meets the EPA's Tier 4 emission standards.
We are continuing to test an ultra-low emitting Genset locomotive that has been fitted with DPF to further reduce particulate matter emissions beyond its normal low level.
We evaluated experimental technology, such as oxidation catalysts (Oxicat) and diesel particulate filters (DPF). Initial tests showed the Oxicats reduced particulate emissions by 50 percent, hydrocarbons by 38 percent and carbon monoxide by 82 percent DPFs reduced particulate matter by more than 70 percent.
Our Employees' Commitment to Sustainability
This year, Union Pacific won both awards presented by the Association of American Railroads that recognize employee excellence.
Mike Iden
John H. Chafee Environmental Excellence Award, Association of American Railroads
As a 38-year veteran of the railroad industry and general director of car and locomotive engineering at Union Pacific, Iden helped pioneer more than 40 new fuel efficiency and emissions reduction technologies, from improving batteries in locomotives to reducing friction on rails to lowering aerodynamic drag on double stack trains. Iden's work with distributed power on longer trains resulted in a 20 percent improvement in locomotive productivity, and his work with older locomotives on coal trains increased locomotive productivity and fuel efficiency by 20 percent. Today, due in large part to Iden's efforts, Union Pacific uses distributed power on 57 percent of our freight trains.
Lanny Schmid
2012 Professional Environmental Excellence Award, Association of American Railroads
The 2012 Professional Environmental Excellence Award is the highest honor for environmental professionals in the railroad industry. Union Pacific's Lanny Schmid has held responsibilities in almost all geographic regions and all environmental programs over the last 27 years. His conflict resolution skills have enabled him to bring together federal and state agencies, communities and key personnel from various railroad departments to find workable solutions to environmental issues. His successes have ranged from introducing more environmentally friendly technology in California to bringing Genset locomotives to Texas. He also has been instrumental in obtaining grants to replace 172 older locomotives with newer ones that reduce emissions.