Community Giving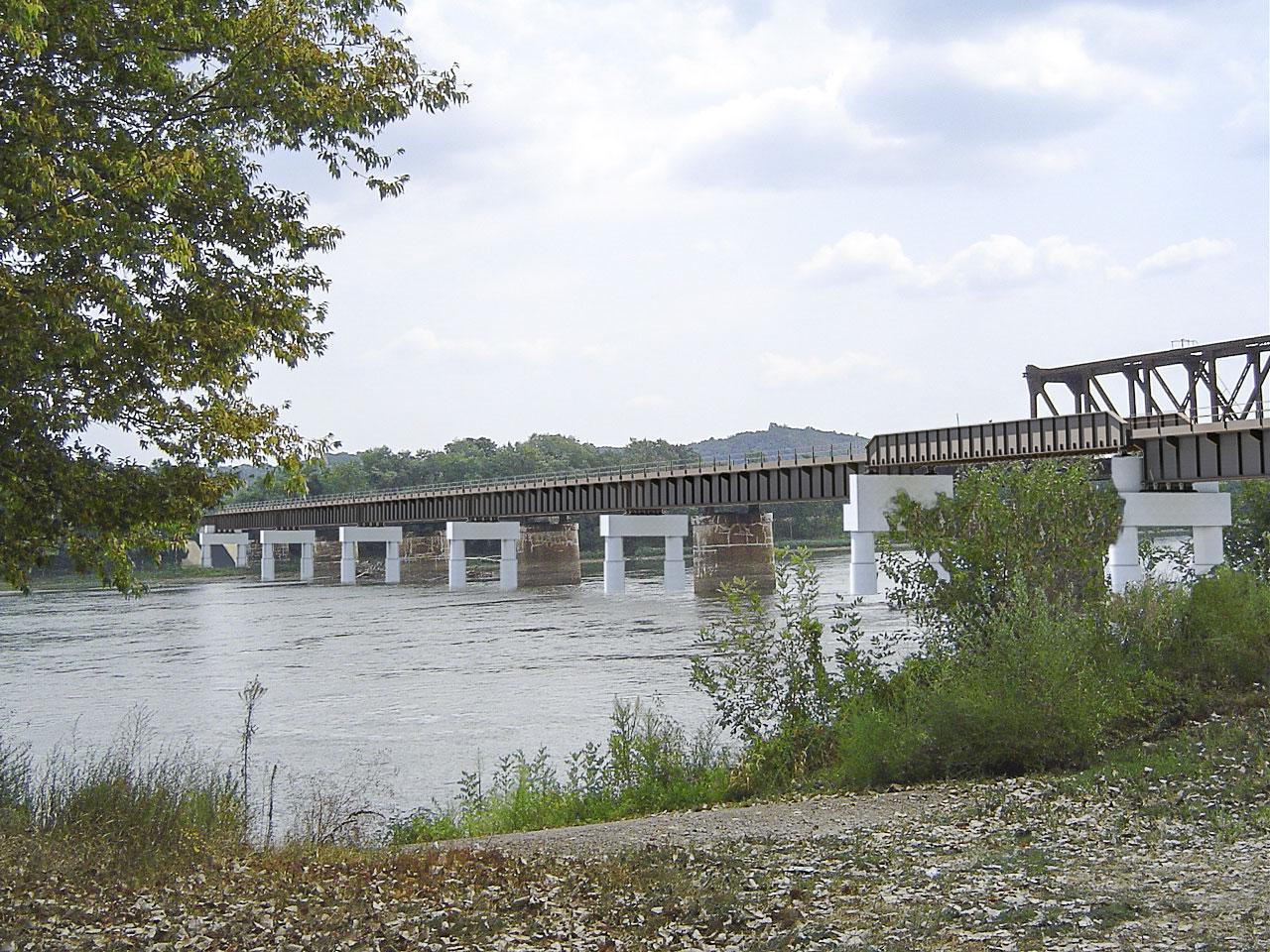 New Bridge Helps Eliminate Delays for Passenger and Freight Trains
In November 2013, Federal Railroad Administrator Joseph Szabo, along with representatives of Union Pacific, the Missouri Department of Transportation (MoDOT), Amtrak and contractor OCCI Inc. officially opened a new $28 million 1,200-foot railroad bridge across the Osage River. The new bridge adds capacity and aids in the continued improvement of on-time performance for freight trains and the Amtrak® Missouri River Runner passenger trains sponsored by MoDOT between Kansas City and St. Louis.
The new bridge enables all trains using the corridor to operate more efficiently. According to MoDOT, 90 percent of the Missouri River Runner trains arrived on-time or ahead of schedule in fiscal year 2013. These same passenger trains were operating an average of 64 percent on-time in 2008. Subsequently, ridership has increased for six consecutive years to nearly 200,000 passengers.
MoDOT received a multimillion dollar award under the Recovery Act, which funded a majority of this project. Union Pacific provided the remainder of the project cost. The bridge was constructed by OCCI, Inc., from Fulton, Missouri. These and other improvements, directly linked to capital investments made by Union Pacific, the Missouri General Assembly and the federal government, continue to add capacity, improve on-time performance and increase the efficient movement of goods along the corridor.
Public-Private Partnerships
Union Pacific's involvement in public private partnerships (P3s) helps boost local economies and develop long-lasting relationships. In August 2013, Union Pacific and its partners announced completion of the Colton Crossing public-private project, which supports business growth in Los Angeles and California's Inland Empire.
Construction on the Colton flyover began in 2011. The project involved elevating Union Pacific's east/west tracks over BNSF's existing north/south tracks to dramatically improve fluidity at the 131-year-old rail intersection. Before the flyover's construction, Colton Crossing was one of the nation's busiest at-grade rail-to-rail crossings, accommodating more than 100 freight and passenger trains daily. Federal, state and local government funding, coupled with private dollars from Union Pacific and BNSF Railway, made the project possible.
Passenger Rail
Each weekday, more than 250 commuter trains carrying 120,000 passengers travel on Union Pacific rail lines. By comparison, Amtrak operates about 300 trains with 87,000 daily passengers.
Union Pacific Foundation
Union Pacific, in conjunction with the Union Pacific Foundation, supported more than 2,500 nonprofit organizations. We award grants through an annual online application process available to nonprofits located in Union Pacific communities, and combine those efforts with corporate support and employee matching gifts.
Interactive Learning Takes on New Level
Union Pacific partnered with its foundation for the third consecutive year to purchase hands-on educational supplies that foster student success.
Pre-kindergarten and kindergarten classrooms at Fifth Ward Elementary in St. James, Louisiana, received books for a reading center, as well as magnets and weather charts for a science center.
The school's library also received an interactive whiteboard package, featuring a laptop, whiteboard with speaker system, and response system allowing students to actively participate in lessons.
GivePLUS
Through GivePLUS, employees are encouraged to donate money or give personal time to support their communities.
It has two main components:
MoneyPLUS supports and extends employees' financial contributions to qualified 501(c)(3) nonprofit organizations.
TimePLUS provides a $250 gift from Union Pacific to organizations that host employee volunteers.