Community Giving
Union Pacific Foundation
The Union Pacific Foundation is the philanthropic arm of Union Pacific Corporation and Union Pacific Railroad. Its goal is to distribute funds to qualified organizations and communities Union Pacific serves. The foundation is not endowed, but is funded each year from the operating profits of Union Pacific Corporation.
In 2012, Union Pacific in conjunction with its foundation supported more than 2,500 nonprofit organizations. We award grants through an annual online application process available to nonprofits located in Union Pacific communities, and combine those efforts with corporate support and employee matching gifts.
GivePLUS
The GivePLUS program encourages our employees to donate money or give personal time to support their communities. It has two main components:
MoneyPLUS supports and extends employees' financial contributions to qualified 501(c)(3) nonprofit organizations.
TimePLUS provides a $250 gift from Union Pacific to organizations where employees volunteer.
Association of Fundraising Professionals
The Association of Fundraising Professionals (AFP) Oklahoma Chapter named Union Pacific the AFP Outstanding Philanthropic Foundation of the year in 2012. Union Pacific was selected for demonstrating outstanding commitment through financial support, as well as encouraging and motivating others.
The Children's Center, a private, nonprofit pediatric hospital in Bethany, Okla., nominated Union Pacific for the award. Over the past four years, the Union Pacific Foundation has built a strong relationship with the hospital, which helps children with complex medical and physical disabilities.
A Boxcar Full of Food
Union Pacific teamed with the Food Bank of Northern Nevada in Soring to host the "Railroading Hunger Food Drive," which raised $5,535 and collected more than 5,000 pounds of food. Engaging UP's community partners and local businesses was integral to the food drive's success.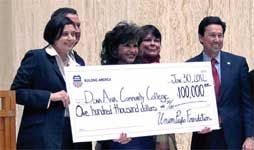 Doña Ana Community College – Union Pacific Supports New Mexico Jobs
In January 2013, Union Pacific donated $100,000 to Doña Ana Community College (DACC) to support a new rail facility that will provide the area with job opportunities.
The college plans to use the funds for scholarships and workforce development to ensure its students will effectively serve the jobs that facility will bring to the state. For example, a 2,200-acre intermodal and locomotive fueling hub west of the Santa Teresa Airport is expected to create about 3,000 jobs from 2011 to 2015 and more than 600 jobs when it is operating at capacity in 2025. With Union Pacific's donation, DACC students will be able to graduate with the qualifications to fill open positions.
How the Transcontinental Railroad Impacted U.S. History
As part of our 150th anniversary celebration, Union Pacific introduced an engaging new teacher's resource kit as a tool to help students grades 3-8 learn the history of America's first transcontinental railroad. Abraham Lincoln signed the Pacific Railway Act in 1862, creating Union Pacific and authorizing construction of the transcontinental railroad. The kit aligns with national standards for history and social studies.