State-by-State Economic Impact
State-by-State Economic Impact - 2012
State
Employees
Payroll*
Route Miles
Capital Spending*
In-State Purchases*
Arkansas
2,792
222.3
1,327
139.9
37.6
Arizona
1,311
107.8
640
101.6
66.8
California
4,872
430.7
3,283
376.1
233.3
Colorado
1,398
121.1
1,512
57.0
249.6
Idaho
942
83.2
849
95.4
29.0
Illinois
4,055
356.1
2,198
215.4
2000.0
Iowa
1,696
139.8
1,392
87.4
84.6
Kansas
1,479
145.4
2,205
83.9
197.3
Louisiana
1,355
116.3
1,152
138.6
18.8
Minnesota
488
41.9
646
5.4
103.8
Missouri
2,765
203.4
1,482
97.2
366.2
Montana
17
1.3
125
**
1.2
Nebraska
7,864
1100.0
1,067
303.2
218.1
Nevada
554
41.8
1,193
65.6
53.3
New Mexico
330
26.0
618
101.0
1.9
Oklahoma
405
41.2
1,173
66.8
142.7
Oregon
1,649
133.5
1,073
111.6
187.6
Tennessee
53
3.4
14
**
90.6
Texas
8,111
700.4
6,317
524.4
2700.0
Utah
1,394
127.1
1,249
47.0
219.9
Washington
342
25.9
532
15.8
129.7
Wisconsin
375
37.6
928
11.9
59.9
Wyoming
1,265
99.9
879
63.8
99.8
* Millions of dollars
** Nominal capital spent due to low route miles in the state
Providing Good Jobs
Union Pacific provides good jobs in an industry critical to American businesses. We pride ourselves on hiring the best candidates and providing them with the resources, training and support they need to reach their potential. In 2012, we hired 3,900 employees and plan to hire approximately 3,000 to 4,000 more in 2013 based on attrition and business needs. You can read more about our commitment to our employees in Section IV of this report, Engaging Employees.
Train Town USA Registry
Union Pacific began building the transcontinental railroad to the west from the Missouri River, opening a grand frontier to those who settled in existing communities or started new ones along the rail lines.
That bond between our railroad and early settlements has continued to grow. Today, Union Pacific serves nearly 7,300 communities where we live, our children grow up, we serve customers and recruit employees. From rural towns to cities, we're honored to have unique, long-standing community relationships.
Union Pacific's Train Town USA Registry began in 2012 as a way to celebrate the railroad's 150th anniversary with many communities that grew up with Union Pacific. We awarded 79 Train Town USA Registry memberships in 2012, and the program turned out to be so popular that we decided to continue it.
The registry remains open to all incorporated communities located along Union Pacific tracks or terminals. Elected city officials and executive officials of each local Chamber of Commerce are invited to complete the application form to feature their community at up150.com and to be recognized with an exclusive resolution from Union Pacific.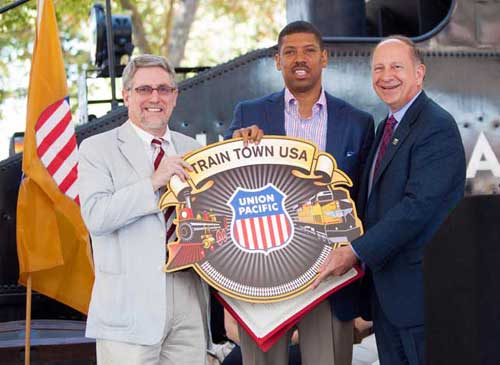 Left to right: Sacramento City Councilman Steve Cohn, Sacramento Mayor Kevin Johnson, Union Pacific President and CEO Jack Koraleski.