Mechanical Terms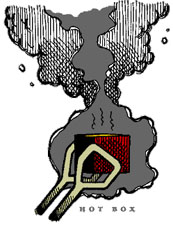 Bad Order – Rail car that has a mechanical defect.
Car Set Out – Bad order in a train that has a mechanical defect and must be "set out" on line for repairs by mechanical road truck.
Dragging Equipment Detector – Electronic trackside detection system that identifies unusual conditions, such as brake rigging down, lading down or dragging alongside car, and chains or straps on flat cars along the ground.
Hot Box – Overheating of the axle hub due to bearing failure. Metal-on-metal friction generates heat and eventually will melt a 6-inch-diameter steel axle.
Hot Wheels – Overheating of a rail car's wheels due to sticking brakes and brake shoes rubbing against the wheel tread. They can result in thermal cracking if severe.
Shop Count – Number of bad order rail cars (loads/empties) at a repair facility awaiting repair, or number of locomotives at a shop for repairs.