Allowable Gross Weight Map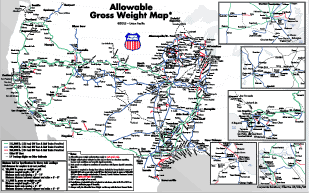 The map is available in three different size/print configurations for easy printing.
Allowable Gross Weight Clearance Request Form
Maximum Allowable Gross Weight Shipments
Union Pacific continues to implement a process to help eliminate damage to rail infrastructure that can occur from the shipment of rail cars that exceed the maximum recommended gross weight. While much of Union Pacific's system is approved for the heavy axle rail cars that can handle up to 286,000 lbs. or 315,000 lbs. gross weight, in several Union Pacific locations, the track structure – in most cases, bridges – is not capable of adequately handling and distributing this excess weight and may have a restriction of 268,000 lbs. These restrictions are required to maintain our commitment to the safe, damage free delivery of our customer's shipments.
In order to address safety issues and to prevent damage, or potentially catastrophic failure, to track or a bridge structure, the system reviews all cars along with their routes, to determine if the gross weight limitations for that route are exceeded. If a car exceeds the gross weight limit for the requested route, it will automatically be placed in hold at origin (the car will show as "HY" on the website car trace) and will not schedule for movement. If this occurs, the customer will be notified by the Clearance Team at Union Pacific. The customer then has the option to either reduce the load or divert it to another location that can handle the heavier weight.
Customers that are shipping heavy axle cars should use one of the following options to request an allowable gross weight clearance:
For any requests up to five origin and destination points, please complete and submit the Allowable Gross Weight Clearance Request Form
For any requests exceeding five origin destination points, please provide Union Pacific with a formatted spreadsheet containing the following information:

Shipper and origin, consignee and destination, commodity and routing (including a junction point if the load traveling is off line), along with a phone number and email address for a response. Email this spreadsheet to the NCSC Clearance Team at clearances@up.com.
Key Points
All clearances need to be requested prior to billing shipment.
Local UP shipments will be cleared within two business days.
Requests exceeding five origin and destination points will take longer to process.
Interline movements originating on UP may take longer to process given the connecting carriers must be contacted to obtain clearances on their lines.
All carriers in the route must approve the heavy axle shipment.
The Allowable Gross Weight Map provided here is for informational purposes only and does not show all industry track restrictions. Customers always should request clearance using the process described above to ensure no delays to their shipments occur. Increasing the weight limits on rail lines is a function of economics. Customers should work with their sales representative if a need arises to increase the weight limits to allow for heavy axle shipments.
For general questions regarding rail capacity, please contact the Clearance Team at 800-544-0541 or clearances@up.com.