Express Lane
Fast, Fresh and Headed Your Way

Express Lane is an expedited, priority train service developed by Union Pacific and CSX Transportation to ship food products from California and the Pacific Northwest to various destinations across the eastern half of the United States - fast, fresh and on time. Since it was introduced in 2000, Express Lane has moved more than 11 million tons of product with a 98 percent on-time delivery track record from shipper to receiver.
Investment in Equipment
Union Pacific has the largest refrigerated boxcar fleet in the industry with 4,950 units. The fleet includes 1,500 64-foot refrigerated boxcars and 3,450 50-foot refrigerated boxcars. These refrigerated boxcars are more environmentally friendly than ever and are compliant with the California Air Resources Board (CARB) standards.
Express Lane Features
Substantial savings over truck, based on the economies of rail. One rail car has the loading capacity of up to four truckloads.
Access to more food shippers than any other railroad.
Expedited service to the largest consumer markets in the east via CSX Transportation.
Access to Union Pacific's extensive rail car fleet, including the largest number of refrigerated boxcars in the industry.
Availability of premium, value-added services, such as transit monitoring, shipment management and problem resolution.
Transit Times
Destination Markets
Transit Time
from Idaho
Transit Time from
Washington/Oregon
Transit Time
from California
Chicago, IL
6 days
7 days
8 days
St. Louis, MO
6 days
7 days
8 days
New York, NY
9 days
11 days
12 days
Boston, MA
9 days
11 days
12 days
Pittsburgh, PA
10 days
12 days
13 days
Philadelphia, PA
11 days
13 days
14 days
Atlanta, GA
12 days
14 days
15 days
FL Destinations
15-17 days
15-17 days
15-17 days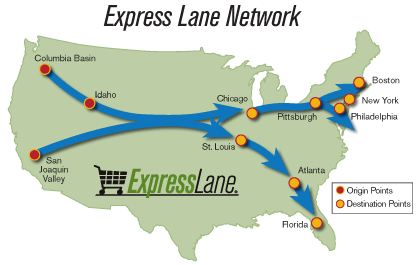 Value-Added Services
Union Pacific Distribution Services (UPDS), a logistics subsidiary of Union Pacific, provides additional premium services to complement Express Lane services. The UPDS One Plus program extends the reach of the Union Pacific rail network by providing a complete, door-to-door solution across all major U.S. markets - even for customers with limited or no access to rail.
Premium UPDS Services

Dedicated One Plus transload network
Shipment releases
Shipment monitoring across networks
Problem resolution
Data analysis/corrective actions

Equipment supply
Proactive shipment management
Load consolidation
Customized traffic reports
Warehousing
Getting Started
To learn more about Express Lane, call a sales representative in one of our Express Lane regions:
Pacific Northwest: 402-544-3720
East Coast: 908-213-1895
Upper Midwest: 908-213-1895
Central California: 916-789-6348
Lower Midwest: 402-544-2009
UPDS: 800-877-5633