Plant-to-Port
An Export Solution for DDGS, Grain and Grain Products
Union Pacific and Union Pacific Distribution Services (UPDS) have joined together to offer Plant-to-Port — a transportation and transload service delivering Dried Distiller's Grains with Solubles (DDGS), grain and grain products from the Midwest to Southern California. This first-of-its-kind export program will utilize unit train hopper car shipments to a dedicated UPDS transload facility in Yermo, California. From there, double-stack intermodal trains will transport loaded 40-foot marine containers to Union Pacific served on-dock terminals at the Ports of Los Angeles/Long Beach.

Online Plant-to-Port Auction
View and bid on train slots in the online Plant-to-Port Train Slots auction.
Plant-to-Port Process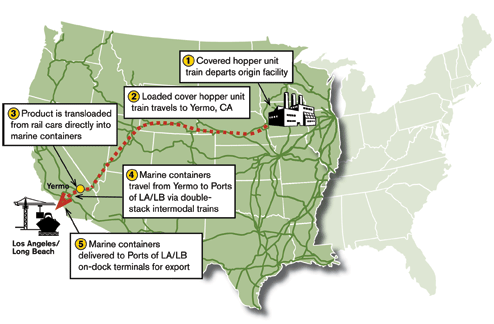 Plant-to-Port Features
Weekly unit trains of grain and grain products
Dedicated throughput capacity secured through Union Pacific's online auction system
Unit or sweep trains of grain and grain products from any approved Union Pacific direct or joint-line interchange point
Dedicated on-site transloading
Multi-carrier marine container storage area on-site at Yermo, California
Double-stack intermodal train service from Yermo to the Ports of Los Angeles/Long Beach
Dedicated UPDS staff to manage door-to-door logistics

Contact Us to Get Started
For additional information and pricing, please contact your Union Pacific or UPDS representative or: