EMP and UMAX Container Specifications
| | |
| --- | --- |
| Inside Width | 99 3/8" |
| Inside Height | 109 1/2" |
| Overall Length | 53' |
| Inside Length | 52' 6 11/16" |
| Door Opening Height | 109 1/2" |
| Door Opening Width | 98" |
| Gross Weight Rating | 67,200 lbs. |
| Tare Weight | 9,980 lbs. |
| Fork Lift Truck Rating (floor strength) | 24,000 lbs. |
| Cubic Capacity (cubic feet) | 3,970 |
| Walls | wood or steel |
| Floor | wood |
Please contact a Union Pacific Market Analyst at 402-544-3339 or 402-544-7131 with any EMP or UMAX specification questions.
Equipment Features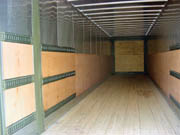 Three rows of logistics track in rear for cargo control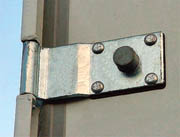 All door hinges are 4" wide. Door hardware is installed using anti-theft fasteners.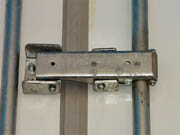 Center of rear doors is fitted with a mid-cam locking device for extra strength and anti-theft capability.