Denver, Colorado
Intermodal Facilities Maps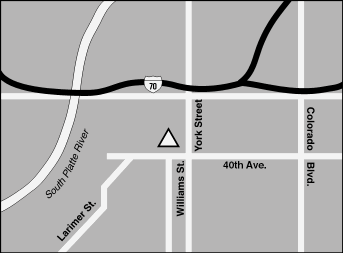 Terminal Information
Location: 4085 N. York Street Denver, CO 80205
Terminal Capabilities: TOFC/COFC
Directions: Eastbound: Take York Street off of I-70 E toward Josephine St. for 1 mile. Make slight right onto York Street. Go .3 miles to facility entrance on the west side of street.

Westbound: Take Colorado Blvd. off of I-70 W. Proceed south on Colorado Blvd. to 40th Ave. Turn right (west) on 40th Ave. and proceed to Josephine St. Turn right (north) at Josephine and proceed to 41st Ave. and turn left. Facility entrance will be directly ahead.
Fax: (303) 964-4826 or (303) 964-4317
Hours of Operation: 7 Days, 24 Hours
This facility is equipped with an Automated Gate System (AGS).
National Customer Service Center
NCSC Contacts
Intermodal Phone
800-877-5123
Intermodal Fax
800-228-9615
Schedule Information