Salt Lake City, Utah
Intermodal Facilities Maps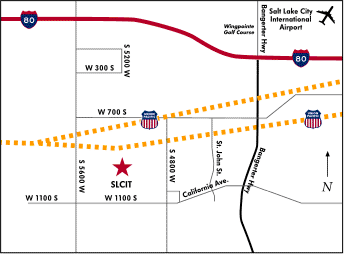 Terminal Information
Location:1045 South 5500 West, Salt Lake City, Utah 84104
Terminal Capabilities: TOFC/COFC
Directions: Take I-80 west to 5600 West exit, turn left to 1100 South. Turn left into the facility.
Fax: 801-212-4105
Hours of Operation: 7 Days, 24 Hours
This facility is equipped with an Automated Gate System (AGS).
National Customer Service Center
NCSC Contacts
Intermodal Phone
800-877-5123
Intermodal Fax
800-228-9615
Schedule Information
More About Salt Lake City Intermodal Facility
Union Pacific's Salt Lake City Intermodal Terminal is a $90 million state-of-the-art facility designed to support the growing intermodal volume in the Wasatch Front area. Covering more than 240 acres, this expansive facility is capable of handling more than 250,000 annual container lifts, greatly increasing UP's intermodal capacity in the expanding regional market. Strategically located in Salt Lake City, this facility provides convenient highway access to markets throughout Utah and surrounding states.
Construction of this new facility was completed in early 2006. Four loading/unloading tracks were constructed with capacity to handle 60 intermodal double-stack rail cars. Five storage tracks were built to stage up to 90 additional intermodal double-stack rail cars. One track was constructed for the receiving and departure of trains, with direct access to UP's main line, providing connection to all major eastern and western population centers. In addition, the facility employs two straddle cranes to load and unload rail cars and one mobile packer to lift containers. Union Pacific has designed this new facility to expedite operations, with space for future expansion to keep pace with our customers' growth requirements.
Trucks will gain access to the railport via a high-tech, biometric secured Automated Gate System (AGS) entrance. This technology will allow a trucker to process a container through the gate in 30-90 seconds, as compared to a national average of four minutes. Built with quality in mind, this clean, safe and well-lit intermodal facility is designed to serve the needs of our diverse and valued customers for years to come.

Facility Features
250,000 Lift-Capacity for Intermodal Containers
Over 1,100 "Staging" or Parking Stalls for Containers
The increased capacity and improved terminal efficiency creates faster container availability for our customers.
24-Hour, Seven-Day-a-Week Operations
Enhanced customer and motor carrier operational convenience and flexibility.
Six-Lane Automated Gate System (AGS) Entrance
Enhances gate capacity and improves gate/terminal throughput. Improves truck turn times.
Co-op Chassis Pool
Available pool of chassis equipment to reduce customers' asset investment and minimize multiple lifts for improved terminal productivity.
U.S. Customs Capability
Salt Lake City Intermodal Terminal is located within the Salt Lake City Customs District.
Four Loading Tracks
Expedited loading/unloading capability, resulting in improved container availability.
Repair Buildings
On-site repair and maintenance of cranes and ramp tractors to ensure efficient, uninterrupted operations.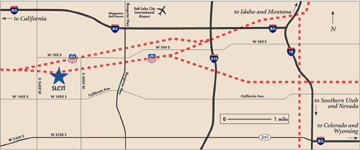 Additional Features
State-of-the-Art Security
Eight-foot security fencing, remote camera system and lighting provide a secure, theft-resistant environment for customers' cargo while at the terminal.
Leading Technology
Automated Gate System (AGS) with biometric technology employed to expedite ingate/outgate process.
OASIS Software Utilized to Maximize Terminal Efficiencies
Interstate Access
Convenient access to Interstates I-80 and I-15 serving markets in all four directions.
At a Glance:


1,155 Parking Stalls

Six-Lane Automated Gate System

Four Loading/Unloading Tracks

Five Storage Tracks

State-of-the-Art Security

24-Hour, Seven-Day-a-Week Operations

OASIS, Real Time Terminal Management System

Optical Character Recognition Technology/Biometrics for security and gate processing efficiency