Tacoma South (TacSim) - Tacoma, WA
Intermodal Facilities Maps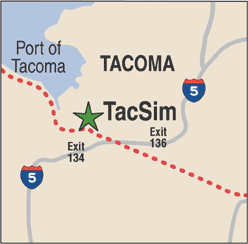 Terminal Information
Location: 1738 Milwaukee Way, Tacoma, WA 98421
Terminal Capabilities: COFC
Directions:
From the South - Interstate 5 north to Exit 134. Left on East Portland Avenue. Right on Lincoln Avenue. Left on Milwaukee Way. Terminal entrance is on the left.
From the North - Interstate 5 south to Exit 136. Right on Port of Tacoma Road. Left on Lincoln Avenue. Right on Milwaukee Way. Terminal entrance is on the left.
Fax: (253) 272-8636
Hours of Operation: 24 hours, 7 days a week

National Customer Service Center
NCSC Contacts
Intermodal Phone
800-877-5123
Intermodal Fax
800-228-9615
Schedule Information
More About Tacoma South Intermodal Terminal
Covering more than 40 acres, Tacoma South Intermodal Terminal (TacSim) is capable of handling 150,000 annual lifts, greatly increasing UP's intermodal capacity in the Pacific Northwest. This facility is strategically located near western Washington's warehousing, transloading and distribution centers, with convenient highway and interstate access.
Facility Features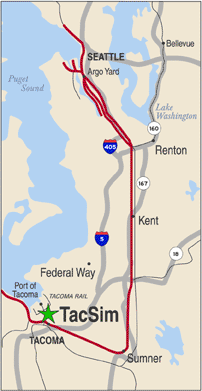 Leading Technology
Utilizes TCS and Oasis software to maximize terminal efficiencies.
25 Acre Container Yard
Provides ample capacity to process containers and creates faster availability for customers.
24 Hour, Seven-Day-a-Week Operations
Allowing operational convenience and flexibility for customers and drayage carriers.
Future Services
TacSim's capacity allows Union Pacific to add additional lanes, including service between Los Angeles and TacSim, planned for 2009.
Interstate and Highway Access
Convenient access to Interstate 5, Highway 509 and Highway 99 offers greater access to Washington and Western Canada.
Strategic Location
Positioned to serve more than 80 million square feet of warehouse space
Provides competitive intermodal service between the Pacific Northwest and the major markets of Chicago, the Midwest and the eastern United States
Central to all major markets
Avoids congestion encountered in surrounding major metropolitan market
Offers unparalleled market access