Fast Facts
By the Numbers
32,000 — miles of Union Pacific track, a critical network supporting America's energy needs
$4.3 billion — 2015 capital investment, private dollars invested by Union Pacific
About 89,000 — crude oil carloads moved by Union Pacific in 2015, representing approximately 1 percent of our overall annual carload volume (9.6 million)
51,000 — first responders trained by Union Pacific since 2005
2 — primary ways in which Union Pacific moves crude oil:

On "manifest trains," in which tank cars carrying crude oil are interspersed with other commodities loaded into box cars, hopper cars, etc.
On "unit trains," a train that carries the same product in each rail car.
Why Crude Matters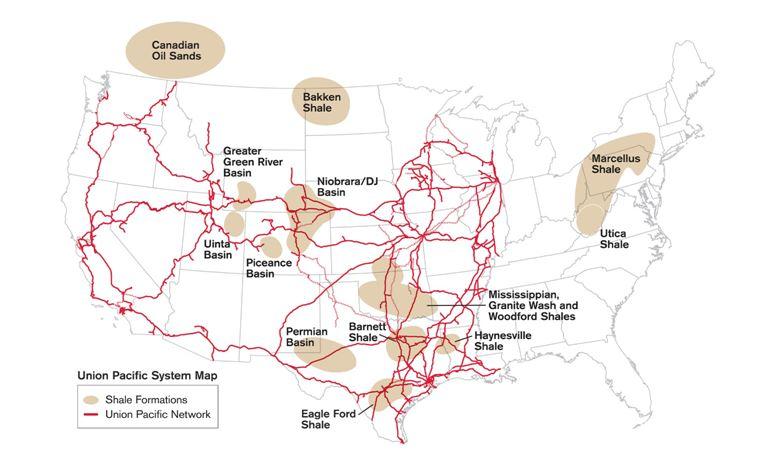 As America decreases its dependence on foreign oil and advances toward energy independence, there is a corresponding increase in crude-by-rail shipments to move oil from origins to destinations.
Union Pacific moves crude oil for our customers as mandated under the common carrier law, a role mandated by the federal government. This means that if our customer delivers crude oil to us in conformity with the U.S. Department of Transportation requirements, UP must transport it. We take this legal and societal responsibility seriously, and we strive to fulfill our duty with maximum safety and efficiency.
In support of customers' needs, railroads deliver crude oil to terminals not only in Louisiana and other places in the Gulf region, but also to the East Coast and the West Coast.
There are a number of reasons the crude industry uses rail for shipping:
Flexibility: For many refineries in the United States and Canada, railroads offer market participants enormous flexibility over pipelines to shift product quickly to different places in response to market needs and price opportunities.
Efficiency: As new rail facilities are developed, railroads are involved every step of the way. For example, at origin and destination sites, railroad economic development and operations teams help facility owners decide where to locate assets and how to lay out rail infrastructure on the site to maximize efficiency.
Responsiveness: Rail facilities can almost always be built or expanded much more quickly than pipelines and refineries can be. Essentially, railroads are the only transportation mode that can invest in facilities quickly enough to keep up with production growth in the emerging oil fields.
Voluntary Safety Measures
April 2015 - Union Pacific implemented the seven voluntary safety measures it committed to in September 2014.
Union Pacific posted the following on its website in September 2014:
While the Department of Transportation (DOT) considers new rules governing the transportation of flammable liquids, Union Pacific committed to seven additional voluntary rail operating practices to enhance safety for communities and customers as railroads transport the crude oil needed to meet North America's energy demands. Specifically, Union Pacific:
Voluntary Safety Measure 1: Union Pacific is committing to apply the Rail Corridor Risk Management System (RCRMS) routing protocol for trains carrying 20 or more crude oil cars to determine the safest and most secure routes. The RCMS is an analytical tool developed in conjunction with the Department of Homeland Security (DHS) and the FRA. This tool takes into account 27 risk factors to assess rail route safety and security.
Voluntary Safety Measure 2: Union Pacific will operate trains carrying 20 or more crude oil cars that include at least one older DOT-111 tank car not to exceed 40 miles per hour in the 46 designated high-threat-urban areas (HTUA) established by DHS regulations. This reduces by 10 miles per hour Union Pacific's current self-imposed speed limit. This reduced train speed significantly reduces the kinetic energy that contributes to tank car breeches in accident, without creating a major disruption to America's rail network.
Voluntary Safety Measure 3: Union Pacific agreed to conduct track inspections beyond what is required by regulation on main line routes over which trains carrying 20 or more carloads of crude oil travel.
Voluntary Safety Measure 4: Union Pacific will evaluate where the railroad may need to install additional advanced track side detectors.
Voluntary Safety Measure 5: Union Pacific supports increased emergency response training and tuition assistance to include a specialized crude by rail curriculum at the industry's Transportation Technology Center, Inc. (TTCI) in Pueblo, Colorado.
Voluntary Safety Measure 6: Union Pacific is committed to creating a comprehensive emergency response resources inventory.
Voluntary Safety Measure 7: Union Pacific will comply with the agreement and use distributed power or two-way telemetry end-of-train devices for enhanced braking on trains that carry 20 or more carloads of crude oil.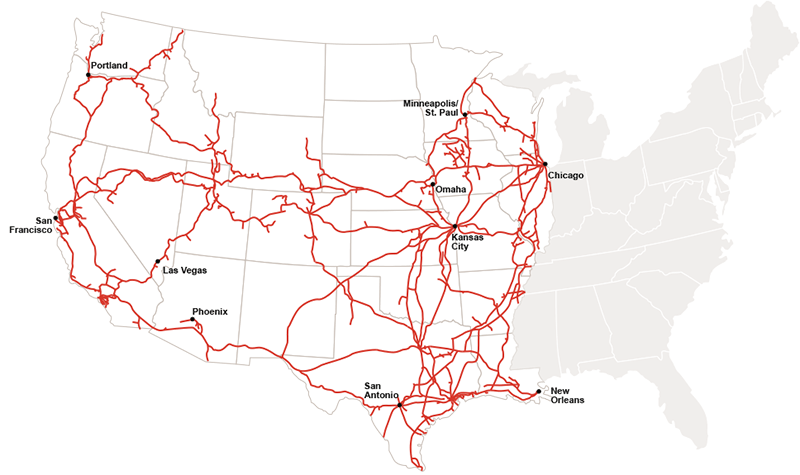 Union Pacific Comments Regarding DOT/PHMSA Proposed Rule Making
September 2014 - Safety is Union Pacific's top priority and the railroad supports the Department of Transportation's (DOT) efforts to reduce the risks of transporting certain flammable materials as long as the safety benefits justify the costs. Union Pacific's goal is to ensure that all hazardous materials arrive at their destination without incident. Earlier this year, Union Pacific joined the rail industry in promoting enhanced tank car standards and applying more restrictive operating practices to trains carrying crude oil.
As it considers new rules governing the transportation of flammable liquids, the Pipeline and Hazardous Materials Safety Administration (PHMSA) asked the railroad industry and other stakeholders to provide feedback on its proposal. Union Pacific filed its comments on Sept. 30, 2014.
While UP supports the goal of increasing the safety of flammable liquid transportation, some of the changes under consideration would have far-reaching and unintended negative consequences for the U.S. economy, railroads, their employees and the thousands of companies who are railroad customers.
Among others, Union Pacific's comments include:
PHMSA should impose a 40 mph speed restriction through high-threat urban areas (HTUA) for trains covered by this rule.
DOT should not impose a uniform national speed limit because it would degrade America's railroad network fluidity, shift freight traffic and risk to over-the-road trucks and other transportation modes, and impose excessive implementation costs.
Electronically controlled pneumatic brakes are not a feasible requirement because they do not deliver significantly greater safety benefits than distributed power.
Similar concerns were echoed in several of the other responses to the proposal, including the comments from the Association of American Railroads. Given the enormous practical consequences of this rulemaking, UP urges PHMSA to ground its actions on the basis of sound cost-benefit analysis.
Emergency Order 28 — Safety Requirements
July 2013 - Union Pacific is in full compliance with Emergency Order 28, a list of railroad safety measures for certain hazardous material movements including crude oil and ethanol unit trains, issued by the Federal Railroad Administration in response to the July 2013 derailment in Lac-Mégantic, Quebec.