Crude by Rail

Union Pacific helps America thrive by providing safe and efficient transportation of the products that power the country, including crude oil, coal, ethanol, wind turbines and solar panels. We have always been a critical part of the national energy infrastructure. We transport crude from oil fields to refineries as safely and efficiently as possible. Railroads provide the infrastructure, flexible networks, and efficiency needed to move large volumes of crude oil from locations where oil is recovered to destinations where it is most highly valued. Safety is always the primary focus for every product Union Pacific hauls. We have the same goal as everyone else, and it's in the best interest of our customers, shareholders, and the communities where our employees and their families live, work and play to operate as safely as possible.
Take a look at what goes into training firefighters from across the United States detailing what they may encounter during a crude oil emergency.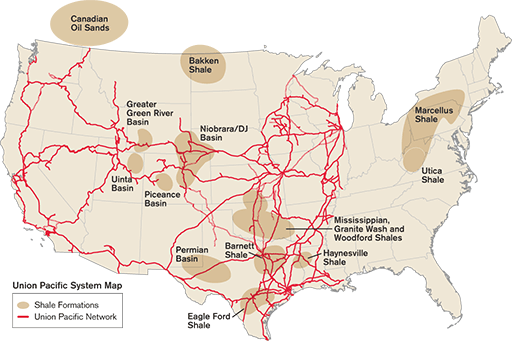 See larger view of map.