Derailment Prevention
Technology and Investment
Safety is always our primary focus for every product Union Pacific hauls. We have the same goal as everyone else, and it's in the best interest of our customers, shareholders, and the communities where our employees and their families live, work and play to operate as safely as possible. We follow strict safety practices, and work tirelessly to achieve our goal of zero derailments.
We decreased derailments 25 percent over the last 10 years, due in large part to our robust derailment prevention and risk reduction process.
Using Training and Technology to Prevent Accidents
Union Pacific employees participate in rigorous safety training programs and are trained to identify and prevent potential derailments. Keeping trains on the tracks is a full time job for thousands of Union Pacific track maintenance employees, track inspectors and civil engineering professionals. In addition to the human expertise devoted to track inspection and renewal, we regularly inspect our track using a number of leading technologies:
Lasers and ultrasound, which identify rail imperfections.
Acoustic wheel vibration tracking, which forecasts potential failures before they happen.
Trackside sensors, which perform a real-time analysis of every rail car moving on our system, equaling 20 million car evaluations per day.
Geometry cars, which measure track alignment and other metrics such as railroad clearances on railroad tunnels and bridges.
Bridge inspections, which are performed regularly on all bridges on the Union Pacific network to assure structural integrity.
Additional inspections, which are performed during extreme weather and after earthquakes.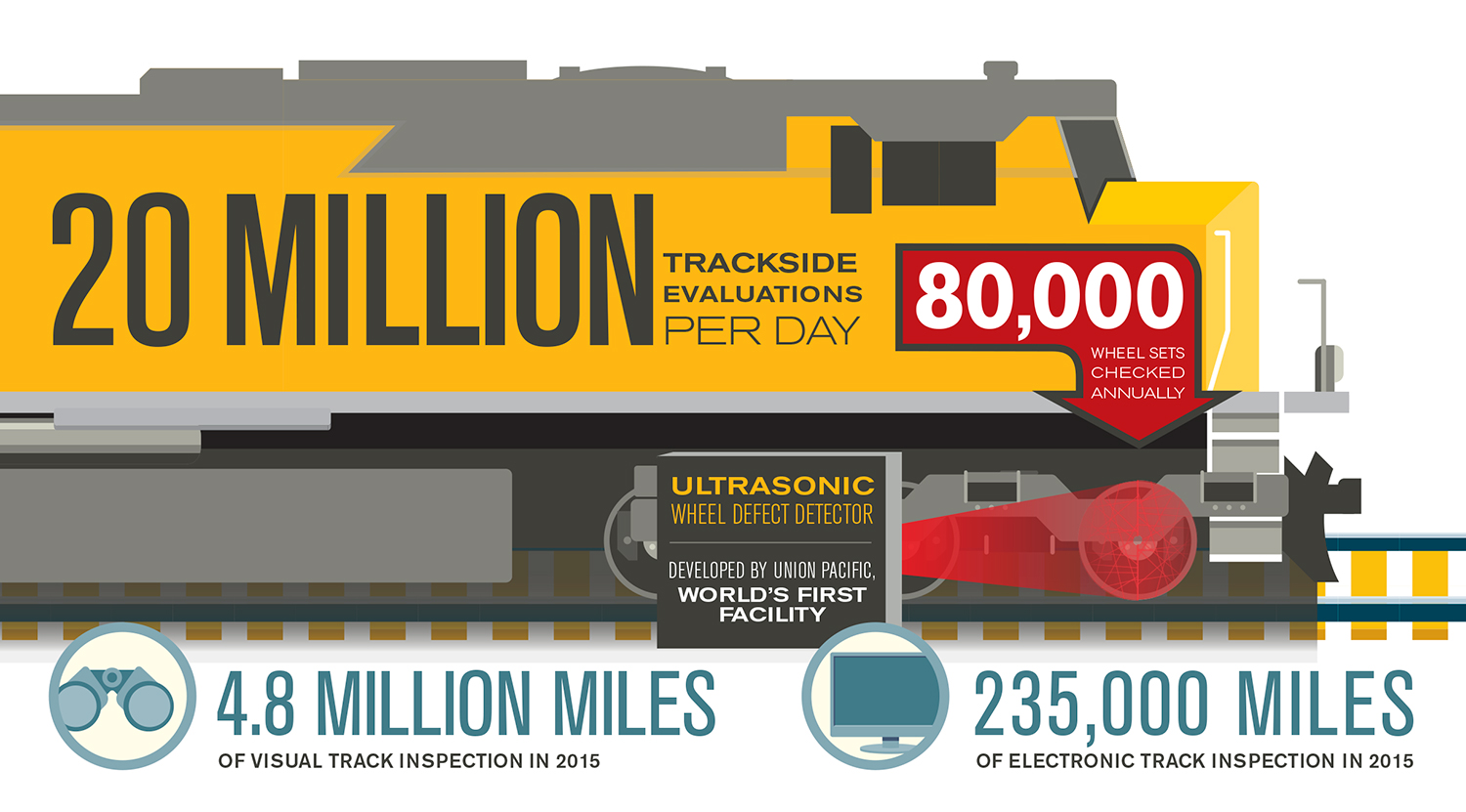 Track Investment
Union Pacific invests capital dollars to enhance our 32,000-mile network. We spent approximately $33 billion from 2006 – 2015 strengthening our infrastructure, and plan to spend $3.675 billion this year. These are private dollars not taxpayer funds. In addition:
Union Pacific replaced over 24 million railroad ties from 2010-2015.
We installed roughly 5,300 miles of rail over that same time period.
Union Pacific installed the first sections of 480-foot-long rail in May 2015, decreasing the number of welds needed to create quarter-mile rail lengths and strengthening Union Pacific's track infrastructure. Read more about this game-changing technology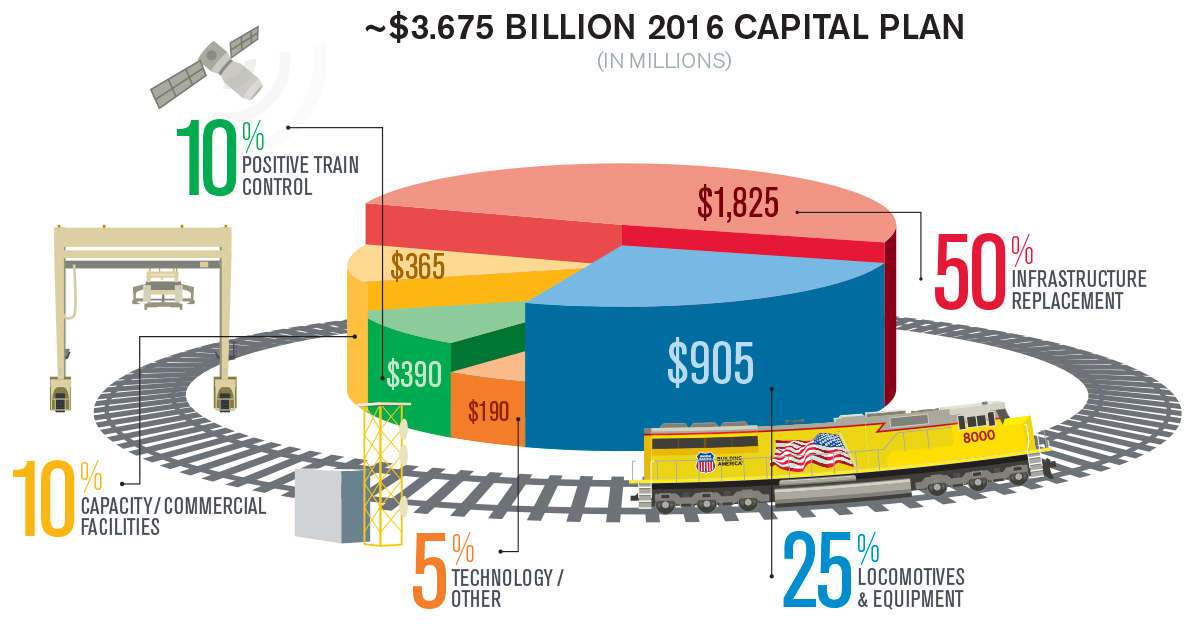 Voluntary Safety Measures
Union Pacific posted the following on its website in September 2014:
While the Department of Transportation (DOT) considers new rules governing the transportation of flammable liquids, Union Pacific committed to seven additional voluntary rail operating practices to enhance safety for communities and customers as railroads transport the crude oil needed to meet North America's energy demands. Specifically, Union Pacific:
Voluntary Safety Measure 1: Union Pacific is committing to apply the Rail Corridor Risk Management System (RCRMS) routing protocol for trains carrying 20 or more crude oil cars to determine the safest and most secure routes. The RCMS is an analytical tool developed in conjunction with the Department of Homeland Security (DHS) and the FRA. This tool takes into account 27 risk factors to assess rail route safety and security.
Voluntary Safety Measure 2: Union Pacific will operate trains carrying 20 or more crude oil cars that include at least one older DOT-111 tank car not to exceed 40 miles per hour in the 46 designated high-threat-urban areas (HTUA) established by DHS regulations. This reduces by 10 miles per hour Union Pacific's current self-imposed speed limit. This reduced train speed significantly reduces the kinetic energy that contributes to tank car breeches in accident, without creating a major disruption to America's rail network.
Voluntary Safety Measure 3: Union Pacific agreed to conduct track inspections beyond what is required by regulation on main line routes over which trains carrying 20 or more carloads of crude oil travel.
Voluntary Safety Measure 4: Union Pacific will evaluate where the railroad may need to install additional advanced track side detectors.
Voluntary Safety Measure 5: Union Pacific supports increased emergency response training and tuition assistance to include a specialized crude by rail curriculum at the industry's Transportation Technology Center, Inc. (TTCI) in Pueblo, Colorado.
Voluntary Safety Measure 6: Union Pacific is committed to creating a comprehensive emergency response resources inventory.
Voluntary Safety Measure 7: Union Pacific will comply with the agreement and use distributed power or two-way telemetry end-of-train devices for enhanced braking on trains that carry 20 or more carloads of crude oil.
Similar concerns were echoed in several of the other responses to the proposal, including the comments from the Association of American Railroads. Given the enormous practical consequences of this rulemaking, UP urges PHMSA to ground its actions on the basis of sound cost-benefit analysis.