Dog's Rescue Captures International Attention
Posted April 15, 2013 01:25 PM CDT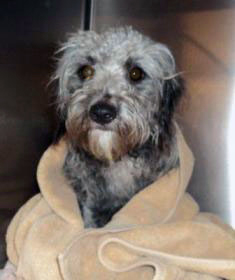 The lifesaving efforts of a Union Pacific train crew have garnered international attention in recent days.
While entering a siding near Mecca, Calif., April 2, Conductor Matt Fields and Locomotive Engineer Amos Wilson spotted an elderly man walking away from the main line, having left an object behind.
As they got closer, they realized the object was a dog.
"We both asked, 'What is this man doing?'" Fields said.
Wilson brought the train to a halt while Fields notified their dispatcher.
Senior Special Agent Sal Pina responded to the scene and untied the dog, a 10-month-old poodle-terrier mix, from the tracks. The elderly man, who appeared disoriented and unable to comprehend his actions, was released to his family.
The dog was placed in the care of Riverside County Animal Services. Given a clean bill of health, the dog – later named "Banjo" as a nod to the iconic railroad signal – was put up for adoption. As of April 11, the department had received more than 200 emails inquiring about adopting Banjo, in part due to the hundreds of articles written about the crew's efforts.
Wilson, who has 19 years of railroad experience, said the incident showed just how important situational awareness is in his profession.
"You have to be aware at all times," he said, "because there is always the possibility of something happening."
May 20, 2013 Update: Banjo has a new home.