UP Signal Maintainer Rescues Lost Boy
Posted May 16, 2013 02:55 PM CDT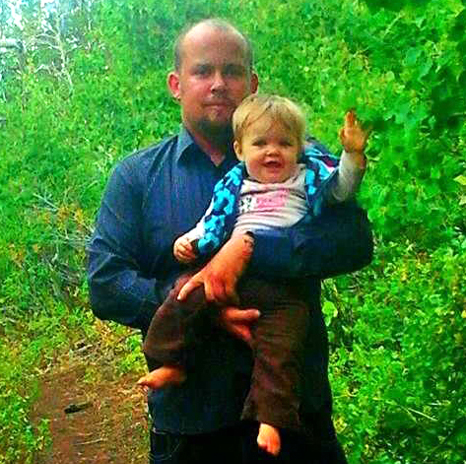 UP Signal Maintainer Robert Cook and his daughter, Kilee. Cook helped rescue a young boy and his dog after they became lost in the mountains.
It was mid-afternoon on a cold and blustery day in the Pequop Mountain Range between Wells and Montello, Nev., when an eastbound train crew radioed UP's Robert Cook about seeing a young boy and a dog walking too close to the tracks.
A signal maintainer, Cook was repairing a hot box detector on the Lakeside Subdivision and went to investigate.
"He was lost and very excited to see me," Cook said. "And he was not shy about asking for help."
During a walk with his uncle, the boy's dog ran away and he gave chase. The child stumbled upon the railroad tracks and began to follow them. When Cook approached him, he had been lost about six hours.
"I told him he was pretty smart for following the tracks," Cook said. "But if anything like this were to happen again that he needed to stay well away from the rails."
After calming some nerves of his own, Cook, who has an 18-month-old daughter named Kilee, said his fatherly instincts took over.
"I just thought of my daughter," he said. "What would I do if she needed help?"
Cook grabbed his first aid kit to clean up abrasions on the boy's hands from a fall. Then, from his truck he grabbed the snacks and water he keeps in case of a breakdown. Next, he got the phone number of the boy's parents and called to let them know their son was OK.
"That was a very heartwarming conversation," Cook said. "The mother was so upset and so happy that she couldn't even speak."
"A huge thank you goes to Robert for having the courage to care and help in reuniting this lost child with his family," said Darin Smith, manager-signal maintenance