Safety
Arizona Representative Focuses on Rail Safety
Posted September 9, 2013 11:00 AM CDT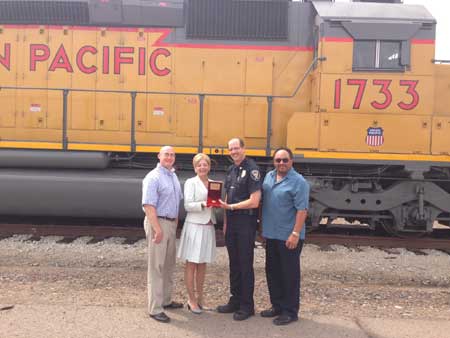 UP Safety Team presents State Representative Karen Fann with a partner coin to thank her for her support of rail safety. From Left: Todd Walters, UP manager - Safety; Rep. Karen Fann; Captain Jim Parker, director - UP Police; Lucas Melendes, UP manager - Claims.
It's an unfortunate occurrence, as a train approaches and the gates go down, pedestrians run under the gates to beat the train. This careless action can have catastrophic results. And as Union Pacific went out into the Arizona communities to proactively educate the public and enforce the laws, they found a deficiency – the dangerous behavior was not against the law.
Enter State Representative Karen Fann who represents Prescott Valley and who is the Transportation Committee Chair. Although UP does not operate through her territory, she understands the importance of rail safety throughout the state.
During this year's legislative session Fann sponsored a new bill HB2373, which would make it illegal for pedestrians to try to beat the train at the crossing. The Legislature approved the bill unanimously and the Governor signed it into law. This new law goes into effect on Sept. 16.
UP thanked Rep. Fann for her commitment to rail safety, and offered its appreciation by presenting her with a "partner coin."
"Not only do I thank you," said Jim Parker, director - UP Police, "but my guys also thank you for your hard work. Although it seems like common sense, many people didn't care because it wasn't against the law."
Representative Fann is a big advocate of all transportation modes and the safety rules that go along with transportation.
"I am always happy to do anything I can to support safety," said Fann.