Donation Helps Fund Centennial Mall Revitalization
Posted March 18, 2013 11:45 AM CDT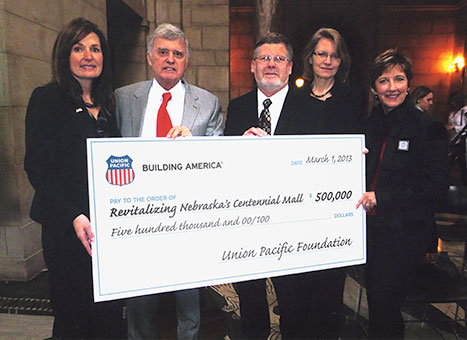 From left are Donna Kush, assistant vice president-Corporate Communications; Lincoln Mayor Chris Beutler; Nebraska Lt. Governor Lavon Heidemann; Brenda Mainwaring, director-Public Affairs; and Centennial Mall Campaign Leader Patty Pansing Brooks.
Union Pacific donated $500,000 toward the Nebraska Centennial Mall revitalization project during a ceremony held at the State Capitol Rotunda March 1 – Nebraska's Statehood Day.
UP's donation was part of a multi-agency effort to raise $9.6 million for creation of a new interactive educational system that will allow visitors to access in-depth information about historical sites, notable citizens and industries while touring Centennial Mall. The new system will be driven by QR (quick response) technology.
Funds also will be used to renovate the mall's "Spirit of Nebraska" pathway – a series of granite and bronze tiles placed along the twin walkways that run seven blocks between the Nebraska State Capitol and the University of Nebraska-Lincoln. Tiles recognize famous Nebraskans or individuals, organizations and businesses.
The project currently is 75 percent funded. The goal is to have the new Nebraska Centennial Mall built in time for the Nebraska Sesquicentennial in 2017.