Google "female trailblazers" and dozens of names come up: Marie Currie, Harriet Tubman, Amelia Earhart, Rosa Parks, Sandra Day O'Connor and the list goes on. But two names are noticeably absent – Bonnie Leake and Edwina Justus – women who stepped into a man's world to become Union Pacific's first female and first black female locomotive engineer, respectively.
"If you think of yourself as equal, you'll eventually be treated that way," Leake said.
These trailblazers are among roughly a dozen women featured in a new exhibit at Union Pacific's Museum in Council Bluffs, Iowa, titled "Move Over, Sir: Women Working on the Railroad."
When the railroad allowed the American public to move westward, it not only opened up possibilities for men seeking their fortunes, but women pursuing opportunities outside the home. In the late 1830s and 40s, telegraph lines expanded alongside new railroad tracks, creating professional opportunities for women, despite continuing social norms discouraging them from working outside the home.
Subscribe to
Inside Track
Wartime presented women with opportunities to stretch beyond the narrowly defined roles and expectations of what was considered "women's work." In 1943, women held 3,000 Maintenance of Way positions at Class I railroads, more than the number of women UP has working in those positions today. At the wars' conclusion, women returned home, allowing soldiers to resume their jobs. However, during World War II many female workers joined unions. Black and Hispanic women also gained entry to railroads, major industrial plants, factories and other jobs throughout the country, and they fought to hold onto their positions.
By the 1970s, many women at UP held clerical roles, including Bonnie Leake who joined the railroad in 1966 as an office clerk before becoming a crew dispatcher. As a single mother, her motivation to become a locomotive engineer was simple.
"I saw how much money the men made, and I knew I could handle the job," Leake said.
In 1974, Leake became the first woman accepted by UP for training as a locomotive engineer. After undergoing a physical, intense scrutiny and six months of training, Engineer Bonnie Leake became a so-called "hoghead on the drag west," running trains from Las Vegas to Milford, Utah, and Yermo, California.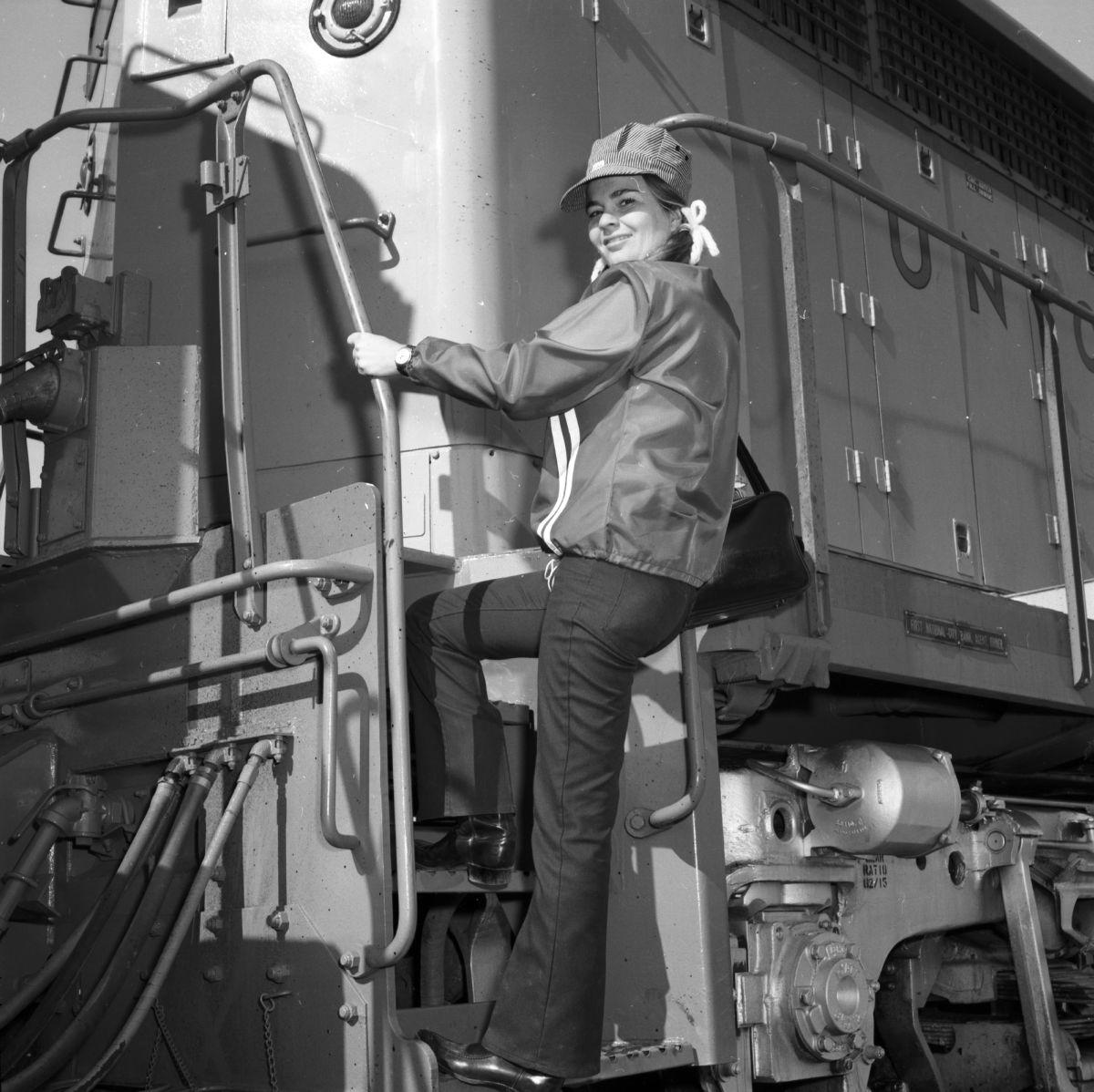 "I loved getting on a coal train in the middle of the night," Leake said. "It was like being on a cruise ship. You had time to look out the window and figure out what you wanted in life. I planned my finances and dreamed about the kind of house I wanted."
Leake didn't think about being the only woman engineer, but admits she was well-known systemwide.
"I'm a cowgirl; I like wearing boots," laughed Leake. "But I had a job to do, and when I have one I get it done."
Edwina Justus found herself in the spotlight in 1976, becoming UP's first black female engineer at the age of 34. She was working as a traction motor clerk in Omaha, Nebraska, when she visited a mechanical shop to learn how locomotives work. As a self-described "fashion plate," she wore a dress and high-heels to the tour; she immediately climbed on the locomotive and asked questions. She joked that operating a locomotive seemed easy.
"The guys at the shop challenged me to put in an application, and I hit it off with the personnel manager," Justus said. "When I received the offer in North Platte, Nebraska, my dad encouraged me to take it."
At the time, her husband was on the brink of a promotion with another company, but was able to land a job at UP as a fireman-oiler in North Platte, with the possibility of following in his wife's footsteps and becoming an engineer.
"When I was in school, I liked to daydream," Justus recalled. "A teacher told me I'd never be successful staring out the window; she was wrong."
Justus worked 22 years before retiring, hauling items such as livestock, automobiles and airplane wings to Cheyenne, Wyoming, and Denver, Colorado, never taking for granted the beauty of a sunset or quiet night.
"Railroading isn't easy, but I didn't let anyone bully me and I always stood up for myself," Justus said.
For Justus, the exhibit's opening brought another new experience – her first time meeting another female engineer. There wasn't a handshake between these pioneers, but a fierce hug. Neither woman could contain their smile as they exchanged war stories from decades past.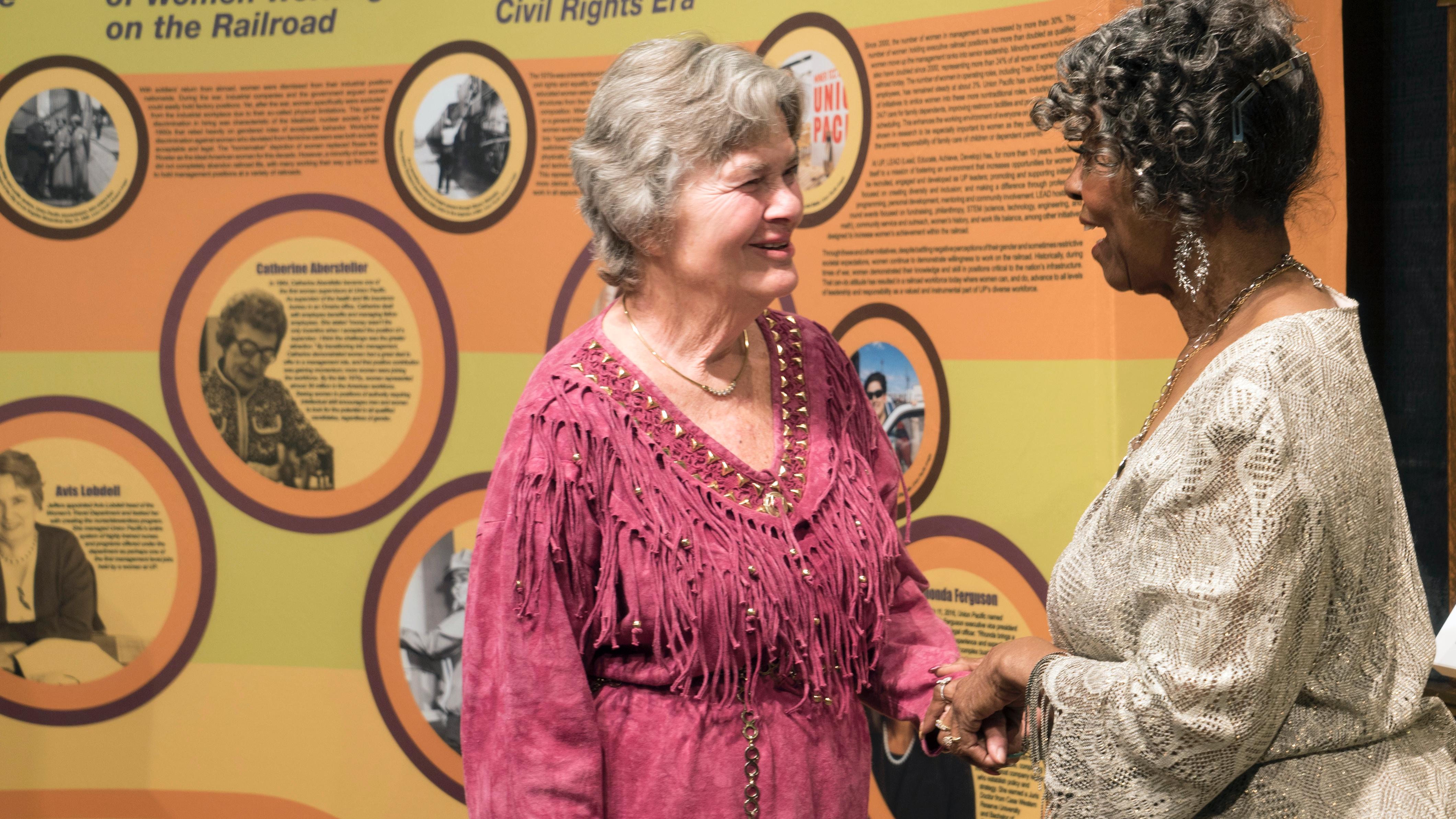 Among those at the exhibit's opening was Teresa Oaks, UP manager of operating practices in Denver, Colorado, who was promoted from locomotive engineer and comes from a long line of railroaders. For her, seeing Leake and Justus in-person was special.
"I was reading their stories in the exhibit, and they just seemed to appear larger than life," Oaks said. "It's incredible interacting with these role models."
Oaks is among many women leading the railroad into the future. Today, nearly 20 percent of UP executives are female, including 28 out of 141 senior staff members and two corporate board members. The company also has two female superintendents – in Council Bluffs, Iowa, and Kansas City, Missouri – responsible for track maintenance and overseeing the smooth traffic flow between destinations within their territory.
But there is still opportunity for growth. To bring visibility to the industry, UP partners with women's military groups, Women in Trades and Society of Women Engineers, as well as participates in STEM-related initiatives within the communities where it operates. Additionally, the company's employee resource group for women – Lead, Educate, Achieve and Develop (LEAD) – exists to help develop leadership skills and career advancement.
"Historically, circumstances created job opportunities for women out of necessity; however, we haven't stopped working to attract and develop successful women who will keep us moving forward," said UP Recruiting Director Jill Mages.
Women in the industry often are referred to as "Women of Steel," and the designation could not be truer of Bonnie Leake, Edwina Justus and the many others whose stories of courage and steel determination are now on display. The exhibit runs through Oct. 28, 2017, at the Union Pacific Museum, 200 Pearl Street, Council Bluffs, Iowa, and is the first of a travelling exhibit program being launched by the museum later this year. Admission is free.