Commitment to Communities
As a railroad company, we directly invest in America's infrastructure. From 2007 to 2012, Union Pacific invested $18 billion in our network and operations, including a record $3.7 billion in 2012.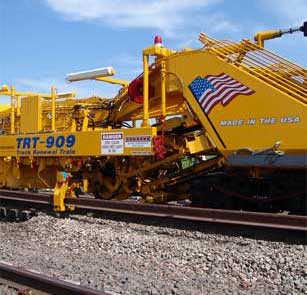 Union Pacific used equipment such as its track renewal train
to replace more than 4 million railroad ties in 2012.
Investing to Expand Nebraska Rail Yards, Tracks and Technology
Union Pacific announced in January 2012 significant capital investments in Nebraska over the next several years. Funding will be spent on numerous projects across the state, including:
An expansion of our North Platte rail yard, the largest railroad classification yard in the world, with a $70 million investment in track and technology upgrades.
An investment of approximately $220 million in new rail, ties and other work that will increase capacity and fluidity for the approximately 125 trains a day that transport goods through Nebraska on Union Pacific's main line – the highest density freight corridor in the world.
$200 Million Investment in South Louisiana Operations
In February 2012, Union Pacific and Louisiana Governor Bobby Jindal announced a $200 million capital investment by Union Pacific that will expand the company's South Louisiana operations, creating 727 new jobs, directly and indirectly, retaining 1,100 employees and creating 1,500 temporary construction jobs. Rail lines are the backbone of the chemical and manufacturing industries in Louisiana, and Union Pacific's expansion will allow the railroad to better serve key plants along the Mississippi River.
$400 Million Rail Facility along New Mexico's Sunset Route
Union Pacific began construction in August 2011 of a new 2,200-acre site near Santa Teresa, N.M. The site will include fueling facilities, crew change buildings, locomotive inspection tracks, an intermodal ramp and a switching yard.
Set along the historic railroad corridor known as the Sunset Route, this project is projected to bring 3,000 jobs to the area during construction from 2011 to 2015. It also will base 600 permanent jobs in the Santa Teresa area upon completion, giving southern New Mexico an inland port that will serve as a strategic focal point for transporting goods.
Passenger Rail
Union Pacific doesn't just transport freight – we help people reach their destinations. Each weekday, Union Pacific works with commuter rail services to carry approximately 122,000 passengers. By comparison, Amtrak carries roughly 86,000 daily passengers. More than 70 of Amtrak's trains operate on Union Pacific rails, including the Capital Corridor Service in California, which connects San Jose, Oakland, Sacramento and Auburn. We're proud to help people get from place to place in an efficient manner.
CREATE – Increasing Chicago's Rail Efficiency
Union Pacific is a founding member of CREATE, a first-of- its-kind partnership between the U.S. Department of Transportation, the state of Illinois, city of Chicago, Metra, Amtrak and the nation's freight railroads. The program seeks to reduce freight congestion while improving passenger rail service. CREATE will invest billions in critically needed improvements to increase the efficiency of the region's passenger and freight rail infrastructure, and enhance the quality of life for Chicago-area residents.
Chicago remains the busiest rail hub in the United States. Each day, nearly 1,300 trains pass through the region, more than half of which carry passengers. Each day, 37,500 railcars move through Chicago – one-fourth of the nation's total freight rail traffic.
Of the 70 CREATE projects, 14 have been completed, 12 are in construction, 19 are in review and 25 are yet to be funded. Even with only 20 percent of the projects completed, there already has been a 33 percent reduction in passenger delays and a 28 percent improvement in freight reliability. The $998 million investment to date has supported an estimated 10,000 jobs.