Our Economic Immpact
Our Economic Impact
Union Pacific exists to build America. Our positive economic impact isn't just a by product of our business, it's central to our vision and purpose.
Our railroad connects communities and resources, generating opportunity and supporting growth in the 23 states where we operate and across the country. We create economic value not only through returns generated for shareholders, but also employment for roughly 42,000 employees, the business we give suppliers, and every business opportunity, commercial relationship and innovative idea our network makes possible.
Investing in Infrastructure
Union Pacific's capital investments create economic opportunity through employment and supply chain activity. They also represent investments in building a sustainable rail network that can support economic growth for generations to come. For example, freight moving in Texas is projected to nearly double, from 2.2 billion tons to more than 4 billion tons by 20451. A state advisory committee warned such an extreme increase could worsen an already congested highway system, and alternative modes – such as rail – will be more important than ever for the state to remain economically competitive. Union Pacific is ready to handle increased volume. We've invested $5.4 billion in Texas since 2009, and in January 2018, we announced plans to build a $550 million rail yard – the largest capital investment in a single facility in our 155-year history. Brazos Yard will function as a classification yard where rail cars are separated and sorted by destination before being assembled into new trains headed across the country. The facility will sit at the convergence of seven Union Pacific rail lines, making it a strategic point for freight rail traffic traveling north, south, east and west. These investments are proof of our commitment to meeting the demands of the state, residents and businesses.
The more we invest in building a safe and efficient railroad today, the more our infrastructure can support communities going forward. The chart on this page shows the level of infrastructure capital investments Union Pacific made in 2017.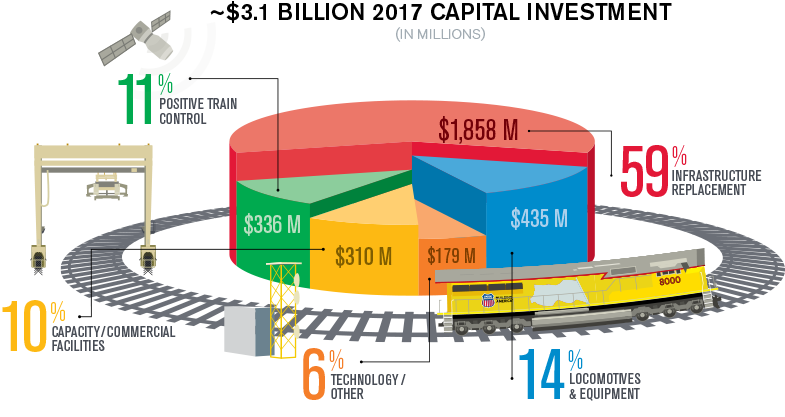 Infrastructure Replacement
Our largest form of capital investment strengthens our rail network through track, signal and bridge replacement projects.
Locomotive Equipment
New and upgraded locomotives, rail cars and equipment investments meet customer needs, enhance safety and reduce our environmental impact.
Capacity and Commercial Facilities
New commercial facilities and network expansions increase capacity to support economic growth and opportunities to serve new locations.
Positive Train Control (PTC)
This advanced system of technologies is designed to automatically stop a train before certain accidents occur, such as train-to-train collisions and incidents caused by excessive speed or unauthorized movements.
Innovation
From apps managing train systems to enhanced track inspection equipment, we continually invest in new technologies enhancing safety, efficiency and service.
1 Source: Texas Department of Transportation's Texas Freight Mobility Plan
Creating Local Economic Opportunity
Union Pacific owns and operates more than 32,000 miles of railroad track in 23 states across the western two-thirds of the United States. We create economic opportunities for local communities through direct employment with Union Pacific, as well as prosperity created by local employee spending. Our capital investments create additional jobs and business opportunities through our supply chain, including in-state material and fuel purchases. The below chart shows Union Pacific's economic impact in the 23 states where we operate. In the following pages, we explore other local economic opportunities Union Pacific supports.
| State | Employees | Payroll* | Route Miles | Capital Investment* | In State Purchases* |
| --- | --- | --- | --- | --- | --- |
| Arizona | 11,096 | 102.8 | 691 | 36.3 | 16.5 |
| Arkansas | 2,581 | 221.9 | 1,325 | 160.0 | 41.0 |
| California | 4,352 | 406.6 | 3,291 | 276.9 | 254.4 |
| Colorado | 901 | 91.3 | 1,506 | 52.8 | 141.9 |
| Idaho | 818 | 81.5 | 848 | 53.2 | 21.5 |
| Illinois | 3,926 | 339.4 | 2,308 | 144.5 | 1,269.3 |
| Iowa | 1,528 | 130.2 | 1,383 | 78.2 | 63.7 |
| Kansas | 1,215 | 124.5 | 2,198 | 75.2 | 251.1 |
| Louisiana | 1,135 | 110.9 | 1,143 | 95.0 | 27.4 |
| Minnesota | 425 | 39.4 | 645 | 17.7 | 180.2 |
| Missouri | 2,303 | 206.2 | 1,541 | 76.2 | 412.2 |
| Montana | 13 | 1.1 | 125 | 0.5 | 2.6 |
| Nebraska | 8,318 | 965.6 | 1,066 | 206.4 | 155.9 |
| Nevada | 511 | 43 | 1,193 | 43.4 | 10.3 |
| New Mexico | 485 | 46.5 | 618 | 25.8 | 1.7 |
| Oklahoma | 338 | 36.2 | 1,232 | 49.1 | 139.1 |
| Oregon | 1,511 | 136.9 | 1,073 | 75.6 | 103.2 |
| Tennessee | 49 | 3.9 | 12 | 0.1 | 81.1 |
| Texas | 7,315 | 692.3 | 6,306 | 825.0 | 1,728.8 |
| Utah | 1,259 | 119.5 | 1,248 | 466.7 | 316.0 |
| Washington | 322 | 28.4 | 532 | 14.7 | 128.6 |
| Wisconsin | 369 | 39.6 | 930 | 7.5 | 118.9 |
| Wyoming | 1,044 | 86.5 | 874 | 51.8 | 42.8 |
| Total | 41,814 | 4,054.20 | 32,088 | 2,432.60 | 5,508.20 |
*In millions
Local Economic Opportunities
Business Over the Border
If combined, the 10 states touching the United States/Mexico border – California, Arizona, New Mexico and Texas in the U.S., and Baja California, Sonora, Chihuahua, Coahuila, Nuevo Leon and Tamaulipas in Mexico – would form the fourth largest economy in the world 2. Union Pacific is the only railroad with access to all six major gateways.
Roughly 11 percent of our 2017 volume originated or terminated in Mexico – about 52 percent in imports and 48 percent in exports. DISELO, a multimodal transloading facility in Tizayuca, Hildago, Mexico, is the perfect example of the two nations' trade relationship. The U.S. imports raw materials, which are transformed into plastic pellets and sent back to Mexico where products are manufactured.
In this increasingly competitive environment, it's critical for the United States to strengthen its most important trade partnerships. However, we believe the North American Free Trade Agreement (NAFTA) requires modernization. For example, strengthened provisions should be incorporated to address the environment and labor, as well as e-commerce and cross-border data flows – concepts that didn't exist when NAFTA was originally written.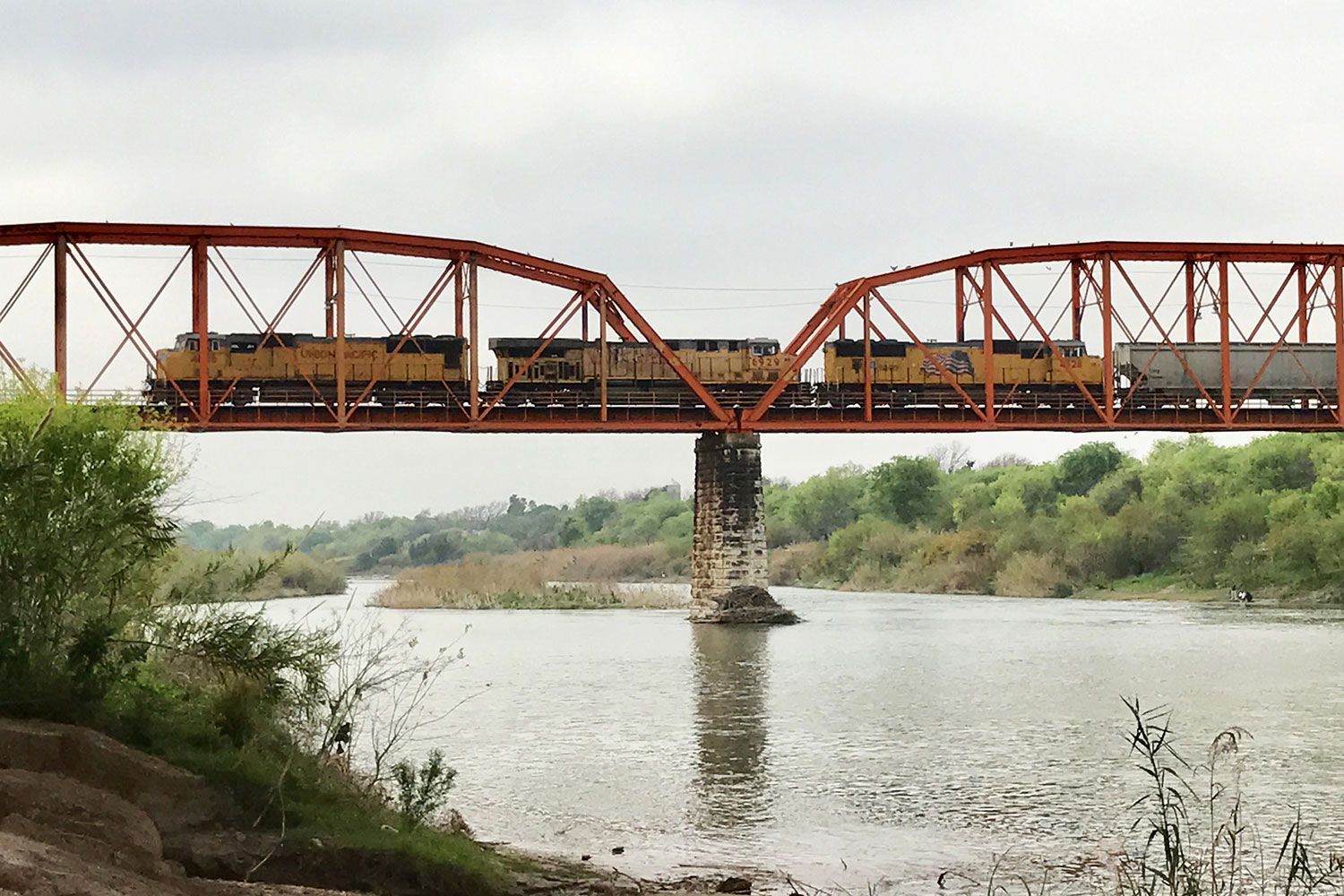 A Union Pacific train crosses the Rio Grande before entering the U.S. at Eagle Pass, Texas.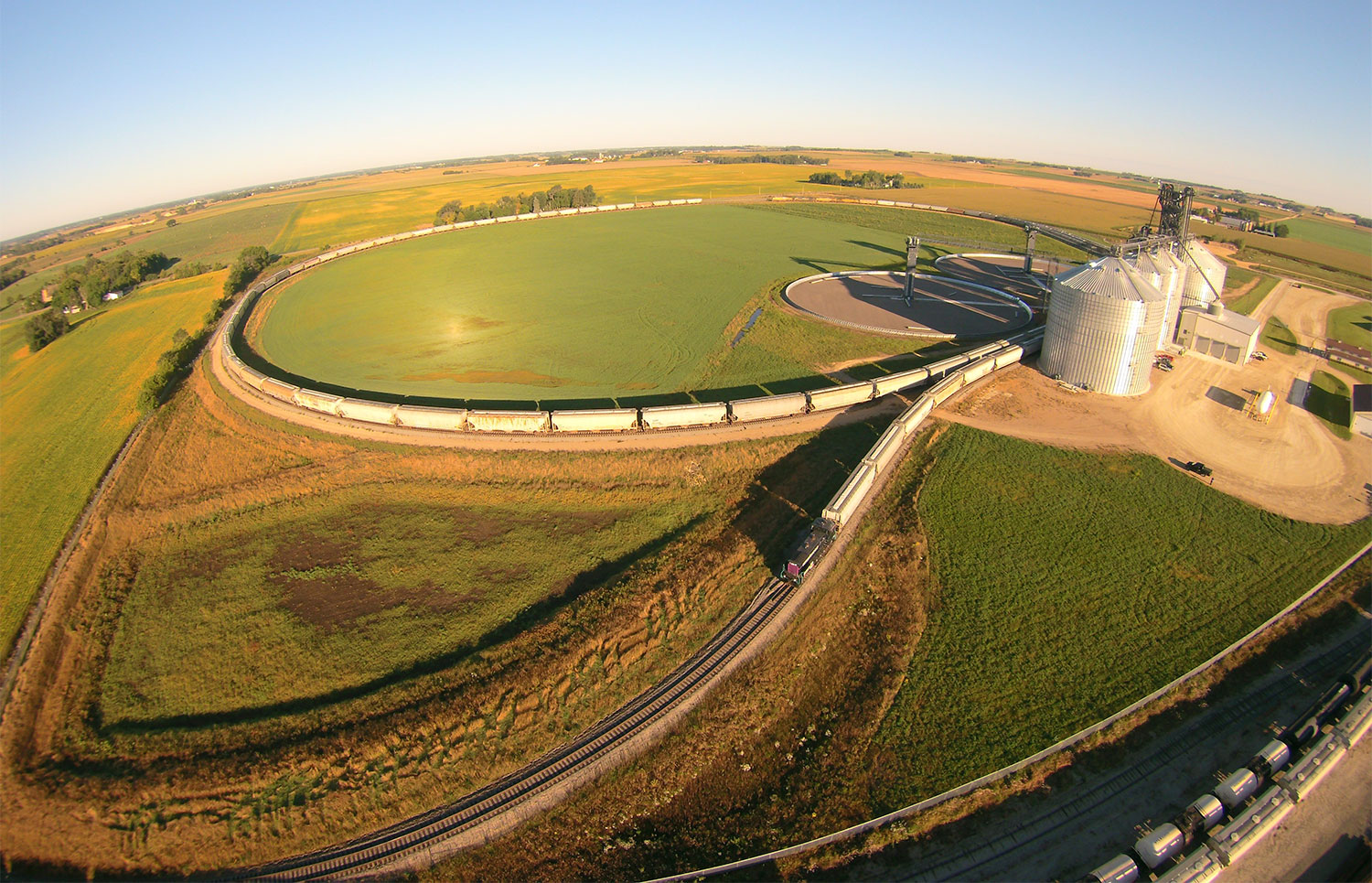 Productive, innovative relationships like the one we have with Progressive Rail's Randolph, Minnesota, customer facility are one way we're creating new success stories.
Short Line Partners Extend UP Network
Short lines, connecting to Class 1 railroads coast to coast, play an important role in Union Pacific's franchise. One-quarter of our business originates or terminates on one of the 200 short lines directly connected to our main lines. We're taking a closer look at how we can best use these relationships to extend network opportunities. For example, Progressive Rail, a Minnesota-based company operating several short lines, invested millions in infrastructure – such as new sidings and switches – to accommodate substantial growth, especially in frac sand. The company's owner and president called Union Pacific a "listening machine" when it comes to collaborating and finding innovative solutions to handle increased volume.
Food Trains Serve Up Industry Growth Opportunities
Delivering fresh food to America's kitchen tables requires quick, reliable service. In 2017, we acquired Railex LLC's refrigerated and cold storage distribution assets in Delano, California; Wallula, Washington; and Rotterdam, New York. Their integration into Union Pacific's broader Food Network allows us to offer customers access to more food shippers than any other railroad, a wider range of capacity and complete service solutions in a rail-centric cold chain. Smoother transit times and less handling better protects fresh fruits and vegetables as they make their way from the West Coast to key markets in Chicago and the Northeast in as little as seven days.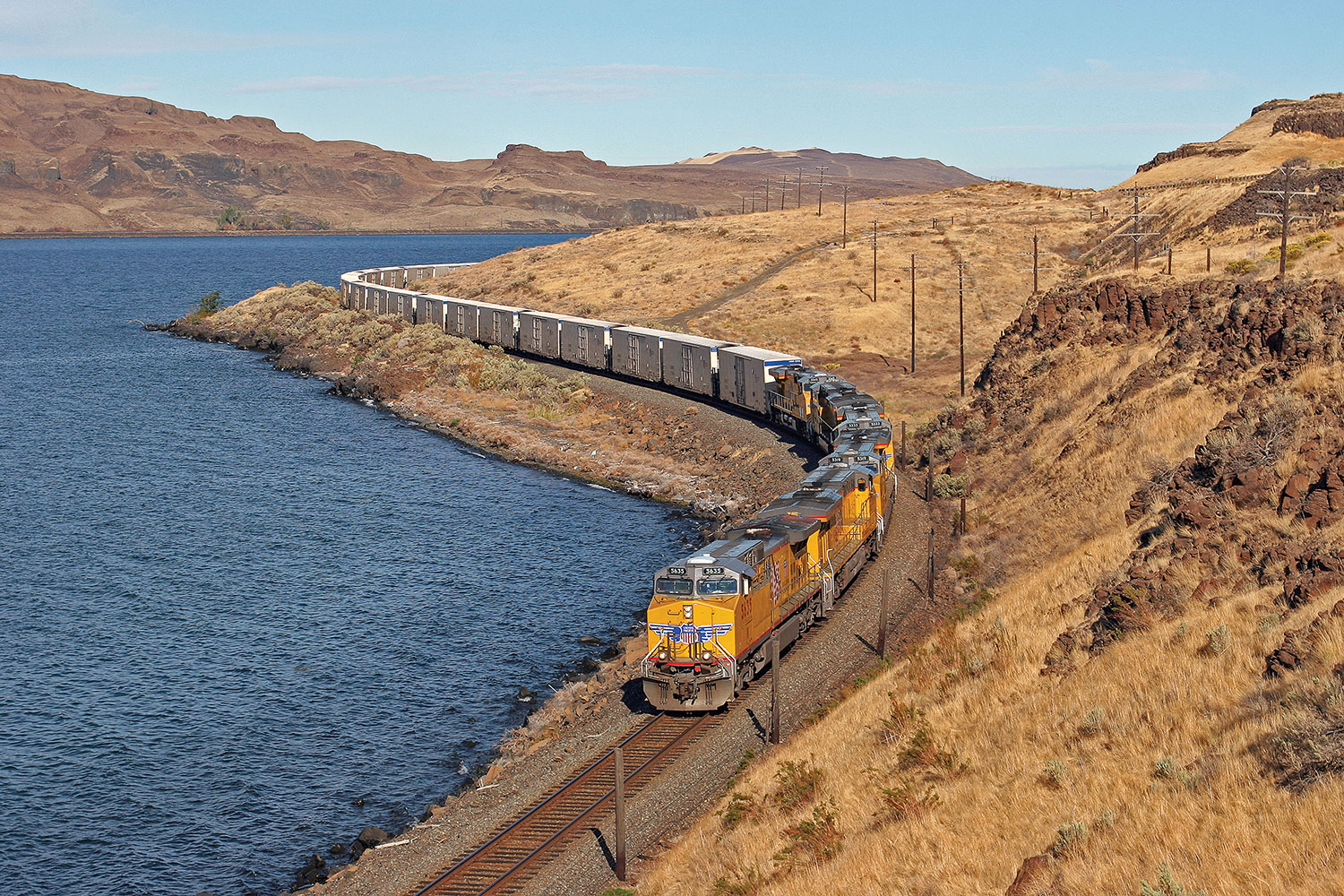 A Union Pacific train leaves Port Kelley, Washington, bound for Midwest and Northeast markets.
Enabling Innovation and Sustainability
The rail infrastructure Union Pacific maintains and operates serves as an innovation enabler. By helping businesses source new types of raw material and forming new partnerships, our network supports the transition toward a more sustainable economy.
Rail-Shuttle Facility Helps Feed The Nation
Missouri farmers know as well as anyone that time is money. A new MFA facility near Hamilton, Missouri, is saving farmers plenty of both. Exclusively served by Union Pacific, the rail-shuttle facility's centralized location eliminates hours of travel time, and its self-service weight scale and 1,500-bushel dump pits cut unloading time to 8 minutes. This allows farmers to quickly return to their fields, ultimately benefiting the entire region.
In addition to being four times more fuel efficient than truck, facilities like this demonstrate why rail also is the most efficient transportation option from the Midwest's grain belt to grain-deficient areas, such as Arizona and California. The states have plentiful chicken, cattle and dairy operations, which feed large cities like Phoenix or nearby Los Angeles, but their sandy, desert-type soil is not suitable for growing corn.
In partnership with Union Pacific, the Hamilton operation positions MFA to potentially reduce truck traffic by as many as 14 million bushels of grain, or 14,000 trucks annually. Learn more about the facility's unique features at up.com.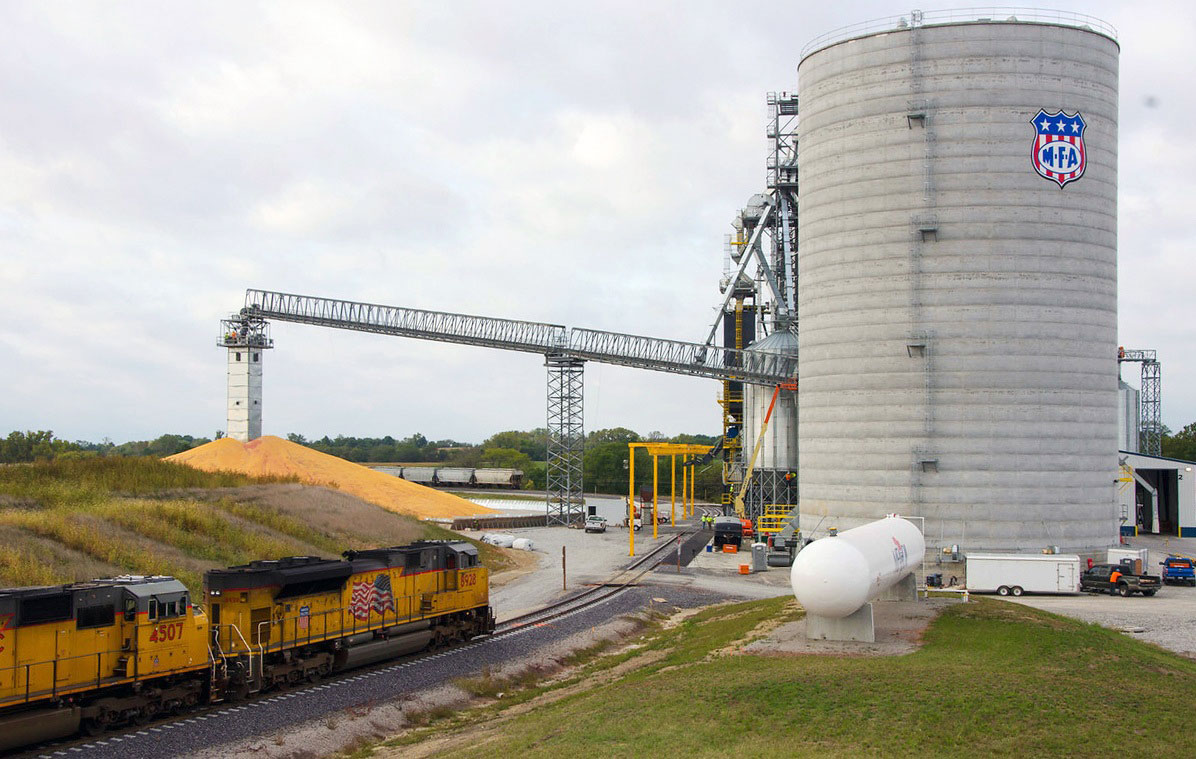 MFA's new rail shuttle facility is located about 4 miles outside Hamilton, Missouri.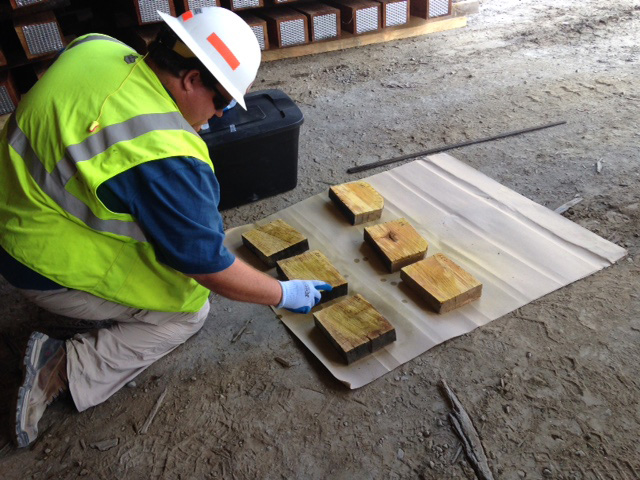 Nate Irby, assistant manager-Strategic Sourcing, performs a supplier audit to ensure Union Pacific receives the best wood tie possible.
Quality Control Extends Wood Crosstie Life
Union Pacific annually replaces about 3.5 million of the 90 million main line wood crossties systemwide. To maintain this schedule, each tie needs to live up to its more than 20-year life. Thanks to our detailed quality control program, we ensure suppliers adhere to specifications through regular audits, inspections and presentations. Supply Chain category manager Nate Irby engages directly with suppliers, including six treating plants and more than 200 sawmills.
Our wood ties come from the nation's "wood basket" – Arkansas, Louisiana, Mississippi, Missouri, Tennessee and East Texas.
The majority are oak, due to its hardness and resistance to force. As trains roll by, wood ties respond well to the load and flex back. Our ties are box-hearted, meaning the heartwood of the tie is centered to prevent splitting. Specific drying and stacking techniques at seasoning yards by lumber mills also help ensure extended service life and less maintenance.
New High-Speed Ethanol Terminal Opens
Thanks to a long-standing working relationship with Flint Hills Resources, Union Pacific handles the majority of the San Antonio and Austin, Texas, ethanol market. Due to increased demand, the companies realized they needed to improve efficiencies and increase capacity.
Union Pacific's first high-speed, 110-car ethanol unloading terminal was constructed on Flint Hills Resources' property. Opening in April 2017, the facility cut unload time from five days to one and increased train size from 80 cars to 110 – creating efficiencies for Union Pacific and Flint Hills Resources, and becoming the model for future Union Pacific facilities.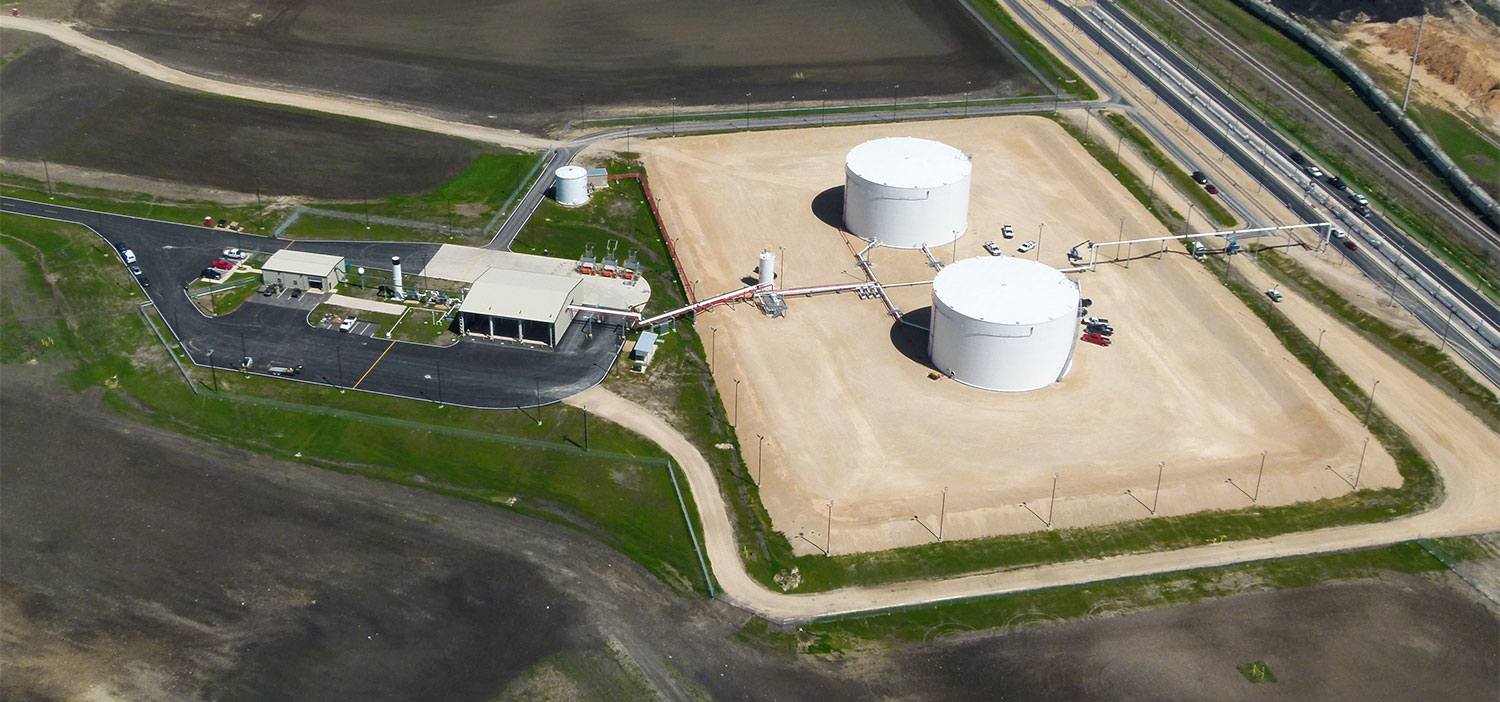 Union Pacific's first high-speed, 110-car ethanol unloading terminal in San Antonio, Texas.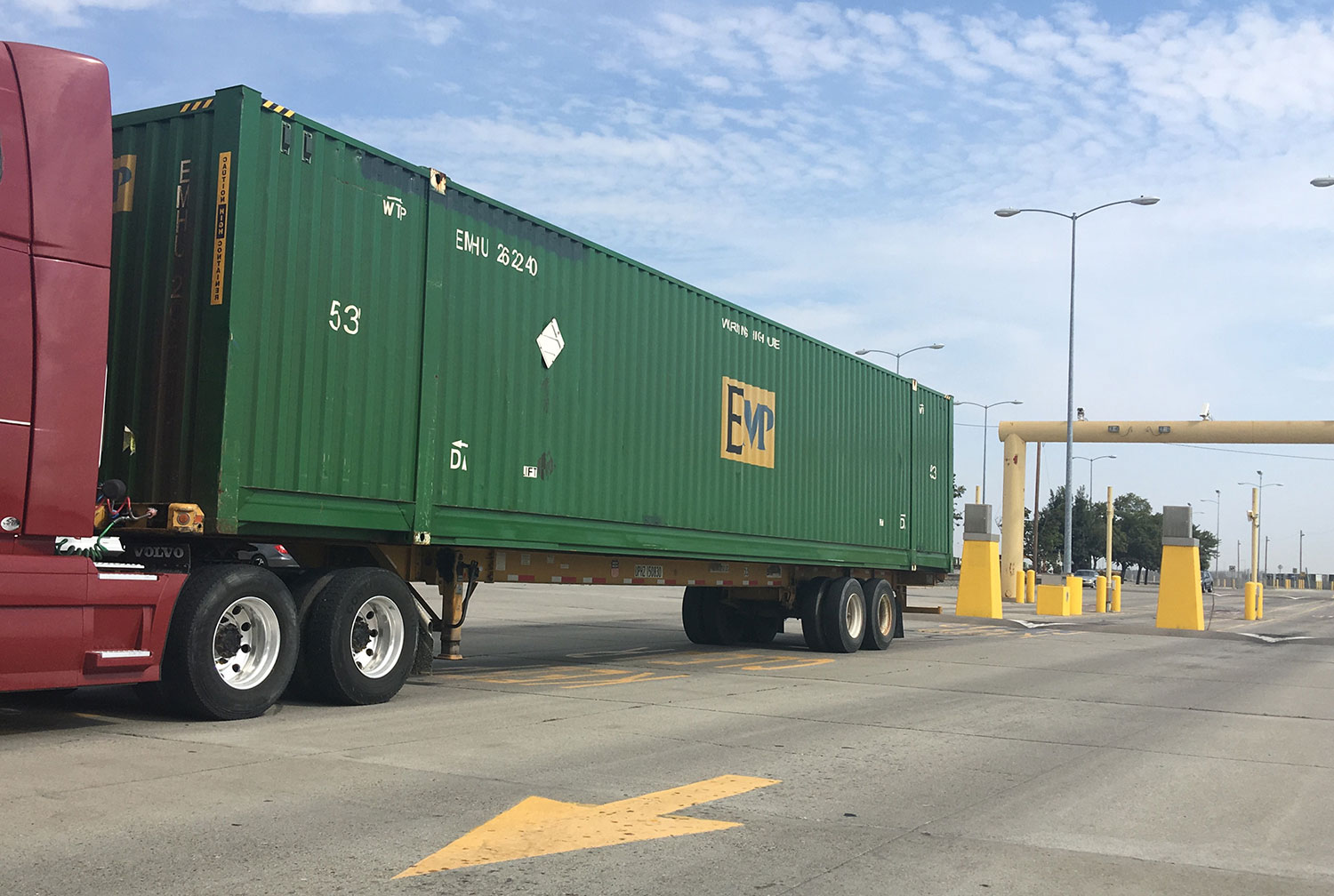 Union Pacific intermodal customers using REACH are reassured about upcoming deliveries.
App Delivers Real-Time Updates
When a vehicle breaks down on the road, few things are more important than knowing help is on the way. Union Pacific was the first Class 1 railroad to launch an online service in 2017 called REACH.
Using a mobile app or internet browser, drivers carrying Union Pacific intermodal containers in San Diego, Northern California, and Mesquite, Texas, can report an incident and request repair. The app allows the waiting driver to see who is coming and when they'll arrive, as well as rate the service provider.
Union Pacific uses the real-time information to update customers waiting on a delivery, and can use service provider ratings to pre-select preferred suppliers who are providing the intermodal community the best possible repair service.