Strengthening Our Communities
Strengthening Our Communities
Union Pacific takes tremendous pride in our community relationships and efforts to improve the places where we live and work. We support communities through the Community Ties Giving Program, volunteer efforts and other forms of assistance. We supported more than 3,700 nonprofit organizations, donated $18.4 million to community efforts and were members of more than 165 local civic organizations, such as chambers of commerce and economic development organizations.
Union Pacific's lines of communication are open to local and state agency officials, neighborhood groups and local citizens. Our public affairs representatives facilitate resources and address operations related concerns reported directly, through our 24/7 community line and website. Communities are one of Union Pacific's key stakeholders, and we are committed to serving and investing in their futures.
Charitable Giving in Our Communities
Union Pacific's charitable giving programs have helped thousands of nonprofit organizations achieve their missions since Union Pacific Foundation's creation in 1959. Evolving with the changing needs of the cities, counties and states we call home, the program was redesigned in 2017 and took on a new name – the Community Ties Giving Program.
From local grants to regional and key partnerships, our philanthropic outreach aligns with Union Pacific's long-standing commitment to building America. As we move forward, charitable giving will support initiatives in safety, workforce development and community spaces. The program will be fully implemented in 2018.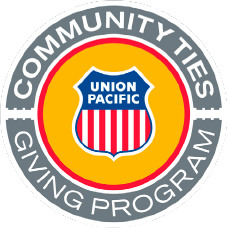 Safety
Communities thrive when citizens feel safe. Union Pacific is committed to helping communities prevent and prepare for accidents and emergencies, ensuring residents get home safely at the end of each day. This reflects our commitment to employee safety and the communities through which our railroad passes. We prioritize funding for programs achieving the following objectives:
Encourage safe behaviors and prevent accidents through education and awareness, particularly projects focused on rail, driver, bike and pedestrian safety.
Eliminate risks and improve safe access to community spaces through infrastructure improvements. Examples may include signage, proper lighting and public trail upgrades.
Prepare and equip citizens and emergency responders to effectively respond to incidents and emergencies, if or when they occur.
Prevent crime and violent incidents through efforts addressing the root causes and seeking to mitigate their occurrence.
Workforce Development
For more than 150 years, Union Pacific has helped stimulate economic growth in cities and towns across the nation by training and providing employment to millions of workers. We believe a skilled workforce and access to jobs paying good wages are essential elements for a prosperous community. We prioritize funding for programs that seek the following objectives:
Put youth on the right track by creating awareness of family-supporting jobs, such as those offered by Union Pacific, and building foundational skills, specifically in Science, Technology, Engineering and Mathematics (STEM)-related fields, as well as necessary technical and life skills training to begin a trajectory toward these careers.
Raise awareness of, educate and prepare young adults for middle-skills jobs through community colleges, vocational and career training programs, workforce readiness initiatives and programs assisting with job placement and/or on-the-job experience.
"Up-skill" the existing workforce by providing training and resources enabling workers to reach the next level in their careers.
Provide training and mentorship for nonprofit professionals, helping them grow and advance their organizations.
Community Spaces
Vibrant communities attract businesses, tourists and skilled workers. We seek to ensure citizens within our communities have access to special places celebrating cultural diversity, artistic expression, our natural environment and the social interactions enriching their lives. We believe such community spaces contribute to the distinct identity of cities and towns. We prioritize funding for programs and projects meeting the following objectives:
Create, sustain or expand upon artistic and cultural experiences offered to a broad and diverse audience. For example, museums theaters, libraries, concerts and lectures.
Preserve and share a local community's unique history, including projects related to trains and/or Union Pacifc history.
Plan for, create or enhance unique spaces refecting a community's character and diverse needs and desires.
Provide clean, safe and positive outdoor recreational and/or educational opportunities fostering an appreciation for our natural environment.
Beautify neighborhoods and main street areas to improve livability, promote commerce and, ultimately, attract more residents, businesses and visitors.
The Community Ties Giving Program proudly supports local United Way organizations across our operating regions. Union Pacific has a longstanding partnership with United Way that we believe is a vital resource and contributor to communities across the country.
Making a Difference in Our Communities
Union Pacific's business is inextricably linked with communities, and we strive to tackle problems, find solutions and make positive impacts. This includes hiring efforts and responding in times of crisis.
Locomotive Engineer Rescues 300 In Hurricane Harvey's Wake
Hurricane Harvey wreaked havoc in Texas, leaving mass destruction and many people stranded in their homes. After watching the news, Union Pacific Locomotive Engineer Eddie (Bubba) Bedre used his vacation time and fishing boat to take action. He and other volunteers spent 30 hours maneuvering the waters and saving approximately 300 people.
Once the immediate need ended, Bedre raised more than $2,000 in donations to help low-income families rebuild their homes. Union Pacific donated $325,000 to support Hurricane Harvey relief efforts, too. Those funds were provided to the American Red Cross, Houston Mayor Sylvester Turner's Hurricane Harvey Relief Fund, our "Friend to Friend" employee support network and the Give PLUS program, matching employee donations.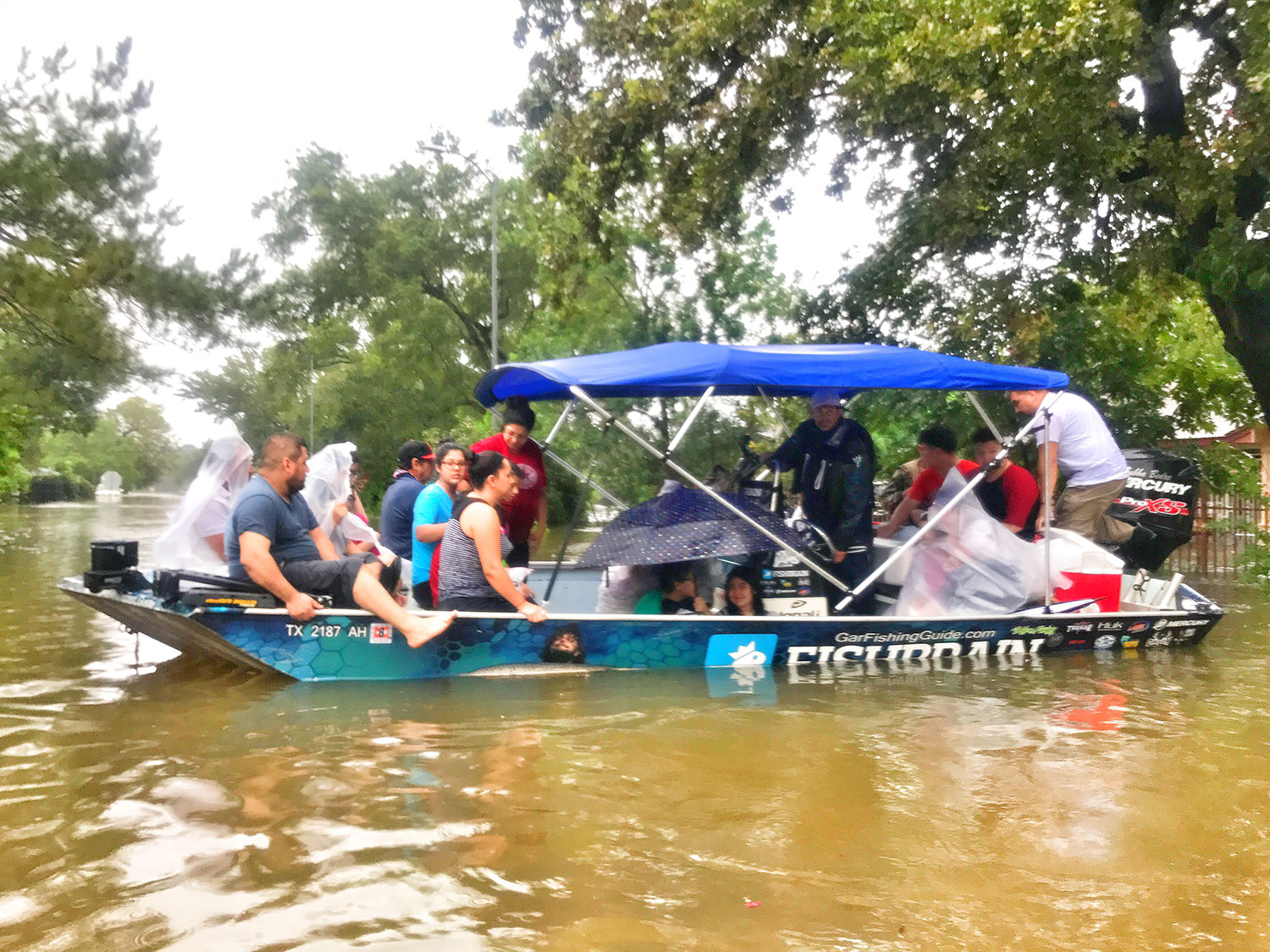 Union Pacific Locomotive Engineer Eddie Bedre used his fishing boat to transport people to safety.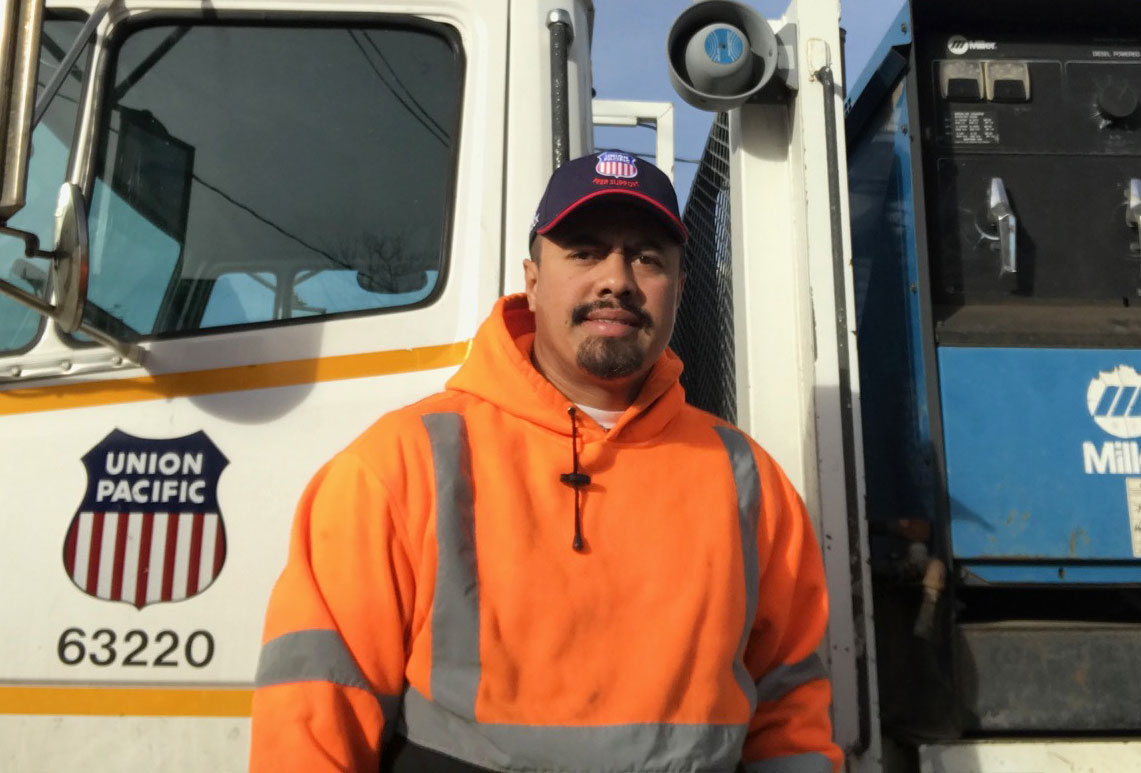 Denver, Colorado, Arc Welder Sergio Flores is a trained Peer Support volunteer.
Peer Support Training Prevents Possible Suicide
Union Pacific employees are trained to be aware of their surroundings. But Denver, Colorado, Arc Welder Sergio Flores believes he was in the right place at the right time. He noticed a woman lying on the tracks. At first, she refused to move; however, Flores eventually was able to get her to walk to the depot with him. The trained Peer Support volunteer used her phone to call the National Suicide Prevention Hotline.
Union Pacific's Peer Support mission is to develop a network of volunteers who provide friendship and support services to co-workers involved in critical incidents, either on the job or in their personal lives. Each year, Peer Support hosts a systemwide Suicide Awareness Day at Union Pacific.
Inspiring The Next Generation Of Engineers
Finding a way to get students interested in STEM-related careers is a high priority for Union Pacific. Partnering with the Oregon Museum of Science and Industry (OMSI) and a Portland State Engineering student, we participated in the Teen Science Alliance, a program challenging Portland-area high school students to combine creativity and science. Three teams were given an LED light, computer software and other resources, such as wire and Velcro. The goal was to create a new product improving the quality of life. Once complete, the students had to present their projects, sharpening their communication and presentation skills.
Union Pacific is proud to sponsor STEM-related programs like those found at OMSI. Since 2011, we have donated more than $65,000 to the museum through the Community Ties Giving Program.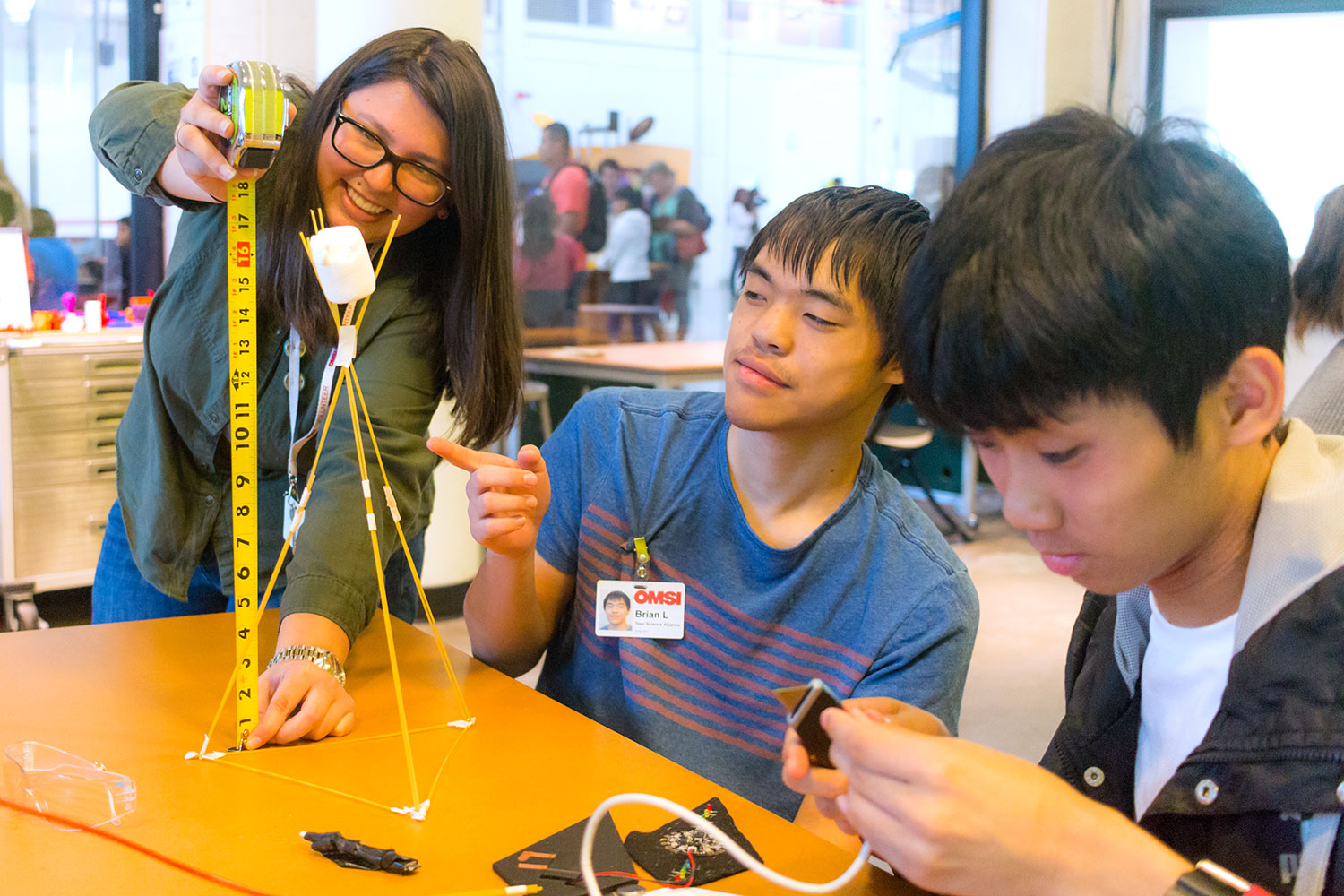 Students become "thinkaneers" at the Teen Science Alliance, funded by Union Pacifc.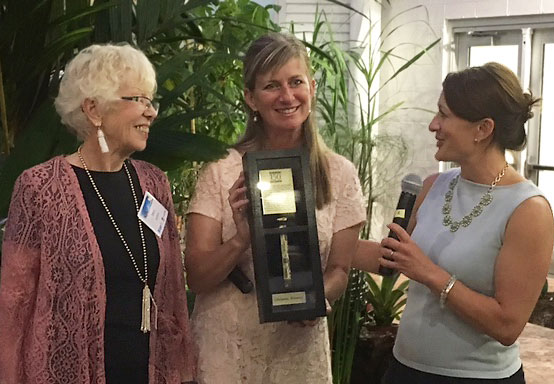 UP consultant Mary Guthrie, left, and Director of Public Affairs Sara Thompson Cassidy, right, present Cheyenne Mayor Marian Orr a commemorative golden spike at the city's 150th anniversary celebration.
Celebrating Our Railroad Roots In Cheyenne
Union Pacific joined the City of Cheyenne, Wyoming, to celebrate its 150th anniversary with a series of summer events in 2017. The city was founded in 1867 when men began building Union Pacific tracks west, as part of the Great Race to build the transcontinental railroad. Other community institutions formed with the railroad's arrival include Cheyenne Regional Medical Center, which began as a Union Pacific tent hospital, and a military base in 1867. First named Fort D. A. Russell, and later renamed F. E. Warren Air Force Base, it is the oldest continuously active military installation within the U.S. Air Force.
The celebration also included Cheyenne Frontier Days, which celebrated its 120th anniversary and featured displays commemorating Union Pacific's role starting the event. Union Pacific celebrates the shared history of Cheyenne and many communities that grew up and developed together. In January 2018, the city held its final 150th anniversary event and buried a time capsule, which included Union Pacific's 2016 Building America Report and "Nothing Like It in the World" by historian Stephen Ambrose. The time capsule will be opened during the city's bi-centennial in 2067.
Today, Cheyenne serves as a major crossroad to the West for Union Pacific. It also is home to our Steam Shop and historical locomotive fleet, which includes UP No. 4014 – The Big Boy – and UP No. 844.
Matching our Employees' Generosity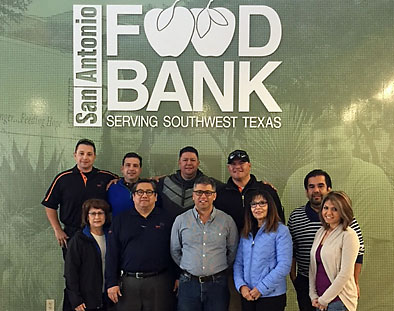 Members of Union Pacific's Latino Employee Network (LEN) participate in a day of service at the San Antonio, Texas, Food Bank.
Union Pacific's GivePLUS program matches employee donations to nonprofit organizations, dollar-for-dollar, and supports employees who volunteer their personal time by providing matching grants. Our annual employee matching limit was $25,000 in 2017. We matched our employees' generosity and donated nearly $3 million to nonprofit organizations improving our communities, a $600,000 increase from 2016.