Protecting the Environment
A healthy environment is an essential foundation for a strong country and a vibrant economy. Our vision of Building America involves protecting and strengthening this foundation.
Railroads are one of the most fuel efficient means of transportation. On average, trains are up to four times more fuel efficient than trucks. That means moving freight by rail instead of truck reduces greenhouse gas emissions by up to 75%.1 Those emissions are directly related to fuel consumption. On average, Union Pacific moves a ton of freight 444 miles on a gallon of diesel fuel. If 10% of freight currently moved by the nation's largest commercial trucks was transported by rail instead, fuel savings would be more than 1.5 billion gallons per year and annual greenhouse gas emissions would fall by more than 17 million tons – equivalent to removing around 3.2 million cars from highways for a year or planting 400 million trees.2
We move freight in an environmentally responsible way, enabling sustainable economic growth, but we are not complacent about our operations' impact. As we work to reduce our GHG emissions, we are setting science-based targets to determine how much and how quickly we need to act to support global climate change goals outlined in the Paris Agreement. The agreement encourages all nations to combat climate change by keeping the global temperature rise this century well below 2°C above pre-industrial levels. Our actions also enable our customers to reduce their carbon footprint and create meaningful global change.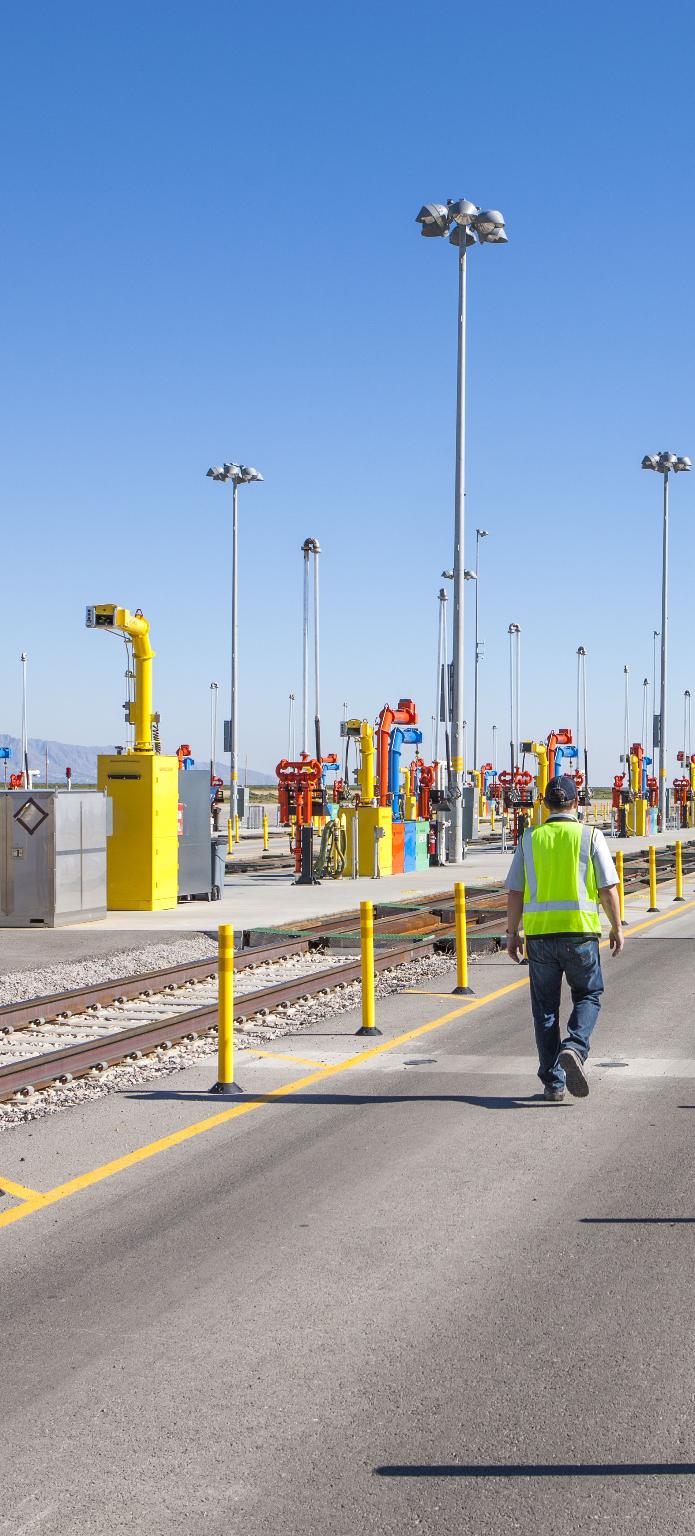 1 Source: Association of American Railroads
2 Source: Association of American Railroads
Our Approach to Environmental Management
Union Pacific's goal is to be a leader in moving goods in a fuel-efficient and environmentally responsible manner. Environmental Management policies and procedures provide a pathway for the company to meet or exceed applicable environmental laws and regulations.
Union Pacific's Environmental Management System improves processes and tracks performance. We strive to improve our performance by investing in technology, maintaining equipment and training employees in environmentally responsible behaviors.
Every Union Pacific employee must commit to preventing pollution, complying with regulations and continuously improving our environment, according to the company's environmental policy signed by Chairman, President and CEO Lance Fritz.
Our Environmental Management team oversees environmental compliance and is integrated into daily operations. The team rigorously plans, coordinates and communicates environmental requirements and best practices.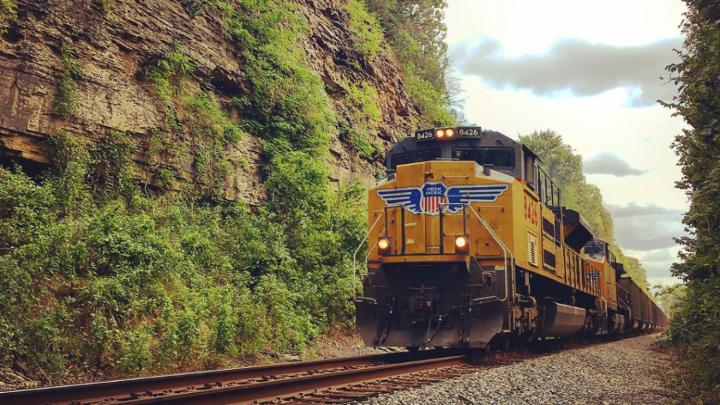 UP 8426 travels past green foliage on the Van Buren Subdivision in Ozark, Arkansas.
Environmental Risk Management
Union Pacific's assistant vice president of Fuel and Environmental Management is directly responsible for the company's progress regarding environmental compliance and provides an annual report to the board of directors. Continuous improvement in achieving the company's fuel efficiency goals, which directly impacts our emissions, is tied to our performance review process.
Compliance
Union Pacific is subject to federal and state environmental statutes and regulations related to public health and environment, which are administered and monitored by the U.S. Environmental Protection Agency (EPA) and other federal and state agencies. Primary federal laws affecting rail operations include:
Resource Conservation and Recovery Act, regulating solid and hazardous waste management and disposal.
Comprehensive Environmental Response, Compensation and Liability Act, governing contaminated property cleanup.
Clean Air Act, regulating air emissions.
Clean Water Act, protecting the country's waters.
Union Pacific is committed to following applicable laws and regulations in all areas of our operations. From time to time, we are involved in legal proceedings, claims and litigation that occur in connection with our business. For example, we received notices from the EPA and state environmental agencies for remediation costs at various sites throughout the U.S., including sites on the Superfund National Priorities List or state superfund lists. We cannot predict the ultimate impact of these proceedings and suits because of the number of potentially responsible parties involved, the degree of contamination by various wastes, the scarcity and quality of volumetric data related to many of the sites, and the speculative nature of remediation costs. Where we are found in violation of specific rules or regulations, we seek remedy through the appropriate channels. More information on these notices can be found in our Annual Form 10-K.
Our Environmental Partners
We collaborate with a range of partners to identify opportunities to reduce our environmental impact and manage our land responsibly. Organizations with which Union Pacific collaborates include:
GreenBiz Network, a peer-to-peer learning forum for sustainability executives from a diverse group of some of the world's largest companies.
The California Council for Environmental and Economic Balance, a nonprofit, nonpartisan coalition of industry, labor and public leaders working to solve the most pressing environmental policy problems facing California.
The Association of American Railroads Environmental Affairs Committee, a rail industry forum sharing best practices.
Climate Change and Environmental Risks
We understand the Earth's climate is changing and that human activities are part of the cause. As one of the nation's largest freight railroads, it is our responsibility to act as environmental stewards, working to reduce fuel consumption and greenhouse gas (GHG) emissions, providing for a more sustainable future.
Railroads move approximately one-third of all U.S. exports and intercity freight volume in the United States. Despite the large volume, EPA data shows freight railroads only account for 0.5% of total U.S. GHG emissions and just 2% of emissions from transportation-related sources.3
At Union Pacific, we move a ton of freight 444 miles on a single gallon of diesel fuel, but we can do better. We are committed to investing in technology that helps us identify fuel saving opportunities and increase locomotive productivity. For example, software helps us predict potential locomotive failures. It runs while a train is traveling our network, rather than requiring the locomotive to operate in a static position inside our yard, burning fuel.
While working to improve our environmental footprint, we also have robust processes in place to respond to climate change impacts. Union Pacific acts to strengthen our network's resiliency from potential effects of extreme weather events such as blizzards, floods and hurricanes, which could lead to slower train speeds, service interruptions, track damage and recovery costs. We have emergency response procedures, which include moving required resources to regions likely to be affected. We also are pursuing improvements that further increase our infrastructure's resiliency, including mitigating the impact of potential sea level rise.
For additional information on how climate change could have a material adverse effect on operations results, financial condition and liquidity, see the risk factors in Union Pacific's Annual Form 10-K and CDP Filings.
Union Pacific earned a B rating on the CDP's Climate Change Survey. This is the 12th consecutive year we submitted climate change data to CDP.
3 Source: American Association of Railroads
Responding To Historic Floods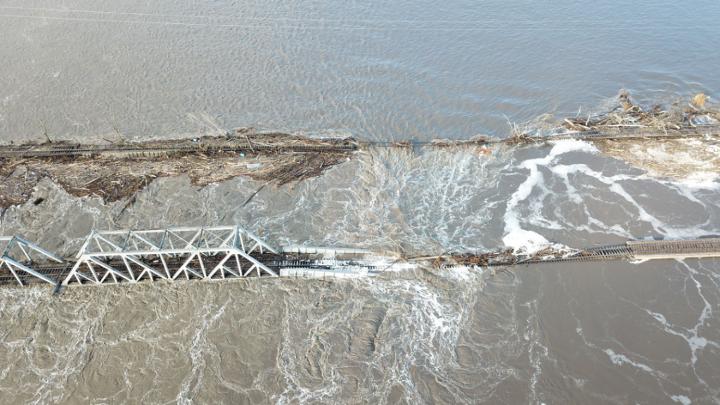 The Platte River caused widespread flooding, including this track washout south of Bellevue, Nebraska.
After historic flooding battered the Midwest, it took heroic efforts by Union Pacific employees across all crafts and departments to restore the railroad at a cost of approximately $70 million. The flooding was triggered by a March storm that produced winds between 96 mph and 110 mph, unleashing an epic mix of melting snow and rain that caused ice jams that pulverized our railroad bridges.
The biggest impact occurred in Nebraska, stretching along track equal to more than 20 football fields in length. It cut across the heart of the transcontinental main line and associated arteries that carry roughly 90 trains per day in and out of North Platte, home to the world's largest freight rail classification yard. It is the main route for trains that haul products such as grain, rock, coal, electronics, furniture, lumber and steel.
The historic reconstruction effort required:
65,000 tons of road bed materials.
Six large trains delivering 72,000 tons of ballast, rock and other items.
A total of 137,000 tons of track materials, the equivalent weight of more than 2,700 bulldozers.
21 excavators.
20 hyrail rotary dump trucks.
10 bulldozers.
Nine hyrail excavators.
While the reconstruction work was underway, trains had to be rerouted to deliver goods to customers. Union Pacific worked closely with grain customers to prioritize trains destined for feeding animals while directing other grain trains out of affected areas. Additional information about the recovery effort and a video showing the widespread damage is available at up.com.
Union Pacific's Southern Region was also impacted by heavy rainfall and flooding over the Memorial Day weekend in Arkansas, Kansas, Missouri and Oklahoma. Up to 50 trains were rerouted each day, while crews worked in shifts around the clock to restore service.
Rerouting trains puts additional stress on other areas of the railroad and impacts our communities. The Little Rock area was hit especially hard, and we knew a full recovery would take some time. In an effort to relieve traffic, our Engineering team constructed a detour track, allowing train traffic to move more freely from Little Rock south to Pine Bluff. This process typically takes three months, but with the community's support the Union Pacific team accomplished it in three days. The temporary connection involved demolishing buildings, closing road crossings, laying track panels, installing two switches, and required significant collaboration and cooperation from the local government. A previously designed, permanent connection was built over summer.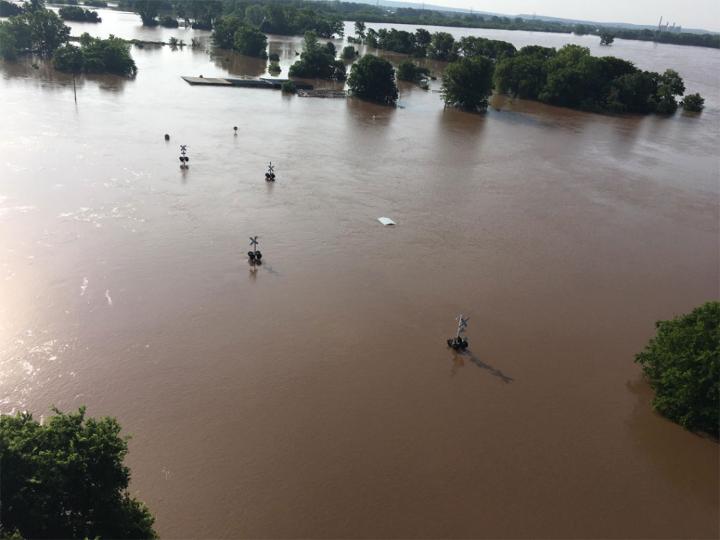 The Cherokee Subdivision near Eufaula, Oklahoma, completely underwater.
Helping Our Neighbors
As the railroad worked to recover, our employees went above and beyond offering community aid. With roads and highways under water, Union Pacific's bridge near Waterloo, Nebraska, was the last viable route open. The railroad partnered with Douglas County Emergency Management to evacuate about 60 residents, and a few pets, using hyrail trucks to cross the bridge. Special Agent Adam Hoskins and his family used their own van to take evacuees from the drop-off point to a nearby shelter in Elkhorn, Nebraska.
The Community Ties Giving Program donated $25,000 to our Friend to Friend Network to help impacted employees and $50,000 to the American Red Cross to support the thousands of residents who had to rebuild once the water receded. We also matched employee contributions to the American Red Cross and United Way of the Midlands.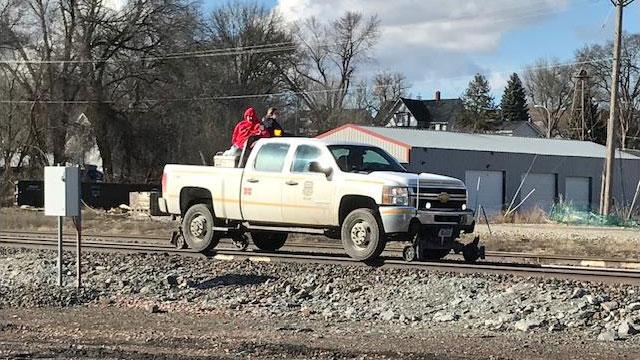 Track inspectors helped with emergency evacuations of Waterloo, Nebraska-area, residents using hyrail trucks.
Employees Shine During California Power Outages
When widespread power outages struck Northern California in October, Union Pacific's responsive employees stabilized network connectivity and maintained safe, reliable and efficient service for customers. Immediately following Pacific Gas & Electric Company's sudden power line shutdown to prevent wildfires due to strong winds, our Signal Maintenance, Signal Construction and Supply Chain teams located alternative power sources, adding to the 90 portable generators on hand to maintain power to eight subdivisions and more than 300 signal locations. Operating without power would have required hand-operated switching, as well as manual flagging at crossings/control points, causing network delays, and potentially impacting communities and customer service.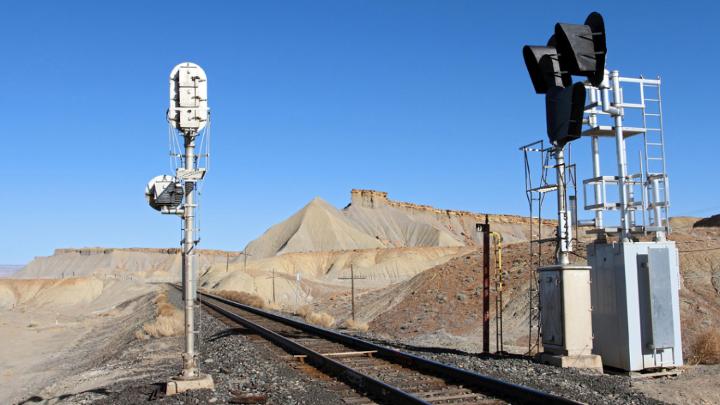 Union Pacific employees quickly took action when 300 signal locations similar to the one pictured above were impacted by Northern California power outages.
'Shoveling' The Snow
A spreader with 30-foot split wings pushes snow away from the main line at Eder, California.
Severe winter had a substantial impact in early 2019 across the Midwest, Pacific Northwest and in Northern California. We saw record snowfall and record sub-zero temperatures in Illinois, Iowa, Minnesota, Nebraska and Wisconsin, slowing the network and causing outages. Snow in Oregon downed more than 100 trees across our tracks.
When we know winter weather is coming, we deploy additional equipment and employees. During snowstorms, road crews run "snow buses," or locomotives without freight, across rail lines every two to three hours to keep them open. When the storm abates, flangers clear snow from between the rails, and spreaders push snowdrifts away from the tracks.
Taking Action To Reduce Emissions
It's clear our climate is changing, and Union Pacific is taking action to reduce our GHG emissions. We are committed to setting targets through the Science Based Targets Initiative, which independently assesses corporate emissions reduction targets in line with what climate scientists say is needed to meet the goals of the Paris Agreement – limiting global warming to well below 2°C above pre-industrial levels. We believe this is an important step to help us determine how much and how quickly we need to reduce our emissions, as well as anticipate future policies and regulations.
We submitted our commitment letter in early 2020 and plan to announce our target in the 2020 Building America Report. This is not an easy task, as it means examining every aspect of our operation and looking for innovative solutions. However, it is an important step toward a more sustainable future, and we hope our actions inspire other railroads and our supply chain partners to take action.
California has some of the strictest pollution control requirements in the nation. Union Pacific has collaborated with regulators for decades to deliver emissions improvements, and we continue to do so. We hosted approximately 40 community members and regulatory staff at our Intermodal Container Transfer Facility (ICTF) in Long Beach. The South Coast Air Quality Management District arranged the tour as part of the state's efforts to address air pollution in high-priority communities. Members saw first-hand the work Union Pacific is doing. We completed inventories of multiple California rail yards, showing diesel particulate emissions have dropped, on average, by approximately 70% since 2005.
We understand reducing our GHG emissions isn't limited to our locomotive fleet. There are other ways we can eliminate carbon dioxide. For example, we purchased nearly 14,000 square yards of carbon neutral flooring, resulting in the retirement of 120 metric tons of carbon dioxide. That's the equivalent of a car traveling nearly 300,000 miles, or driving between Los Angeles and New York City 105 times.
Greenhouse Gas Emissions Performance
Union Pacific locomotives produced 9,688,964 metric tons of GHG emissions, down from 10,874,731 metric tons in 2018 due to decreased freight volume combined with significant improvements in operational efficiency achieved through Unified Plan 2020.
We used more renewable and biodiesel fuel, and a higher percentage of our emissions came from non-petroleum based products. Our biomass source emissions were 127,645 metric tons, including 49,555 metric tons or 39% from renewable fuels. This is an increase from 122,692 metric tons in 2018, which included 36,757 metric tons or 30% from renewable fuel. The increase is largely due to increasing the amount of renewable diesel blend we use in California.
Scope 3 emissions from employee travel totaled 15,495 metric tons, a decrease from 17,138 metric tons in 2018. Employee travel includes rental car fuel and commercial air travel.
GHG Verification
Union Pacific works with independent organizations to assure an accurate annual GHG emissions calculation. Cadmus Group assists with methodology to accurately measure and calculate GHG inventory. GHD Limited will verify our GHG emissions inventory.
Working With Customers To Reduce Emissions
Customers seeking to reduce carbon emissions can calculate savings from rail by using Union Pacific's online Carbon Emissions Estimator. Many also receive annual emissions savings estimates compared to moving goods by truck. Our customers eliminated an estimated 25 million metric tons of GHG emissions by choosing rail over truck transportation.
Employee Spotlight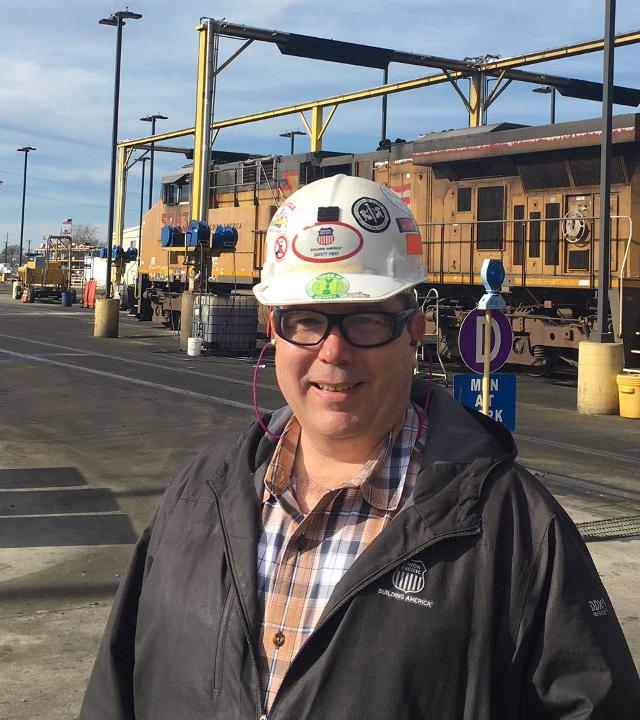 As a former Navy fighter pilot, Justin Hendrickson, director-System Locomotive Facilities, combines his passion for safe, reliable transportation with his dedication to protect the environment by adhering to locomotive shutdown procedures and performing periodic emissions maintenance. His team played a key role in multiple low-emissions locomotive initiatives and is responsible for bringing the company's first Tier 4 switchers into operation. Based in Roseville, California, Hendrickson believes the support of area environmental agencies and key partnerships is critical to helping Union Pacific produce fewer emissions.
"We're integrating innovative technology and strategically monitoring our impact to pave the way for a better future," Hendrickson said.
Managing Fuel and Locomotives
We strive to appropriately balance financial returns, environmental performance and social commitment. Fuel efficiency plays a critical part with diesel fuel accounting for approximately 16% of our total operating expenses. Our employees are dedicated to finding ways to reduce diesel fuel consumption as a fundamental element of our ESG approach.
Fuel efficiency and carbon emission reductions fluctuate based on business volumes and commodity mix. The heavier a train, the more fuel efficient it can be. Our fuel consumption rate, measured in gallons of fuel per thousand gross ton miles, improved 2% in 2019 compared to 2018. We remain steadfast in our commitment to reduce overall locomotive consumption by 1.5% from 2018 to 2020.
Less Fuel = Cleaner Air
One way we're saving fuel is standardizing our processes to turn locomotives off, rather than let them idle. Jordan Shinn, manager – Locomotive and Resource Management, Harriman Dispatching Center, visited multiple yards systemwide and found there wasn't a uniform procedure. He created standard work and is educating Union Pacific employees on how to reduce locomotive idling. For example, if the ambient temperature is not expected to drop below 35°F within four hours, the locomotive should not idle. Since the project's implementation in Salt Lake City, train crews in the Rocky Mountain Service Unit have reduced unproductive idling by 18% per locomotive.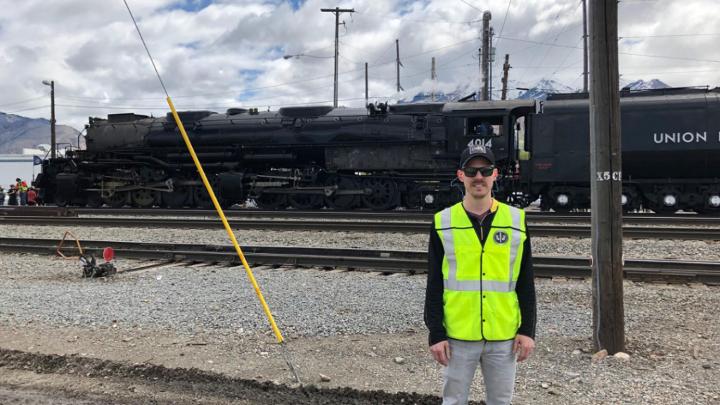 Jordan Shinn stands before Union Pacific's Big Boy No. 4014 while implementing new best practices in Salt Lake City, Utah.
Modernizing Locomotives
Union Pacific did not acquire new locomotives in 2019, and we do not plan to purchase any in 2020; however, we continue modernizing our existing fleet. Nearly 350 high- and low-horsepower locomotives were overhauled, meaning they were completely rebuilt to meet more stringent emissions standards. The locomotives receive new engines and other mechanical components, based on their age and mileage. The majority of retrofitting takes place at the Jenks Locomotive Shop in North Little Rock, Arkansas.
We invested in 17 additional "mother-slug" sets, with three being finished in early 2020. Mother-slug sets replace two locomotives with one diesel locomotive connected to an accessory, or slug. We use older SD38-2 locomotives, typically with higher emissions, for the conversion and remove the engine and alternator. The engineless slug increases traction motors available to the locomotive, boosting the pulling and braking power – key for yard operations. The new mother-slug sets achieve fuel and maintenance savings, plus offer environmental benefits, mainly because only one engine is being used versus two. We began rolling out this equipment in 2017 and have more than 60 sets operating in yards systemwide.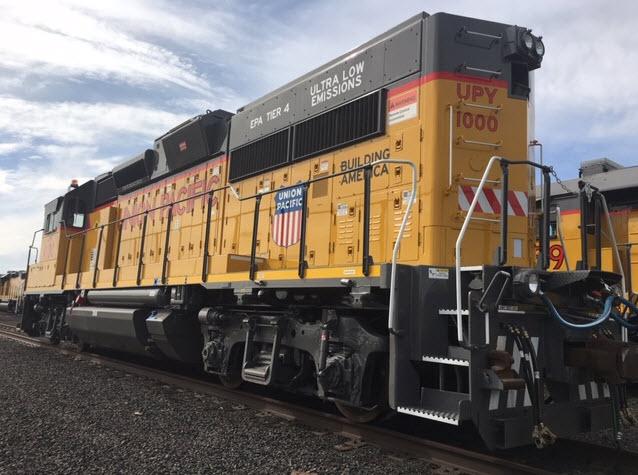 A new Tier 4 switcher ready for work in Roseville, California.
Union Pacific received its tenth and final Tier 4 single-engine switching locomotive for exclusive use in California. The Sacramento Metropolitan Air Quality Management District and the Bay Area Air Quality Management District awarded approximately $15 million in grants to repower 10 diesel-electric switching locomotives into new EPA-certified Tier 4 single-engine switching locomotives. Switching locomotives operate within rail yards, assembling and disassembling trains. Because they work within a concentrated area, improving switching locomotive emission levels can improve the local air quality by more than 90%. Union Pacific is the only Class I railroad operating Tier 4 Genset switchers and is the first Class 1 to pursue Tier 4 single-engine repowers.
We have invested roughly $3.4 billion to purchase more than 1,300 new locomotives since 2009. These locomotives all meet the EPA's tier standards. Union Pacific retired more than 1,700 older, less fuel efficient locomotives over the same period. As a result of new locomotive and refurbishment programs, about 97% of Union Pacific locomotives meet EPA emissions standards.
Employee Spotlight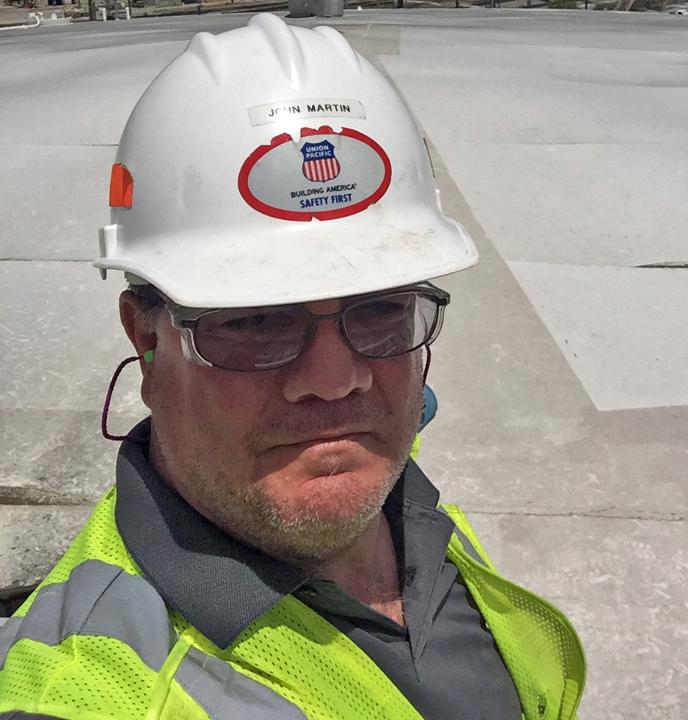 Union Pacific has fuel storage tanks located across its system. Ensuring they are properly maintained is a passion for Fuel Operations Manager John Martin, who makes it a priority to establish, communicate and support environmental efforts with integrity. He recently received a national certification for inspecting and maintaining aboveground storage tanks.
"Each location has unique needs that require deep interaction and planning with our employees and suppliers," Martin said. "Our goal is that the end user never has to worry about safety, spills or operational issues."
Incorporating Technology
Technology plays a fundamental role in Union Pacific's fuel efficiency performance, supporting the train crews responsible for the daily movement of goods Americans rely on. The following technologies help drive fuel efficiency across the system.
Trip Optimizer® and LEADER® are energy management systems that work like cruise control. They automatically control a locomotive's throttle and dynamic brake to reduce fuel usage, minimize GHG emissions and optimize train handling. The systems calculate the most efficient way of operating a train by considering such factors as train length, weight, grade, track conditions and locomotive performance.
Our more than 2,000 LEADER- and Trip Optimizer-enabled locomotives completed more than 10 million miles with auto control in use by locomotive engineers. We deployed enhancements that allow the systems to integrate with PTC, providing increased efficiency opportunities. The operational territory of both energy management systems was expanded to more than 17,000 route miles, matching Union Pacific's PTC territory.
Process improvements reduce fuel consumption and GHG emissions by optimizing how we manage and maintain locomotives. For example, Union Pacific's cross-functional Fuel Mizers Load Testing Reduction Team implemented a more efficient process for locomotive tests that ensures engines and generators produce enough horsepower to pull loaded rail cars. The process reduces fuel consumption cost by more than $3.5 million annually and improves reliability.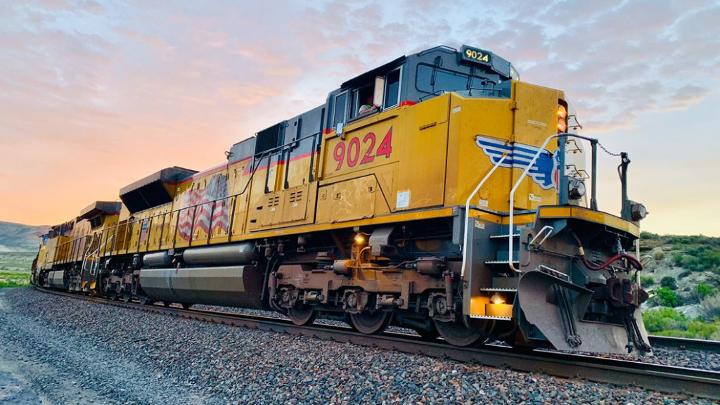 UP 9024 passes Green River, Wyoming.
Energy Conservation
Union Pacific's utility conservation projects reduced energy consumption by 2.7 million kWh, which is enough to annually power more than 247 U.S. homes. Many projects were employee-driven solutions, such as retrofitting lights with LED bulbs and upgrading air compressor systems. These solutions also provide guidance for future initiatives.
We continue to see energy savings through solar panels at two intermodal facilities: Global IV in Joliet, Illinois, and Santa Teresa in Santa Teresa, New Mexico. In both locations, the solar arrays are tied to the electrical power grid, providing energy to offset the amount we consume from the utility company.
| Energy Consumption* | 2017 | 2018 | 2019 |
| --- | --- | --- | --- |
| Diesel | 1,010.6 Gallons | 1,075.1 Gallons | 957.7 Gallons |
| Gasoline | 11.5 Gallons | 10.7 Gallons | 10.1 Gallons |
| Other Fuel 4 | 10.9 Gallons | 15.2 Gallons | 16.2 Gallons |
| Electricity | 682.9 Kilowatt Hours | 899.4 Kilowatt Hours | 662.6 Kilowatt Hours |
| Natural Gas | 1,025.3 Standard Cubic Feet | 1,059.0 Standard Cubic Feet | 961.0 Standard Cubic Feet |
*Estimated in millions
4 Other fuel includes sources such as jet fuel, propane and kerosene.
A Bright Solution Reduces Energy Use
Union Pacific continues to work on reducing its carbon footprint by using LED light bulbs. In addition to financial savings, these options place less demand on the nation's energy grid and, ultimately, the natural resources used to power it.
We replaced approximately 6,900 light bulbs at Union Pacific Center in Omaha, Nebraska, providing an even light level and color for employees working throughout the 19-story building. The new LED lights reduce the facility's electrical consumption by 800,000 kWh annually and have a 15-year life span.
Similar projects took place at locomotive shops, supply warehouses and other facilities. For example, we replaced 71 metal halide high-bay fixtures at Union Pacific's Dolores Locomotive Shop in Los Angeles, California. The project reduces our electrical consumption by more than 115,000 kWh, enough to power 10 homes for a year. Equally important, the better lighting requires less maintenance and provides a safer work environment for employees working around heavy equipment.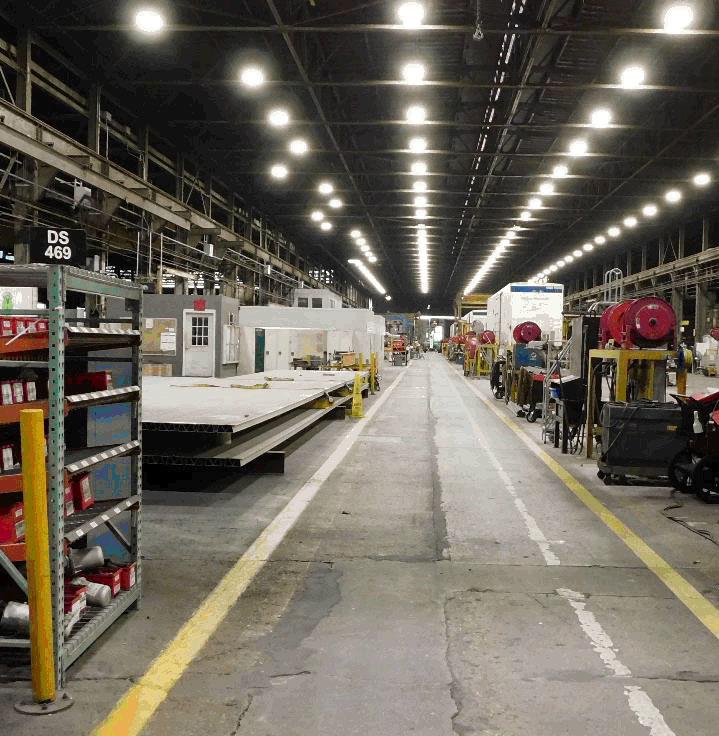 New LED lights shine at Union Pacific's De Soto, Missouri, facility.
Waste Management
Despite growing challenges in the recycling market, Union Pacific generated an estimated 1.43 million tons of waste and diverted approximately 68% from landfills.
We recycled about 485,000 tons of scrap metal, a higher volume than typical due to increased rail car scrapping. Metal is the second largest contributor – behind rail ties – to our success diverting recyclable materials from landfills. Steel, aluminum and copper are the most recycled materials on the planet and found in a variety of unexpected products. From appliances to cell phones, buildings and highways, recyclable materials are globally transforming construction and consumer products.
We provide steel recycling bins for employee use at fixed facilities, along our right of way and at off-site locations. Recyclable material includes rail car parts, locomotive parts, rail, tie plates, spikes and anchors. We are proud of our employees who recycled more than 49,800 tons of scrap, a 61% increase over the more than 30,000 tons recycled in 2018.
Union Pacific scraps rail cars that have reached the end of their useful life. In many cases, scrappers strip useful parts from the cars, which are sold back to Union Pacific for continued use. The remaining metal can be re-purposed in the manufacturing of other metal components without drawing from our natural resources. We work with several vendors who use the recycled metal to create new rail and other steel products, which we purchase and put back into our system.
Alternative Railroad Tie Keeps Union Pacific On Track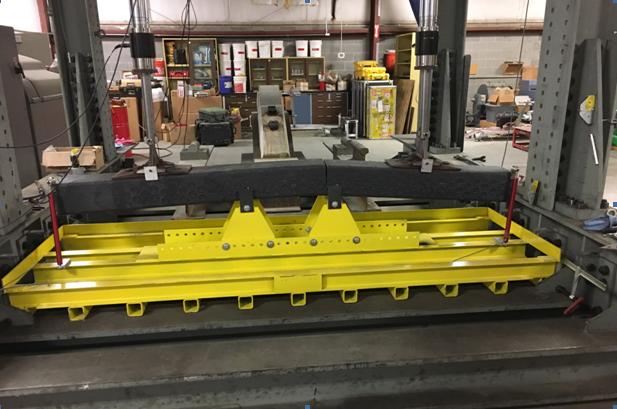 Engineering is testing several types of composite ties in-house, using this machine to determine which perform best.
Finding alternatives to wood ties is an important step toward improving our sustainability, especially in high-decay areas such as the Gulf Coast. Railroad ties are perpendicular pieces that support the rail, holding it upright and keeping it properly spaced. To date, Union Pacific has installed more than 1 million composite ties, which are made of 100% recycled plastic and can be recycled at the end of their life. But rather than wait five, 10 or 15 years to determine their life cycle, our Engineering team is using new in-house equipment to reduce the wait. The machine simulates a train going across the track, mimicking conditions the ties would undergo in the field, as well as air temperature to show the impact of extreme heating and cooling.
"The results will allow us to determine the feasibility of supplementing wood ties installation with composite ties, with a goal of improving the longevity of our existing infrastructure," said Rachel Beck, senior manager – Methods and Research, Engineering.
New High Tech Equipment Speeds Used Tie Cleanup Process
The new Maintenance of Way Tie Pickup work equipment follows a tie gang in Western Nebraska.
Tie gangs work across our system like a moving factory, installing and replacing between 3 million to 4 million railroad ties every year. Typically, contractors use trucks and front-end loaders to pickup used ties along the right of way. It can take multiple trips to gather all the ties and transport them to a rail facility, where they are loaded onto a train for departure. On a good day, contractors can pick up around 2,500 ties.
Now, we're using high-tech work equipment to speed up the used-tie cleanup process. The Maintenance of Way Tie Pickup work equipment has two giant excavators that ride along the top of a series of connected 70-foot-long rail cars. Operators in the excavators – which look like front-end loaders – pickup tie bundles left in stacks along the right of way. Depending on the ties' size, each rail car holds 500 to 700 ties, which is about the same number it can pick up in an hour. Once the rail cars are fully loaded, the train departs directly to one of three facilities where ties are recycled or shredded for cogeneration fuel. Used railroad ties are not offered to the general public for reuse. The new system doubles the number of railroad ties that can be disposed of per day to nearly 5,000, saving gas used by contractors and reducing emissions.
Recycling Fuel and Oil
We recycled more than 1.6 million gallons of oil and fuel at our facilities. Union Pacific facilities have systems to catch spills and extract engine oil from wastewater. Facilities also use fuel nozzles that shut off automatically, preventing locomotive fuel tank overflow.
Employee Spotlight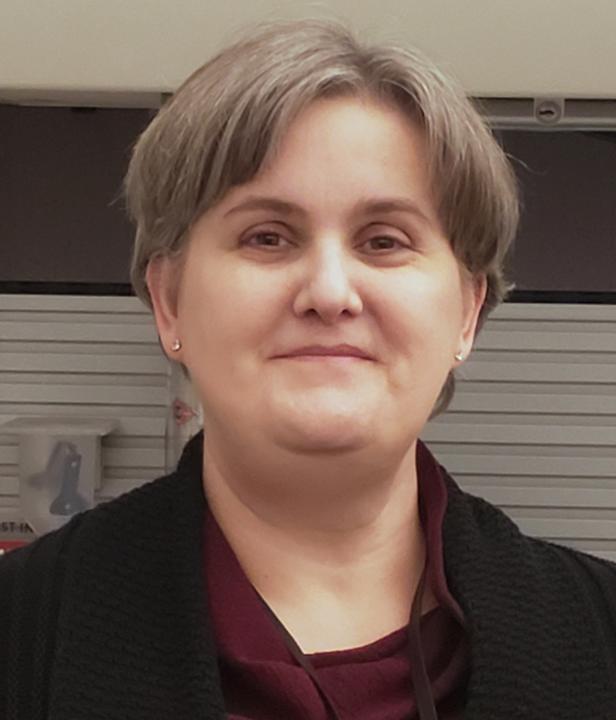 Asset Disposition Manager Ann Holland investigates ongoing inventory reduction efforts, addressing inefficiencies and proposing cost-effective solutions. She worked closely with the Engineering Department to fill nearly 400 strategically located bins with used steel rails and other track material in 2019.
"In addition to preventing material pileup, we put an emphasis on clearing our right of ways, doubling the volume of recycled scrap metal across our network," Holland said.
Water Management
Many parts of the country experience water stress in local and regional watersheds. The U.S. Global Change Research Program notes widespread stress in much of the Southwest, western Great Plains and parts of the Northwest. Union Pacific helps protect water resources from our operations with Stormwater Pollution Prevention Plans at 180 facilities, as well as spill prevention controls and countermeasure plans at more than 130 facilities. About 90 wastewater treatment facilities capture and treat water from equipment washing and maintenance. We also treat captured wastewater to comply with government regulations and wastewater discharge permits.
Union Pacific used an estimated 905 million gallons of water, a decrease from 1.2 billion in 2018. We continue exploring ways to conserve water by analyzing accounts, researching irregularities, and making changes and repairs to eliminate unnecessary use. Our team is focused on using data to identify and address consumption changes, which might suggest a leak or other issue. We saved an estimated 6.7 million gallons by fixing identified leaks in locations including Kansas City, Missouri, and Ft. Worth, Texas, and replacing a water tank in Coachella, California.
Reporting Water Consumption To CDP
Union Pacific was the first Class 1 railroad to report water consumption to CDP, which we submitted for the sixth consecutive year and received a B-.
A Scientific Approach To Flood Risk Management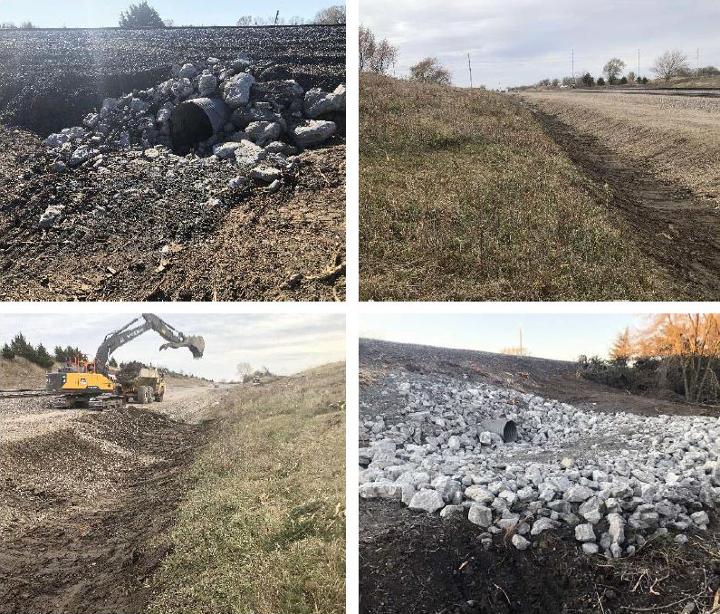 Completed flood mitigation work near Bremen, Kansas.
Union Pacific works with scientists at the U.S. National Oceanic and Atmospheric Administration (NOAA) to determine which spots along our 32,000-mile network are most vulnerable to catastrophic water flows from storms and build a resiliency plan. That could mean creating culverts or raising the railroad tracks – whatever it takes to maintain traffic flow.
Overall, we are seeing positive results. In 2018, we invested more than $7 million and performed flood mitigation work in approximately 12 locations along the Austin Subdivision in Texas, stabilizing rock around the track, cleaning culverts and upgrading drainage systems. These locations have been repeatedly impacted by flooding; however, we did not have an issue in 2019.
Our Engineering Department identified similar areas across the system where repeat issues occur, including the Falls City and Marysville Subdivisions in Nebraska, the River Subdivision in Missouri and the Parsons Subdivision in Kansas. Plans and projects were developed to address these locations. Crews established new drainage ditches, cleared right of way, reshaped slopes and "armored" culverts, meaning we added rock around the culvert/ditch to reduce the impact of running water. We will continue these projects systemwide throughout 2020 and beyond. It's important to note, this kind of work requires close collaboration with our neighbors and government entities to ensure adjustments to our track and the surrounding area don't redirect the water to negatively impact other properties or communities.
We launched a pilot program in December installing sensors along the tracks near Tama, Iowa. The sensors monitor water levels, and if they rise to a specific point, we receive a real-time alert. The sensors are a way for us to monitor changing conditions and respond in advance of a catastrophic water event.
In addition to our efforts to stay ahead of Mother Nature, we continue to vigilantly monitor extreme weather and water events. We have established specific protocols to respond to these events, including stockpiling material, dispatching emergency response teams, developing alternative train operations, preparing surge resources (ie. Engineering work crews, pumps, generators, locomotives and ballast) and moving equipment into recovery position.
Employee Spotlight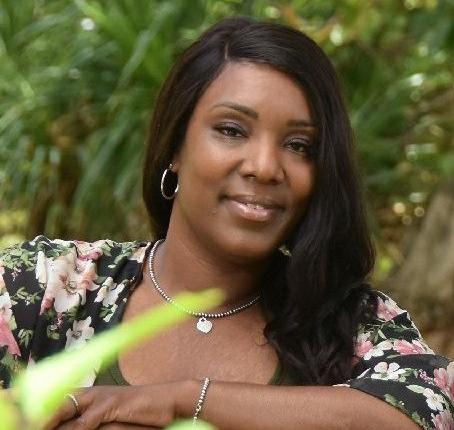 Supply Chain Operations Manager Duane Merchant oversees material handling efforts in Houston, Texas, and ensures measures are in place to prevent an incident that could impact area waterways. She inspects inventory, enforces safety protocols and recommends process improvements that promote efficiency at area Mechanical facilities.
"We take great pride in ensuring local water sources remain clean by engaging in several initiatives, such as storm drain cover installation and tank capping," she said. "These small measures have the greatest impact to preserve communities' quality of life, and it matters to me that I'm purposeful in protecting our environment."
Biodiversity and Land Preservation
Biodiversity refers to the variety of living organisms in a particular habitat or ecosystem. Union Pacific's footprint touches many diverse ecosystems, and we are committed to being a responsible steward of the land we own. We work to preserve our ecosystems, improve our resiliency and reduce our impact. This is fundamental to ensuring a healthy environment and supporting vibrant local economies.
Union Pacific implements habitat conservation plans to protect ecosystems and endangered species in various locations. Plans in the western half of our network address species including the desert tortoise, endangered Southwestern willow flycatcher and valley elderberry longhorn beetle.
We also engage with community partners and nonprofit organizations working to protect our natural resources or reinvigorate specific ecosystem needs. For example, we supported Trees for Houston, providing a grant to plant and maintain trees leading to a healthier Houston area. During the 2018-2019 planting season, more than 21,000 new trees were planted along bayous, streets, trails and at schools. In Colorado, we worked with the Rocky Mountain Field Institute, supporting their Community Environmental Stewardship Program, which empowers youth and adult volunteers to play a hands-on role in conservation in the Pikes Peak region. Each year, the program actively engages and educates 2,300 volunteers who contribute more than 24,000 hours toward the protection of public wild lands.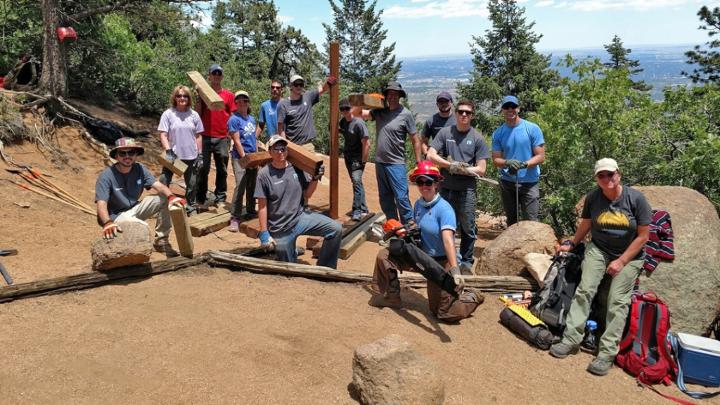 Rocky Mountain Field Institute volunteers work to make improvements along Barr Trail, one of the primary summit trails to the top of Pikes Peak, Colorado.
What's Ahead
We are analyzing data and working to set a realistic target supporting global climate change goals. We anticipate finishing this work and submitting our plan to the Science Based Targets Initiative for validation in 2020.
Leveraging efficiencies gained under our Unified Plan 2020 initiatives, we will continue diligently working toward achieving our three-year fuel consumption goal – reducing locomotive consumption by 1.5% in total from 2018 to 2020. One way we are optimizing fuel consumption is expanding our energy management systems (EMS) by equipping most of our high-horsepower locomotive fleet with the technology. Enhancements will be added over the next several years to provide advanced control of individual locomotives on trains with more than one in the consist. This technology also will integrate with back office planning systems, providing additional opportunities for fuel savings.