Great Big Rollin' Railroad Remake Contest
To celebrate Union Pacific's 150th Anniversary in 2012, UP commissioned a contest to remake the classic 1970s television commercial. More than 200 entries were received, with the winning entry coming from Brock and Nellie Boyts of Los Angeles, California.
Watch the original
For those of you who don't remember (or are too young to remember), view the original commercial from the 1970s.
Winner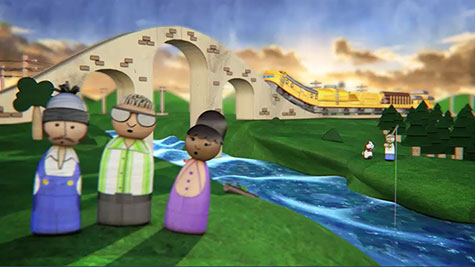 Brock and Nellie Boyts
Brock and Nellie Boyts won the $15,000 grand prize. Their video used Brock's 3D animation skills and Nellie's musical talents to bring the UP story to life.
Myk Friedman, first runner-up, won $5,000 for his animation that put a fun spin on the original commercial. It gives tribute to Union Pacific's history and employees using caricatures and hidden references in the background to keep the viewers engaged.
Jarrod and Jaime Gollihare, second runners-up, also won $5,000 for their video that used household items as instruments to make their audio unique.
Runners-Up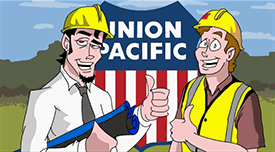 Myk Friedman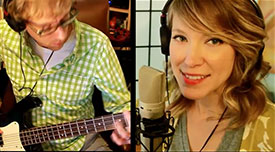 Jarrod and Jaime
Watch the Final Judging
Three celebrity judges critiqued the videos and interviewed the finalists to determine the winning entry at the contest awards ceremony. Judges included:
Mary Maxwell, of Omaha, is a highly sought after public speaker and social media phenomenon. Since her "Funny Prayer about Getting Old" talk was uploaded to YouTube, it has been viewed more than 9 million times.

Nik Fackler is an Omaha filmmaker and musician who made his screen writing and directorial debut with the 2008 feature film "Lovely, Still," starring Oscar winners Ellen Burstyn and Martin Landau. This release earned him an Independent Spirit Award Nomination for Best First Screenplay.

Trev Alberts is the University of Nebraska-Omaha's director of athletics and is well-known in Nebraska for his football career with the Cornhuskers. He received the Butkus Award in 1993 as the best linebacker in college football his senior year. Alberts also is a three-time academic All-American and former football commentator for CNN, ESPN and CBS.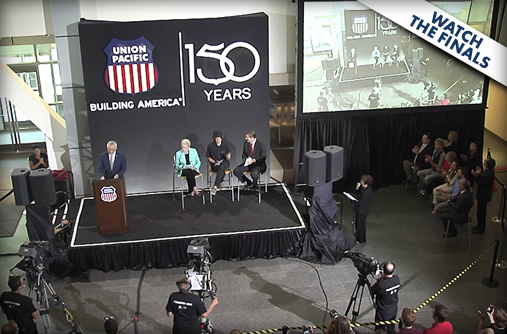 Watch the Final Judging"