A Sampling of Specialty UP Shields

Union Pacific has a colorful logo history. While typically one shield at a time represents the interests and activities of the entire company, many variation shields also have been used. These variation shields, or knockoffs of the original shield, either have represented one focus of the company, such as the Steam Program, or were special-use shields that celebrated a particular event.
Knockoffs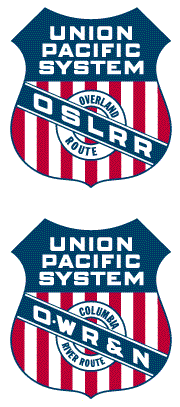 Oregon Short Line and Oregon
Washington Railroad & Navigation
Co. Shields
Very early on, logo knockoffs begin to appear. The most popular knockoff is from the 1897 E.H. Harriman Shield, with the Overland bend using different words. Locomotive logos for The City of Cheyenne and The City of Denver and the promotional shield for the 1939 film Union Pacific, are examples. The earliest known knockoff was a locomotive builders plate from the Omaha Shops in 1892.
1914
These UP subsidiaries were given knockoff shields to help visually integrate these lines with the company in the minds of the public.
Note the escutcheon contains the word "System" that would be adopted by the overall company shield at the same time. The annulet and bend exchange "The Overland Route" with the subsidiary line's initials.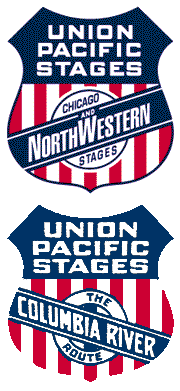 Union Pacific Stages Shields
1929
These knockoffs are for UP's passenger bus connecting service. UP Stages was a joint venture with the Chicago and North Western Railway.
Note the annulet and bend are replaced with a knockoff of The Chicago and North Western Railway logo. This logo was used until 1943 when ownership changed. Union Pacific Stages later was spun off as a private bus company.


Specialty Shields
For special events or celebrations, artistic license was employed on the shield at various times. Shields celebrating mergers, anniversaries as well as signs for ticket offices and windows had elaborate colors and designs. Some shields sported red, blue, gold and two-tone silver. Others gave the appearance of raised three-dimensional lettering and shield. Still countless others where flanked by locomotives or emblazoned with spikes and other graphic devices.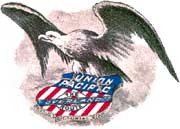 The 1896 Eagle Shield
.
1896
This appeared on maps made for Union Pacific, and again for the 1898 Trans-Mississippi Exposition. This may be better described as fanciful illustration containing a stylized logo.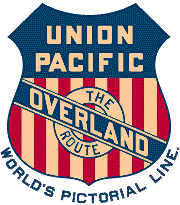 UP/SP Gold Shield
1901
After E.H. Harriman gained control of the Southern Pacific this specialty shield took the 1897 Harriman Shield and replaced the white with gold ink. This probably was used in the spirit of celebration, and was limited to a few applications.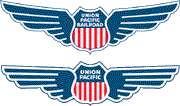 Winged UP Shields
1939 to the 1960s
Diesel locomotives of this time were painted with a winged logo on the nose.
2000
Announcement that the winged shield logo will be to be applied to most locomotives early in the year. The goal was to improve the visibility of the company's logo on locomotives.