1897-1913 E.H. Harriman Logos

The Harriman Era
After going bankrupt and into receivership, Union Pacific was sold to a group of investors including E. H. Harriman, a shrewd railroad tycoon and then President of the Illinois Central, for $110 million. Harriman left his imprint on UP in many ways. His "new" shield design continued on with modifications until 1942. It was at this time as well that Union Pacific Railway became Union Pacific Railroad.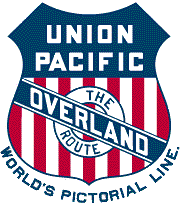 The 1897 Harriman Shield
A New Design
Harriman's new shield, and the logos used for the next 44 years, are properly named Bend Sinister Shields, so called because the Bend (the stripe bearing the word OVERLAND) tilts downward to the right, or the Sinister side of the shield.
The 1897 Harriman Shield
The Overland annulet and bend now tilt down left to right over the paly. The angle of the bend was changed to the "Bend Sinister" (mistakenly referred to as Bar Sinister) of ancient heraldry.
By the next year Union Pacific held patent trademark rights to the UP Shield. The tagline "World's Pictorial Line." remained and was used exclusively in all advertising and printed material, including the 1898 system timetable. (Occasionally the period was dropped in the tagline.) The patent drawing did not include the tagline.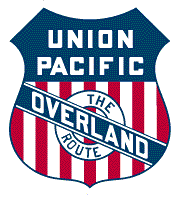 The 1904 Harriman Shield
1901

Harriman bought controlling stock in Southern Pacific, and control of the SP influenced the look of UP's Shield. In 1901, a specialty shield was produced with gold replacing the white. Three years later, the tagline "World's Pictorial Line" was permanently removed. Speculation was that it was removed in deference to Harriman's interest in the Southern Pacific. The Harriman Shield can be seen on the front of this
1904 locomotive
.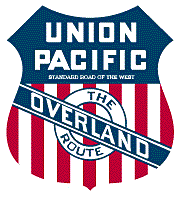 Divided UP/SP Shield Logo
1912
At the end of 1912, the U.S. Supreme Court divided Union Pacific and Southern Pacific, and UP was ordered to sell its 46% share of SP stock and relinquish control.
Directly after the division, the shield was slightly altered and a "Standard Road of the West" line was added in the escutcheon beneath the words "Union Pacific." After the division, UP wanted to be the standard road for western traffic. Note that this particular logo has no blue outline around the paly because this was used in large size. The new word addition makes this shield impractical for small use, which may have lead to its discontinuance the next year.