1914-1932 The 'System' Logos

Building the Railroad Without SP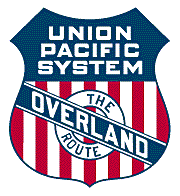 The 1914 System Shield
Following the separation from the Southern Pacific, Union Pacific immediately began consolidating its affiliated rail lines. For the next 18 years, wholly owned railroads, such as the Oregon Short Line, were prominently placed under the UP umbrella. UP called themselves a "System."
1914
The small "Standard Road of the West" is removed from the escutcheon, and a large word "System" is added underneath "Union Pacific" as the Oregon Short Line and Oregon Washington Railroad & Navigation Co. are integrated into the railroad. The two new lines were given "knockoff shields" to help visually integrate them with the company in the minds of the public.
1929
UP Stages, a joint venture between Union Pacific and Chicago and North Western Railway, also was given a "knock-off" shield.