1933 Return to the Harriman Logo

Great Depression Years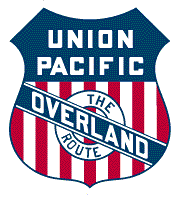 The 1904 Harriman Shield
During the years of economic hardship in the United States, the UP Shield would revert back to an earlier version.
1933
After 36 years of modification of the 1897 Harriman Shield, the company logo reverted back two versions to the original shield without a tagline. By this time, the wholly owned lines had been painted in the minds of the public as being part of Union Pacific.
The word "System" never would appear as part of the shield proper, but the company would again call itself "Union Pacific System" for three years in the 1980s.