1934-1949 Pearl Harbor and Streamline Styling

Contemporary Style and War

Union Pacific was affected by national and international influences of its day. The events of World War II not only affected the traffic of the railroad, but also its corporate identity. Two design styles of the 1930s and '40s were influential in shaping UP's image. One was Modernism, popular in Europe, which used minimized decoration and relied on geometric shapes. The other, popular in the United States, was the Streamline style, where products large and small were made to appear aerodynamic. Union Pacific was among the leading innovators of the popular Streamline style movement.
1934

Union Pacific took delivery of the
streamliner M-10000 locomotive
, putting the company into the world's forefront of popular design. Streamline Styling, a second birth of the poplar Art Deco style, influenced nearly every consumer product in the United States.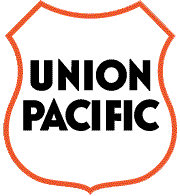 Pearl Harbor Shield
1939
At the New York World's Fair, the United States has its first look at Modernism, an influential movement which gave the world the phrase, "Less is more."
Having the shortest appearance in UP's history, this stark shield was used only three months. The words "Union Pacific" are not drawn, but typeset. Based on its use, the Pearl Harbor Shield was unquestionably a response to the outbreak of World War II, and probably directly influenced by Modernist design.
The Pearl Harbor logo was used on a number of
war effort posters and the 1942 timetables
between January and April. This logo was in the process of full implementation, but its rollout was cut short by Union Pacific President W.M. Jeffers. On April 18, 1942, Jeffers directed that the logo be returned back to the old Overland logo, though it would "entail quite an expense" to do so. The Pearl Harbor logo never appeared on any locomotives or rolling stock.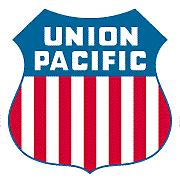 Jeffers' Streamline Shield
1942
Just a few days after ordering the "Pearl Harbor" logo be returned to the 1904 Harriman Shield, Jeffers changed his mind and ordered the old logo to be streamlined by dropping the Overland bend and annulet. In this case, streamline refers to the ubiquitous design style in the U.S. rather than to streamliner trains. Removing the "Overland Route" was made in deference to the increasingly modern and enlarged nature of the railroad. Dropping the Overland bend and annulet, the colors of the 13 stripes were more efficiently shown. Note the return of quirky hand-drawn lettering in the escutcheon.