1969-1982 The Railroad and Corporation

An All-encompassing Symbol


Separate Subsidiaries Logos
Visual confusion between the Corporation, the Railroad and the other subsidiaries reached an end in 1981. The creation of entirely new logos for the Corporation and the other subsidiaries left the original shield to the Union Pacific Railroad Company.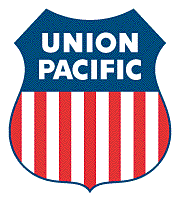 The 1969 Shield
After the formation of Union Pacific Corporation, it was determined that one shield design would be used to identify the corporation and its subsidiaries. Modifying the 1950 Shield, the word "Railroad" is dropped from the escutcheon. Slightly refined on February 5, 1970, this logo would serve this capacity until its scope would be restricted to the railroad only in 1981.

1969 Shield on Centennial DD40X 6936
New Logotypes

To stem confusion between the railroad, the corporation and its other subsidiaries, New York design firm Chermayeff & Geismar created a new corporation logotype. As part of the new design program, new logotypes for the railroad and the other subsidiaries also were created. The goal was to make all subsidiaries distinct, yet connected to the corporation.


Corporate Identifier. The new logotype for Union Pacific Corporation was a "plain vanilla" shield accompanied by the words "Union Pacific Corporation."


The 1981 Logotype. The 1969 Shield is married to the words "Union Pacific Railroad" typeset in Futura all caps. Appearing beneath is an optional subsidiary tagline. This variation of the logo was used from 1981 to July 1983, and then again from January 1986.