UP 150 Express E-9 Schedule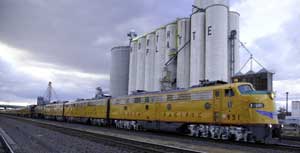 Three of the most graceful locomotives in American history currently are traveling as part the UP 150 Express Tour to celebrate the company's 150th Anniversary.
The UP 150 Express led by E-9s heads to Pocatello on Thursday, July 5, then on to the Pacific Northwest through July 14.
The Detailed Schedule for the Steam portion of the UP 150 Express can be found on upsteam.com.
No E9 schedules at this time.