Alpine, TX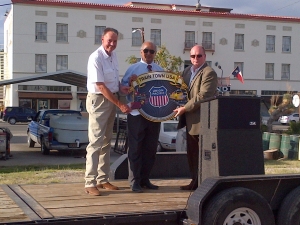 (L to R:) Dave Dumas, Alpine Chamber President; Alpine Mayor Dr. Avinash Rangra, and UP Supt. Mike Brazytis.
For hundreds of years, the springs located of Alpine, Texas, attracted explorers, Indians, settlers and military.
Trails, both north and south and east to west passed through the mountain passes of the area and watered at its springs. Historian David Keller relates the beginning of the railroad and the town when, on January 12,1883, the last crosstie spike (a ceremonious silver spike) was driven just west of the Pecos River. That same day, the first passenger train from New Orleans to California rolled into Alpine (via Osborne, then Murphyville and finally Alpine). The Galveston, Harrisburg and San Antonio line was now joined with the Southern Pacific Railway to make the trip possible. The railroad placed a boxcar/station/water tank on a siding near Kokernot Springs, and an agent and a section foreman were assigned to the station.
Dr. Benjamin F. Berkeley came to the area in 1899, designated as the company doctor for the railroad from Del Rio to El Paso. Often he would ride the train to a waiting ranch buggy and get off to go treat a patient on the ranch. Then later would meet the train going back to Alpine. So many of his "house calls" were by train. In 1907, he formed the Alpine Commercial Club that evolved into the present-day Alpine Chamber of Commerce. Dr. Berkeley was the first Mayor of Alpine, a bank president and also a state Senator. A large stone adjacent to the Chamber of Commerce designates the block as Benjamin F. Berkeley Plaza.
Still today, Alpine is a crew change location for Union Pacific.
Much of this information comes from the books:
"Images of America - Alpine" by David Keller
Published by Arcadia Publishing
Chapter 1. Osborne to Alpine: Birth of a Railroad Town (1882-1909)