Alton, IL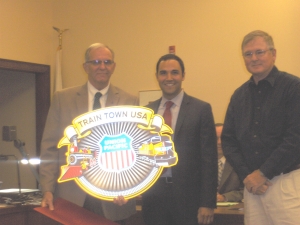 (L-R) Alton Mayor Tom Hoechst; Adrian Guerrero - director, Public Affairs; and Shawn Engel, director terminal operations - Transportation, Northern Region
Alton sits at the confluence of the Mississippi, Missouri, and Illinois Rivers. Due to this prime location, at times, it was developing much faster than St. Louis.
The Chicago & Alton (C&A) RR opened a line in 1853, transporting people to Springfield, and it was the first to use George Pullman's sleeping cars. Many famous passengers traveled this route as Alton was the location of the final debate between Abraham Lincoln and Stephen Douglas.
The St. Louis, Joliet and Chicago Railroad built a rail line through Alton in 1881, and a track used to serve industries in the Alton area was built by the Chicago, Alton and St. Louis Railroad in 1856. These lines became part of Union Pacific Railroad following the merger with Southern Pacific in 1996.