Arlington Heights, IL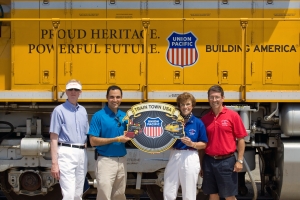 L to R: Arlington Heights Village Manager, Bill Dixon; UP Director - Public Affairs Adrian Guerrero and Arlington Heights Mayor Mulder; Village Trustee Thomas Hayes.
The railroad was the lifeline that started the Village of Arlington Heights. The community founders, in the 1800s, sold land that would ensure that the railroad ran through the heart of the Village.
The local economy boomed along with the growth of the railroad. Downtown is center of the community, still serves as a community gathering place much as it did in the 1800s. The train depot that is a proud landmark of Arlington Heights is located near where the original depot was placed, re-done in 2000 with a look that reflects the historical look of train depots in the 1800s.
Today, Arlington Heights is one of the top commuter train stops along the Metra line and the railroad line often is still used for transport of freight to the city of Chicago and goods to some businesses in Arlington Heights. The importance of the train as transportation to and from the city inspired a redevelopment of the downtown that focused on transit-oriented development. This development style allowed for the creation of large residential complexes with retail on the bottom level. These units were popular with the commuter population and have now increased the popularity of the railroad in Arlington Heights.