Clinton, IA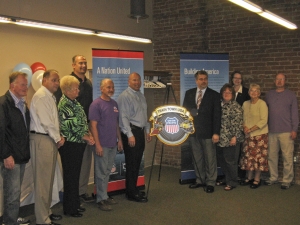 Left to right: Councilman Charlie Mulholland; Economic Development Director Steve Ames; Councilwoman and Chamber Pres. Julie Allesee; UP MTO Ken Blackman; Councilman Paul Gassman; UP Industrial Development Mgr.Wayne Borg; Mayor Mark Vulich; Councilwoman Jennifer Graf; Brenda Mainwaring, UP Director Public Affairs - Iowa/Nebraska; Councilwoman Bev Hermann; and Councilman John Rowland
To understand the importance of the railroad in Clinton, it is important to know the history of the industry that spurred the opening of a major gateway to the Great Plains in 1859. For more than one hundred and fifty years, the railroads employed thousands and supported a good quality of life in Clinton.
The Union Pacific is a partner in economic development in the City of Clinton. In 2010, the City of Clinton, Clinton County Board of Supervisors and Clinton Regional Development hosted the formal opening of the Lincolnway Railport. Jim Young, Union Pacific CEO, and Brenda Mainwaring, director - Public Affairs, Iowa and Nebraska, were on hand to support the opportunities that will come with this development and the impact to the Union Pacific Railroad and the partnership developed between the two entities.
In the years to come, the Clinton Area Chamber of Commerce and the City of Clinton will continue to build and support the strong relationship that exists between these entities and the Union Pacific Railroad. We look to the future to continue the growth and development that has been afforded to the area in the past as a result of the partnership.