Colfax, CA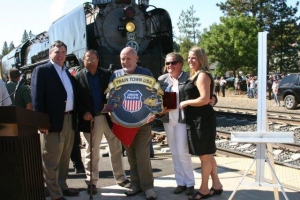 From left, UP VP-Public Affairs Scott Moore; Colfax Council Members Ken Delfino and Tony Hes; County Commissioner Jennifer Montgomery; and UP Director-Public Affairs Liisa Stark.
Originally called Alder Grover by pioneers, the discovery of gold in 1848 led to an influx of fortune-seekers to the west side of the Sierra Nevada range. An area close to Alder Grove became a small community and one night in October 1849, during a night of partying by miners who were from Illinois, the area was renamed Illinoistown. According to Placer County genealogy, the vote was "by acclamation and a bottle of whiskey!"
By 1856, a 30-year-old Sacramento engineer named Theodore Judah already had completed the Sacramento Valley Line. It ran between Marysville and Folsom and was the first train west of the Missouri River. However, Judah already was thinking of a transcontinental railroad.
After consulting with Dutch Flat storekeeper Doc Strong, Judah created a route through the Sierras. In 1861 he obtained financial backing from Collis Huntington, Charles Crocker, Leland Stanford, James Bailey and Mark Hopkins. Along with this list of backers, Judah took his Sierra Route chart on a 90-foot long roll, back to Washington.
In 1862, while the Civil War raged, President Lincoln signed the Railroad Act authorizing the construction of a transcontinental railroad and in doing so, Judah's plan was approved. On January 8, 1864, groud was broken in Sacramento for the eastbound sections of track.
October 26, 1864, the first spike was driven and the race to Promontory Point, Utah, was on. By September 1, 1865, the rails had reached Illinoistown and Speaker of the House Schulyer Colfax came visit to check on the railroad's progress. The star-struck citizens renamed the town after him.
By January 1866, 54 miles of track had been laid and with a Chinese labor force infused among the 10,000 men working the tracks, the climb from Colfax through the Sierras continued.
At first, Crocker did not want to use Chinese laborers. Judah reminded Crocker that it was the Chinese laborers and engineers who built the Great Wall. Then it was realized that the Chinese did not get as sick as the other laborers and one reason may have been because they boiled their water for tea and thus, had little or no cases of dysentery. Their diet may have also contributed to the low sick rate. Crocker acquiesced.
Judah's plan resulted in the engineering masterpiece that weaves its way through one of America's most scenic mountain ranges. Today, AMTRAK also uses these historical tracks to stop at cities that remain close to their historical beginnings in size and architecture like Colfax and Truckee.
In additon to supporting the town's Independence Day and Christmas Winter Festival, Union Pacific supports Colfax's railroad heritage every year during the annual Railroad Days celebration normally held in mid-Fall. It is not unusual to see historal pieces of equipment in Colfax for the free weekend event. Descendants of Coflax area railroad crews still live in the area and proudly hang on to the legacy of American history that their predecessors left for us to enjoy.
As it must have been 150 years ago, Coflax's children today run excitedly toward every train that comes through town...to catch a glimpse of and friendly wave from the engineer.