Council Bluffs, IA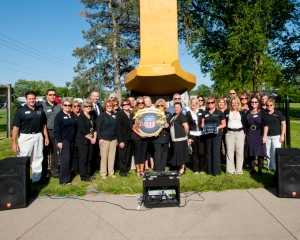 Council Bluffs Chamber Ambassadors with the Train Town plaque at Golden Spike Monument, where more than 100 people gathered to "Celebrate CB" and the city's new Train Town status.
Council Bluffs and Union Pacific Railroad share a rich and lengthy history together. Our Golden Spike Monument was erected in 1939 near 21st St and 9th Avenue in Council Bluffs to commemorate the junction of the UP and the Central Pacific rail lines at Promontory Summit, Utah, on May 10, 1869. The monument coincided with the premiere of the movie 'Union Pacific' that same year.

Thousands of Council Bluffs residents grew up with UPRR, and many of us can still hum that tune (we're a great big rolling railroad ...) even if we can't quite remember all the words! Train yards and miles of tracks are visible in and around our city. I would say that the vast majority of us know someone who did, or who still does, work for Union Pacific. The railroad is a very important and integral part of our community and our heritage. We are proud to be a railroad town in the great USA.